"Do we really need to look back at the Gilmour trade every time the Leafs play the Flames?"
I'll make a deal with you: I won't write about this trade anymore after this post. There's no point anymore since the trade tree ended this past summer. Oh, by the way, this trade tree only ended this past summer.
To refresh your memory, on Jan. 2, 1992, the Toronto Maple Leafs traded Gary Leeman, Alexander Godynyuk, Jeff Reese, Michel Petit, and Craig Berube to Calgary. In exchange, the Flames gave Toronto Doug Gilmour, Jamie Macoun, Kent Manderville, Ric Nattress, and Rick Walmsley.
I'm not breaking new ground in saying this is a lopsided trade but it really can't be overstated how much this trade sucked for the Flames and ruled for the Leafs.
On Jan. 2, 2012, the 20th anniversary of the trade, Sportsnet wrote a short retrospective on the trade and provided some context. This wasn't simply the case of Calgary thinking they had a great idea that turned out to be a bad one. The article mentions how Gilmour was unhappy after a contract dispute with the Flames.
One trend we've noticed recently is players unhappy with their situation, particularly younger players with a relatively high profile, requesting a trade from their team. Jonathan Drouin sticks out and Jacob Trouba is the most recent example. But what happened? Their team stuck to their guns and ended up retaining those players.
Back in 1992, there was no salary cap and Gilmour was in the middle of his ninth NHL season. If he wanted to go, he was going.
The Leafs and Flames made a 10-player deal, swapping five players each.
The five players that the Flames got played a total of 499 games for Calgary. The five players that the Leafs got played a total of 1,042 games for Toronto.
Gilmour put up 492 points with the Leafs, including 127 in his Selke-winning 1992-93 season, the highest-scoring and arguably all-around best single season in Leafs history. His number is retired, for crying out loud.
Everyone focusses on Gilmour but Jamie Macoun played more games (466) and was a staple of the Leafs' defence for seven seasons. Even Kent Manderville, though mostly as a depth player, played 136 games for Toronto.
Out of the 499 games the Flames got out of this initial deal, 234 belonged to Craig Berube who put up just 27 points in those games. Michel Petit put up 48 points in 136 games. Gary Leeman put up 23 points in 59 games. In fact, none of Leeman, Alex Godynyuk, or Jeff Reese cracked 60 games with the Flames.
This is just the initial trade, though. The trades that followed, the trade tree if you will, are even worse.
Here's what the Leafs got:
My PowerPoint skills suck but you know what doesn't suck? This trade for the Leafs.
The Leafs dealt Gilmour and Dave Ellett to the Devils in a deal that was decent but probably should have worked out better for them. The Leafs received Jason Smith, Steve Sullivan, and Alyn McCauley. All three of those players had long NHL careers but didn't stick around with the Leafs for too long.
Jason Smith played 162 games with Toronto before being traded to the Oilers for a 2nd and 4th, which is roughly what the Leafs got when they traded Daniel Winnik to the Pittsburgh Penguins (the first time they traded him). Not exactly a great haul for a defender who went on to become captain of both the Oilers and Philadelphia Flyers. That said, the Leafs managed to turn one of those picks into 71 games of Ric Jackman and another nine games of Drake Berehowsky.
Steve Sullivan played 154 of his 1,011 NHL games with Toronto before the Leafs lost him to Chicago via waivers. Ouch. Speaking of ouch:
Alyn McCauley spent the most time with the Leafs – the first 304 games of his 488 NHL career before being a key part of the deal that brought Toronto Owen Nolan.
Jamie Macoun was the gift that kept on giving! After seven seasons with Toronto, Macoun was dealt to Detroit for a 4th-rounder. That pick ended up being Alexei Ponikarovsky who played the first 477 games of his 678-game NHL career with the Leafs.
Ponikarovsky was dealt to the Penguins for Luca Caputi and Martin Skoula. Caputi became Nicolas Deschamps, who then became Kevin Marshall, neither of whom cracked the NHL with Toronto.
Skoula, however, was flipped to the Devils for a 5th-rounder who ended up being Sam Carrick. "The General" played three games with the Leafs last season before signing with the Chicago Blackhawks this past summer, meaning the initial Gilmour trade with the Flames paid dividends for the Leafs for over 24 years. That's longer than most of the current Leaf have been alive.
Then there's the Flames…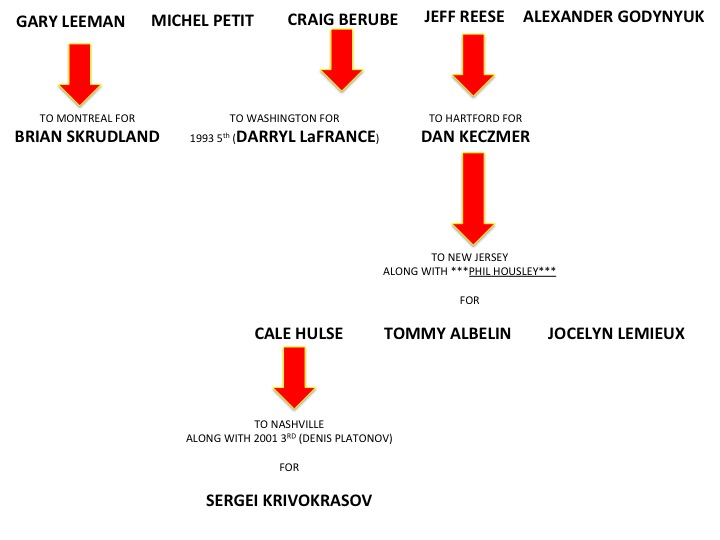 Gary Leeman was flipped for Brian Skrudland, who was a Flame for 16 games. Craig Berube was traded for a fifth-rounder who never ended up making the NHL. Michel Petit and Alex Godynyuk walked.
Jeff Reese was dealt for Dan Keczmer, who was later flipped to New Jersey for Cale Hulse, Tommy Albelin, and Jocelyn Lemieux. Actually, no, that's being generous. Keczmer was a minor part of that deal. The Flames packaged him with Phil Housley. Cale Hulse turned into a dozen games of Sergei Krivokrasov and Tommy Albelin was arguably the Flames' most valuable player in this entire tree.
Out of the five players the Flames got in the initial Gilmour trade with the Leafs and the seven players, arguably just three, that Calgary turned them into, none had an impact on the Flames that came close to Gilmour. Tommy Albelin played the most games with 339 and scored the most points with just 71, and he was shoehorned onto this trade tree to begin with.
The Flames and Leafs love their big trades. The Gilmour trade was enormous. The Dion Phaneuf trade was another blockbuster. Heck, even the Anton Stralman trade would be considered a big trade by today's standards.
If there is any validity to the rumours of Dougie Hamilton and the Leafs floating in the air, and if history is any indicator, hold onto your hats!