Verbeauty.
Remember that? Before he became somewhat of a journeyman, Kris Versteeg was a highly sought-after commodity following the Chicago Blackhawks' 2010 Stanley Cup victory. With a tight cap situation, somebody had to go in Chicago.
Actually, it ended up being multiple somebodies, with Kris Versteeg being one of them, heading to Brian Burke's Toronto Maple Leafs.
That's not the Kris Versteeg trade I'm looking at today, though.
Versteeg wasn't exactly a smashing success in Toronto. With 14 goals and 21 assists for 35 points in 53 games, Versteeg certainly wasn't bad, but everyone had higher hopes for him. That was true of the entire team, really.
Less than one full season (and one vandalized car) later, the struggling Leafs shipped Versteeg to the Philadelphia Flyers.
For all the disappointment in losing Versteeg pretty much right after getting him, the Leafs actually got a great haul from Philly in return. In exchange for Versteeg, the Leafs received a 2011 first round pick and 2011 third-rounder. Not bad, right?
The first-rounder was one of two the Leafs had in 2011.
Toronto selected Tyler Biggs first. (If it makes you feel any better, they didn't use Philadelphia's pick on Biggs. That trade is actually much worse, but that's a story for another day.)
Using the Flyers' 25th overall pick, the Maple Leafs selected defenceman Stuart Percy.
I've heard many call Percy a bust, and, knowing what we know, I don't think that's fair. He's suffered numerous injuries, some of which were head injuries due to questionable hits from behind. Like this:
And this:
And that was before he even turned pro.
We also know that Maple Leafs assistant GM Kyle Dubas cited Percy specifically when talking about the Leafs' mismanagement of prospects a few seasons ago, yo-yoing guys between the minors and the NHL. Remember that, once upon a time, Percy made the Leafs out of camp and was up playing with Dion Phaneuf.
It should also be mentioned that Percy still plays. The Pittsburgh Penguins signed him in the summer and he still skates with their AHL affiliate, the Wilkes-Barre Scranton Penguins.
With the Penguins so tight to the cap and always needing young, cheap defenders, Percy is a great fit there and may see NHL time again.
The 2011 third-rounder the Leafs got in the Versteeg trade ended up becoming Josh Leivo, who is still on the Leafs after signing a two-year deal this past summer.
Of course, he barely ever plays. But take that up with Lou and Babs, not me.
That's actually where the Leafs' side of the trade tree ends, for now. Percy walked as a free agent and Leivo, unless he gets traded, is still a Leaf.
What about Versteeg?
In 27 games at the end of the 2010-11 season, Versteeg scored seven goals and added four assists for 11 points in Philadelphia. In 11 playoff games, Versteeg added another goal and five assists.
Remember, the Flyers paid a first and a third for that. They won a playoff round, which is great… but a first and a third?!?
If I told you that you could win the Stanley Cup for the low cost of a first and a third, there's not a single person reading this who doesn't take that deal. Now what if I asked for those two picks but said you'd only get to the second round? Probably not many takers.
Fret not though, Flyers fans! After that season, on July 1, the Flyers traded Versteeg to the Florida Panthers. The compensation: A 2012 third-rounder and the Panthers' choice of either a 2012 or 2013 second-round pick.
Now, would you bump down your first to a second for a guy who produces the way Kris Versteeg did in 2011? That's essentially what the Flyers did, and that's not exactly a high price to pay.
"GET TO WHAT THE PICKS ENDED UP BEING!"
I'm going to take my time telling you. Because I'm a jerk like that.
The Panthers opted to give the Flyers their 2012 second-rounder. The Flyers ended up dealing that pick, along with a 2013 fourth-rounder and winger Jon Kalinski, to the Tampa Bay Lightning for defender Pavel Kubina. This was in February 2012, so the Flyers were gearing up for another playoff run.
This is a bit of a rough one. In 17 regular season games, Kubina had no goals and just four assists. In the playoffs, he added one assist in five games. Unlike with Versteeg, the Flyers weren't able to recoup those picks.
Speaking of those picks, the fourth-rounder the Flyers gave the Lightning in the Kubina deal has some stories to tell.
First, on April 3, 2013, the Lightning traded that fourth-rounder and Cory Conacher to the Ottawa Senators in exchange for… Ben Bishop.
Wow, right? That has to be one of the more lopsided deals in recent memory league-wide.
With that pick, the 102nd overall selection in the 2013 NHL draft, the Senators select Tobias Lindberg.
"Where have I heard that name before?"
On Feb. 9, 2016, the Senators traded Lindberg to the Maple Leafs in the ginormous, nine-player, ten-part Dion Phaneuf trade. Lindberg even played for the Leafs near the end of last season, but you probably missed that because, well, the Leafs were very, very bad.
So that's neat, huh? The Leafs still have Leivo and, although it requires some major shoehorning, Lindberg is related to this trade as well.
As for the Flyers, they didn't get a whole lot other than a couple rental players. I can't help but feel like I'm forgetting something though…
Oh! The 2012 third-rounder the Panthers gave Philly in their Kris Versteeg deal? Yeah, the Flyers used that pick to draft Shayne Gostisbehere.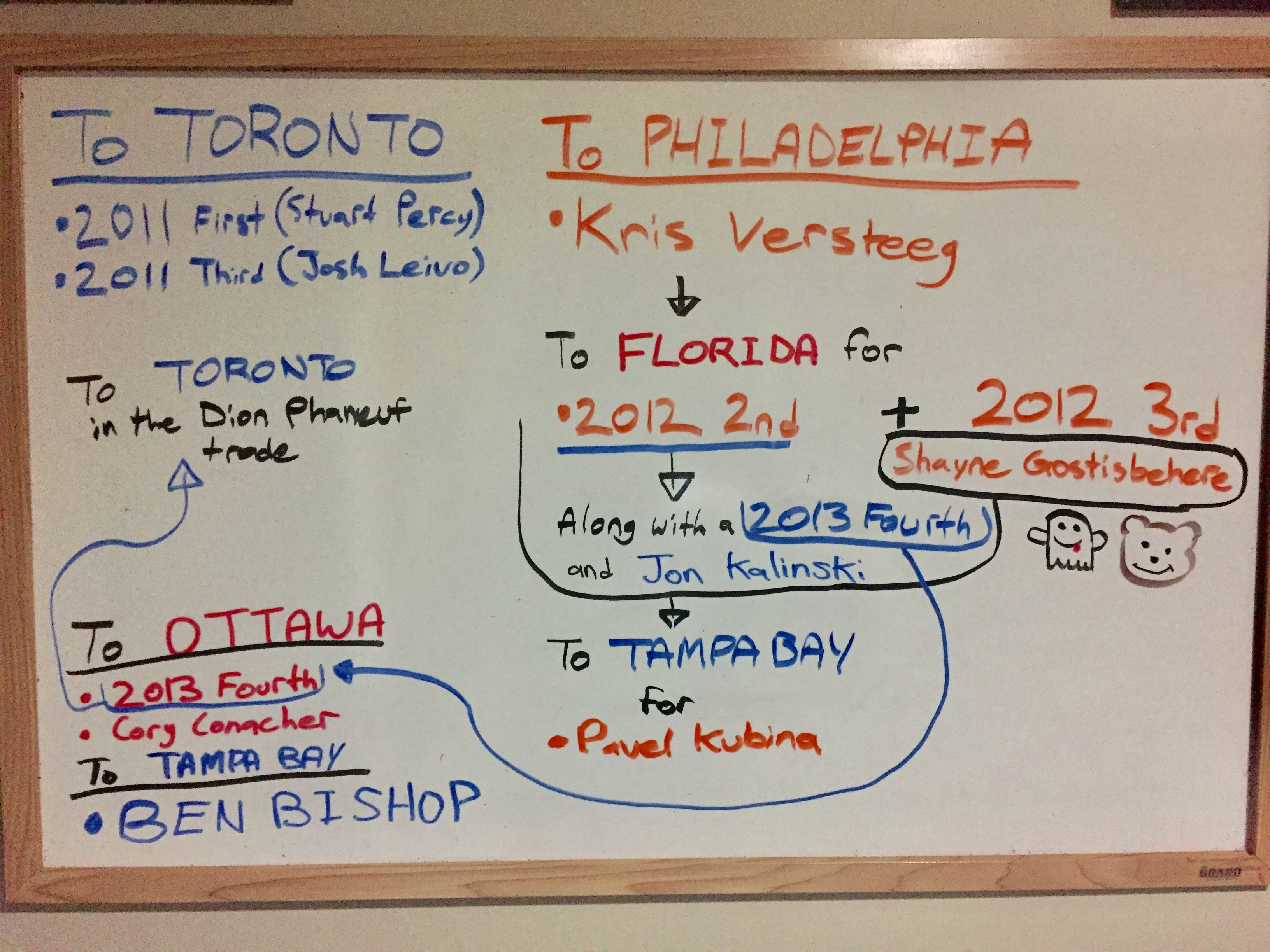 That's right. Ghost Bear. The sophomore Flyers defender who took the NHL by storm as a rookie and Calder nominee last season.
Despite being picked 78th overall, Gostisbehere is already 11th in scoring among players selected in 2013 with 66 points, and fourth among defenders behind just Morgan Rielly, Hampus Lindholm, and Jacob Trouba.
This doesn't necessarily make the Flyers geniuses—they picked Scott Laughton 20th overall and Anthony Stolarz 45th before landing on Gostisbehere at No. 78. If the Flyers knew the Ghost Bear would be this good, why did they wait until the third round?
I've been doing these trade trees for a while now, and there are some definite themes.
I've heard people discuss grabbing "quality vs. quantity" in the draft. Well, the thing about drafting quality is you need a draft pick to do it. Did Philadelphia know Gostisbehere would be this much of an offensive monster on the blue line? I doubt it, but they put themselves in a position to succeed by having the pick.
It's a tough call. If you trade some picks, you might get someone who can push you over the top to win it all right now.
If you actually hold on to those picks and develop them properly, you might get some players who can help you win for years to come.