Have you seen this clip of Winnipeg Jets coach Paul Maurice ripping on Andrew Raycroft and Vesa Toskala? (video above)
How do you really feel, Paul?
This gave me the bright idea to look back at the trades that brought Paul Maurice's favourite goalies – Raycroft and Toskala – to the Toronto Maple Leafs.
Let's start with the Raycroft trade tree.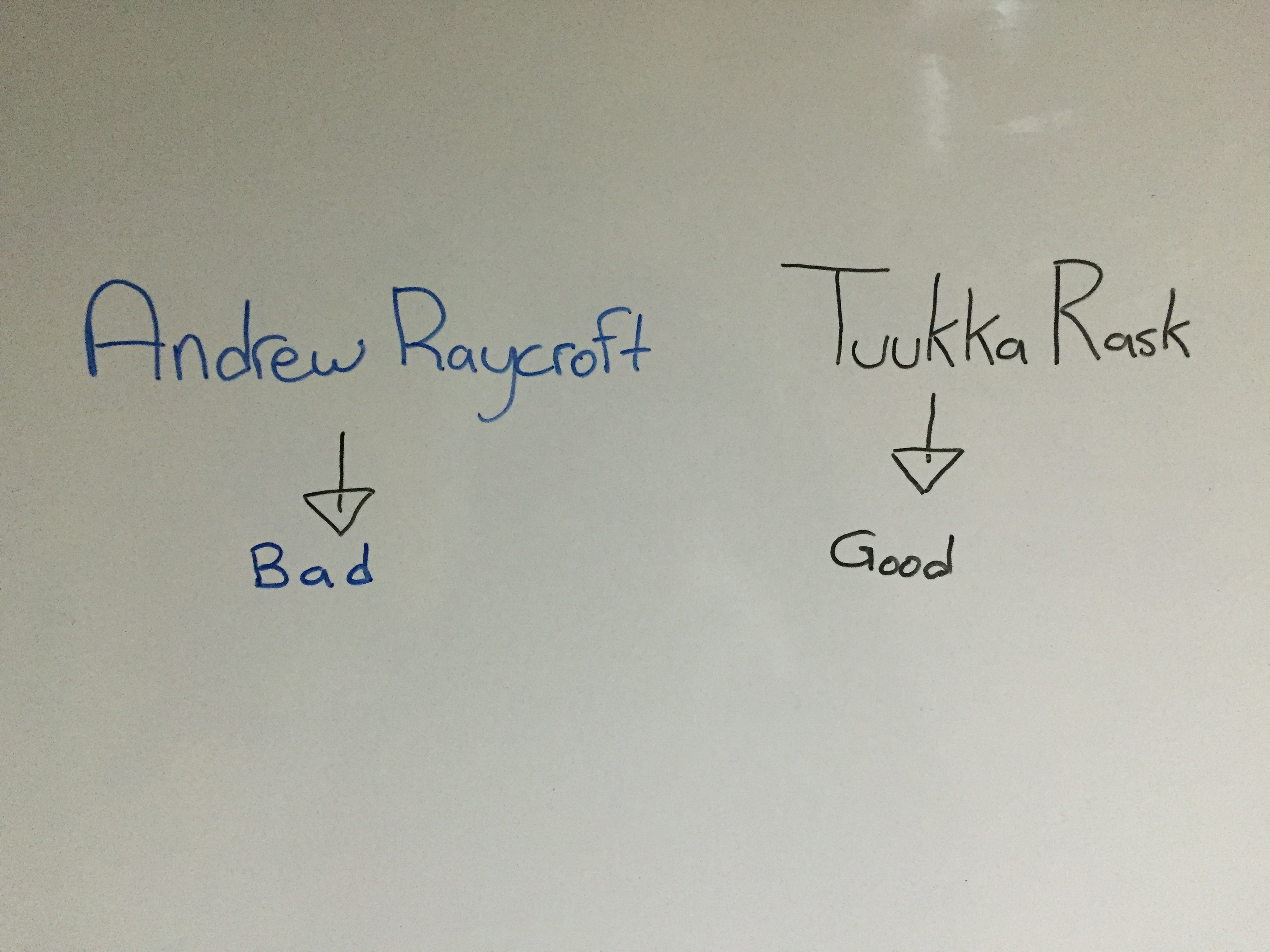 Well, that was easy.
Usually when I write these "Trade Tree" posts there are several players and even several trades involved. This one between the Leafs and the Boston Bruins is a simple one-for-one that has stayed a one-for-one over the years and, simply put, it's an all-time fleecing.
Let's look at the numbers:
Tuukka Rask is one win shy of having twice as many victories with the Bruins as Andrew Raycroft had total games-played with Toronto. Rask is a Vezina-winner and consistently one of the better goalies in the NHL while Raycroft was the Leafs's starter for one year and the backup the next before bolting after a buyout.
The Rask for Raycroft trade sucked. The end.
Oh, I wish that was where it ended for the Leafs.
See, Toronto didn't like what it saw from Raycroft in 2006-07. Yes, he had a good 37-25-9 record but his .894 save percentage was abysmal. The Maple Leafs needed to get a goalie.
Unfortunately, starting goalies don't grow on trees. Nobody wants to trade you their starting goalie. You could draft one but goalies take a while to develop. Justin Pogge is in the system, same problem. "Hey! Are there any teams with a really good backup they would be willing to trade us so we could make them the starter? I think the Sharks have a guy."
Vesa Toskala.
You probably know this one off by heart by now but the Leafs acquired goalie Vesa Toskala and forward Mark Bell from San Jose for a 2007 first-rounder, a 2007 second-rounder, and a 2009 fourth-rounder.
Toskala had a .904 save percentage in his first season with Toronto, which is the kind of numbers I would expect a below-average backup goalie to put up. Toskala posted an .891 save percentage the next year, which is the kind of numbers I would expect maybe the worst backup goalie in the NHL to put up. The .874 save percentage that Toskala put up in his third and final season with the Leafs is the type of performance I would expect if you just randomly walked up to an OHL goalie and said, "You're in the NHL now."
He was bad, I think, is what I'm saying.
Now, I'm going to need you to buckle up for this one. Usually in a one-sided trade, one team does poorly while the other team does well. For example, the Leafs did poorly in the Rask-for-Raycroft deal while the Bruins did very well.
In the Toskala trade between the Leafs and Sharks, Toronto did poorly and half the league did well.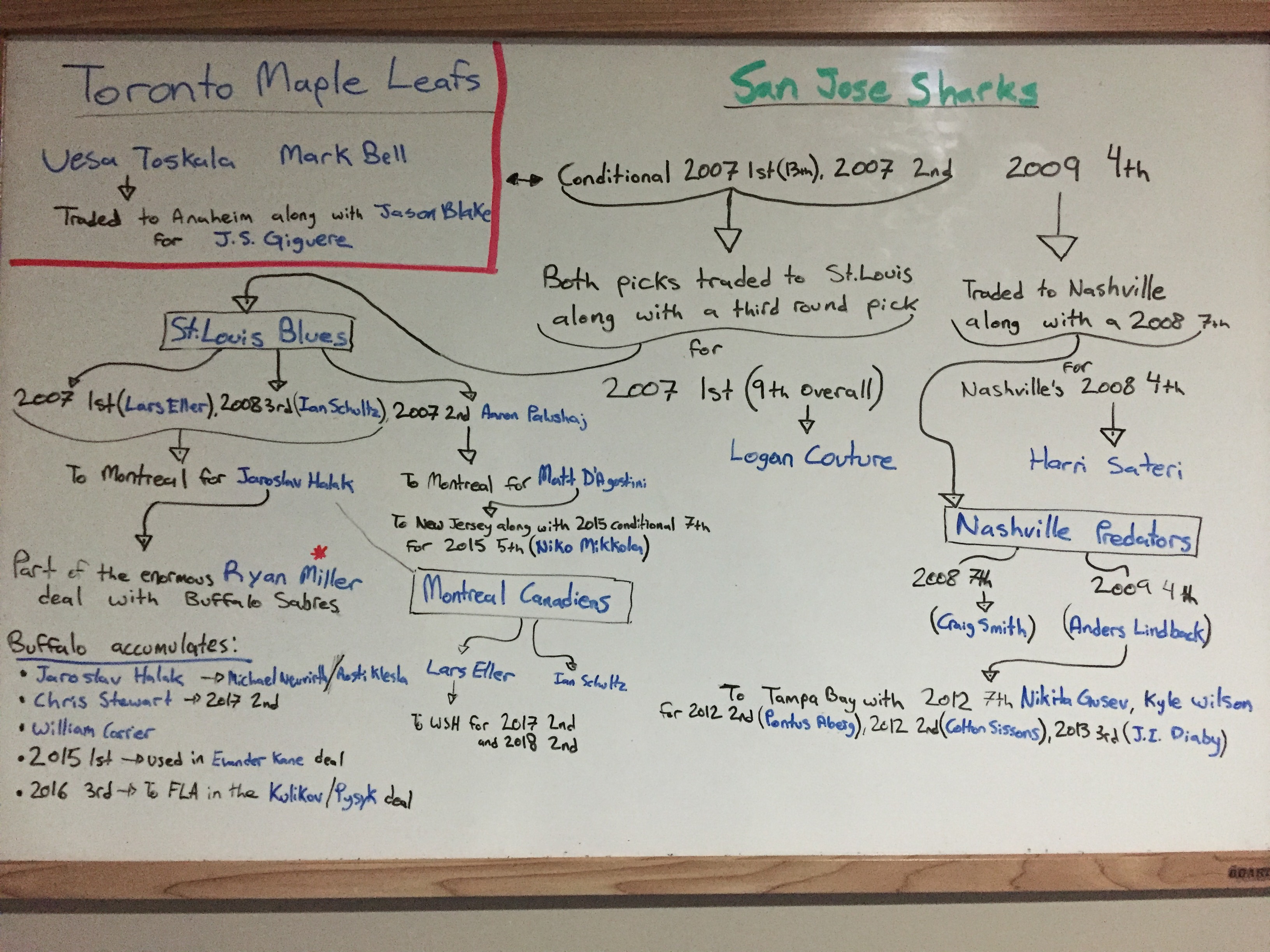 This is the first time I've ever made a trade tree where I had to give up before I was done because I ran out of space. I kept erasing things and making them smaller but nope, it just wasn't all going to fit.
See the red box? That's Toronto's involvement in this trade tree. Pretty minimal. Toskala was packaged with Jason Blake for J.S. Giguere and that was it. Oh, and Mark Bell destroyed Daniel Alfredsson once.
This is where it gets complicated.
The Sharks traded all three of the picks they got from the Leafs in this deal. The first-rounder and second-rounder were dealt to the St. Louis Blues in order to move up from 13th overall to ninth in the 2007 NHL Draft. With the ninth overall pick, the San Jose Sharks selected Logan Couture. Ouch.
It's OK, though. The Blues still got Lars Eller, who has played on St. Louis, Montreal, and now Washington. Oh, and San Jose traded the fourth-rounder they got from Toronto to Nashville and the Predators used it to draft Craig Smith. Wait a sec – how many teams are involved in this trade tree?
Simply put, the original Toskala trade involving the Sharks and Leafs has significantly changed what a lot of teams around the NHL look like. You can follow the tree above but to give you the Cole's Notes…
SAN JOSE SHARKS
Drafted Logan Couture ninth overall in 2007 by trading the Leafs's 2007 first round pick and moving up. Couture has 339 points in 456 games.
ST. LOUIS BLUES
St. Louis used Toronto's 2007 first-rounder to select Lars Eller. The Blues later dealt Eller to Montreal for Jaroslav Halak. St. Louis then traded Halak as a piece in the deal they made to get Ryan Miller from Buffalo.
BUFFALO SABRES
Halak was part of a king's ransom the Sabres received for Ryan Miller. The first-rounder the Sabres received from St. Louis was sent to the Winnipeg Jets in the deal that saw Evander Kane and Zach Bogosian go to Buffalo with Tyler Myers and company going to the Jets.
WINNIPEG JETS
See above.
MONTREAL CANADIENS
The Habs got Lars Eller from the Blues and after six seasons with Montreal, Eller was dealt to Washington for two second-rounders.
NASHVILLE PREDATORS
San Jose wanted to move up in the 2008 draft so they made a deal with Nashville, giving the Predators the fourth-rounder the Leafs gave up in the Toskala trade. The fourth turned into Craig Smith and the 2008 seventh-rounder the Preds got for moving down turned out to be Anders Lindback. Nashville managed to trade Lindback for two second-rounders and who turned out to be Pontus Aberg and Colton Sissons, as well as a third.
Now you could definitely say this is shoe-horning it. A fair amount of this tree revolves around Jaroslav Halak as a partial payment for Ryan Miller. It's still amazing to watch the butterfly effect expand.
The Leafs made a trade for a goalie with a Pacific Division team in 2007 and somehow it's paying dividends for two of Toronto's divisional rivals nearly 10 years later.
Too many people use the term "mortgaging the future" when it comes to trades, but when it comes to the Rask and Toskala deals, it couldn't be more true.