DALLAS – The goal light went on every third time John Klingberg stepped on the ice. Three went in the other net and six found his own while the Dallas Stars defenceman was involved in a game packed with action.
And yet Klingberg didn't come away from a 7-4 loss to the high-octane Toronto Maple Leafs believing there was too much risk to his team's approach.
What irked him most was how easily they surrendered the high-danger area around Ben Bishop's crease. Toronto may be the team of Matthews, Marner, Tavares and Rielly, but skill alone didn't carry the day here. The Leafs worked for scoring chances and wore the Stars down.
"Obviously there was a couple too many turnovers, but I think they scored from being more hungry in front of the net than we were and that's on our 'D,"' said Klingberg. "Myself, [partner] Esa [Lindell], we were on the ice for too many goals and obviously forwards coming back as well. That's where I think they scored their goals.
"Seven goals at home, that's never OK."
The Leafs basically burned a blue hole in the part of the ice where goals form at American Airlines Center. The heatmap paints a perfect picture of what went right for the visitors.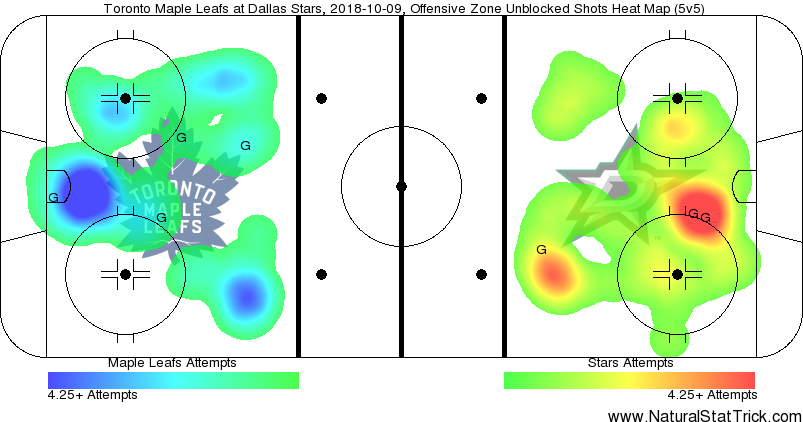 As if it wasn't already a scary proposition facing a team with two freakish forward lines powered by elite centres. But when you see Toronto hound the puck like this? Forget about it.
Zach Hyman won key board battles and beat out an icing to create goals for Mitch Marner and John Tavares. Kasperi Kapanen disrupted the defence with his speed and fought off the backchecking of Alex Radulov to give linemate Auston Matthews the only window he needed to score for a fourth straight game.
"We're a lot of skill [but] I think, at the same time, the thing that's made us successful is we're getting it in, we're grinding, we're getting down low and playing that heavy game," said Marner. "I think when we do that we're at our best."
Where once the Leafs of old seemed to thrive off the rush, this group is rolling up its sleeves and going to work. Matthews can basically score from anywhere on the ice – he already has seven goals thanks to a well-honed ability to fire the puck mid-stride – but the Hyman-Tavares-Marner line is controlling the play offensively from below the goal line.
They produced two goals at even strength in Chicago on Sunday and struck for two more here in Dallas – perfectly melding the relentless ethos of Hyman, slick playmaking of Marner and precision finish of Tavares.
"We had good intensity, good battle, everybody was focused, we had good detail in our game," said Leafs coach Mike Babcock. "I liked our game."
[snippet id=4234155]
They are also getting the job done on specialty teams with a 5-for-10 power play success rate early in this young season. The top unit went 2-for-3 against the Stars, needing just over three minutes at 5-on-4 to inflict that damage.
What stands out about the Marner/Rielly/Matthews/Tavares/Nazem Kadri super unit is how they've avoided the razzle-dazzle. They're moving the puck smartly and finding gaps in coverage. The puck is getting to the net and both goals against Bishop came with some chaos around the crease.
"I think when we move the puck well and kind of keep things, for the most part, simple, we have a lot of talent and skill out there and we can find each other," said Matthews.
"We're not trying to make any highlight-reel plays," added Tavares. "I think we're just kind of sticking with our structure and what we believe is going to work for us and then trying to take what's been given and not try to force anything. I think when you do that, time after time, I think the odds tend to be in your favour.
"Especially when we've got the type of guys we've got on the ice."
These are encouraging indicators for a group still working on its structure and still without William Nylander, the usual right-hand-man to Matthews who is waiting out a contract impasse with management.
They came up against a Stars team here that had allowed one goal in two games to start the season and is spilling over with firepower of its own. First liners Tyler Seguin, Jamie Benn and Radulov each scored against Frederik Andersen – as did Klingberg, the top defenceman.
Still, the Leafs felt like they had a firm grip on things throughout. They were in control.
Matthews and Tavares each scored two more goals to continue incredibly fast starts. Marner had a goal and three assists while Rielly added four helpers – bringing his season total to 10 points, tied with Matthews atop the NHL's scoring charts.
But it was the way they padded those impressive offensive totals that created the most enthusiasm inside the dressing room.
"I think this year we're different," said Marner. "We're making sure there's no easy games against us and we just want to make sure that we don't sit back. We keep pushing teams no matter the score."
They will be too much to handle on too many nights if it continues.
[relatedlinks]