While most of the focus surrounding Auston Matthews has been around his goal scoring and polished defensive play as a teenager, his excellent playmaking has actually flown under the radar.
The main reason for that is Matthews has just 24 assists this season, which isn't exactly a gaudy number. Just 10 of those have come at five-on-five and only seven are primary assists. In fact, per minute played, Matthews has just the ninth-most primary assists at five-on-five among Maple Leafs forwards.
And yet, Matthews is second on the Maple Leafs in successful passes to the slot and successful passes off the rush per minute played at five-on-five. Those are the two types of passes that most strongly drive primary assists, and result in more high danger scoring chances.
Elliotte Friedman: Goal drought likely weighing on Matthews
March 17 2017
Logically then, Matthews is doing his job to drive goals for his linemates, but maybe his passes are particularly bad? Even if they're technically received, maybe his linemates have trouble getting shots off?
Well it seems to be working for Connor Brown, who's scoring nearly a goal every 60 minutes while on the ice with Matthews, but Zach Hyman has had a lot of trouble finishing off the chances Matthews generates for him.
Overall this season, Matthews has set Hyman up for 53 high danger chances that Hyman has put on net at five-on-five, the third-highest mark in the entire league after Connor McDavid and Matthews. Of those 53 high danger shots, Hyman has converted four of them. Considering that the expected shooting percentage from that area is 22.8 per cent, scoring on just 7.5 per cent of them is an incredible waste of opportunity.
This isn't to say that Hyman is a bad player — he's a voracious forechecker and a good defensive player, dangerous shorthanded, but long-term he isn't likely to be a good fit for Matthews because too many great opportunities are wasted on his shot.
Obviously part of the reason Mike Babcock has constructed the lines the way he has is to balance the offence, and he's accomplished that so far. But I think most people would agree that your team is better when your top player is utilized to the best of his ability.
So if Hyman isn't the left winger Matthews needs to be successful, who is? I'd look for two things specifically: A willingness to get in close to the net, and finishing ability.
Hyman is playing his off-wing anyway, so I don't think handedness is a big deal. Let's not limit ourselves that way, though we'll cut out Brown and William Nylander since I think those two have proven to work well on Matthews' other wing.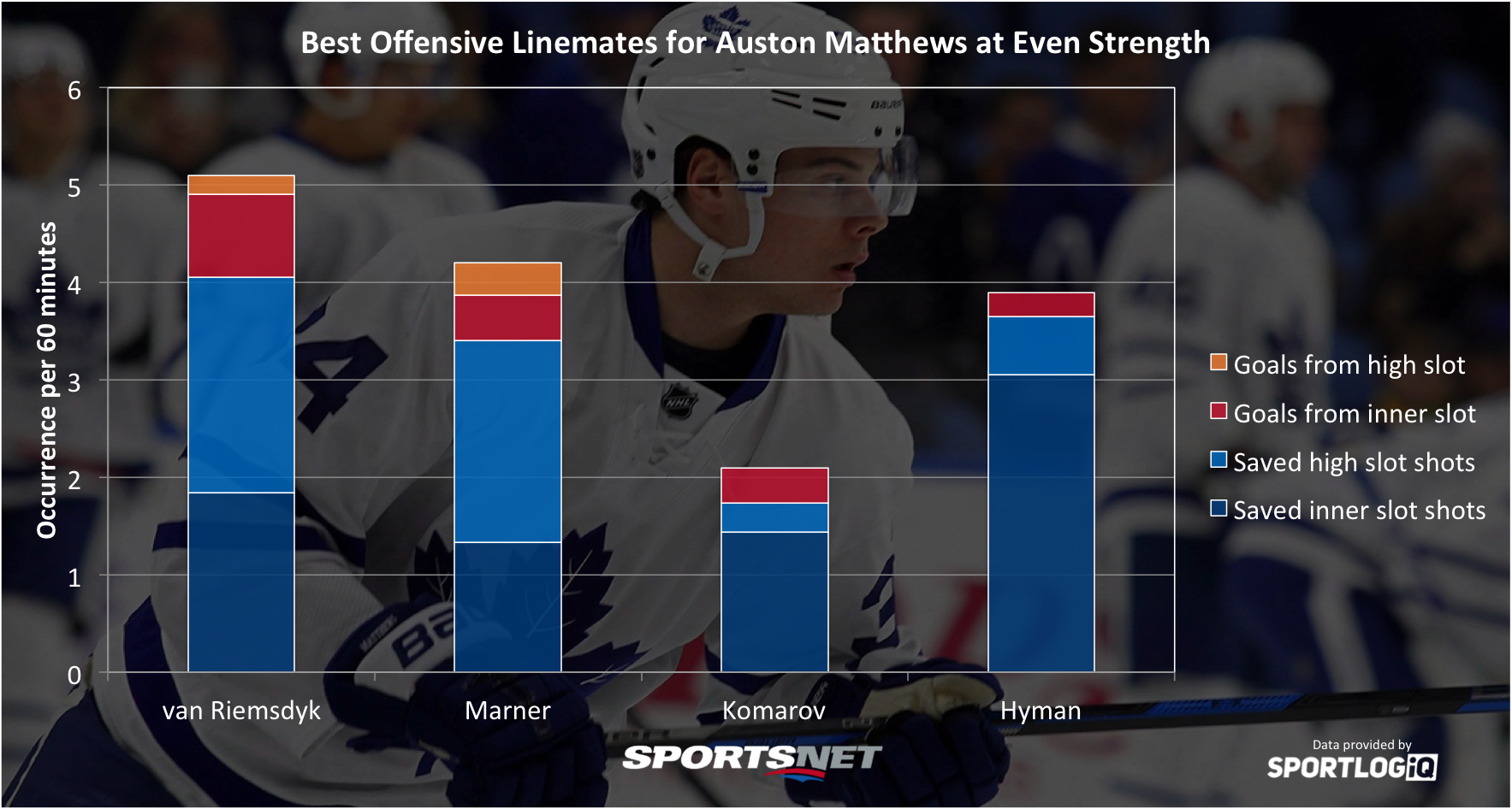 While Mitch Marner would clearly be an upgrade on Hyman, and pairing him and Matthews together would be a tantalizing thing to watch, I have a feeling Marner drives the bus too much on his own line for the Maple Leafs to change it up for a super line. Still, icing a Marner-Matthews-Nylander line for 20 games would be pure joy for hockey.
The obvious guy who fits with Matthews here is James van Riemsdyk. JVR isn't a big possession driver or defensive player, but he does one thing extraordinarily well: knock pucks into the net from very close in. Pairing Matthews with a shooter that talented could lead to an explosion of offence, and not just because of Matthews' playmaking ability.
The extra attention defending teams would need to pay to van Riemsdyk as a scoring threat would open up space for Matthews to score himself. This is one of those scenarios that looks like such an obvious fit that you have to wonder why the team hasn't tried it yet.
In fact, Matthews and van Riemsdyk have played just 30:08 together all season; most likely during line changes and a few odd shifts after penalties expire. If the Leafs had ever struggled to score this season we may have seen this combination more often, but I do wonder if it's a weapon they can use in the playoffs to overload unsuspecting opponents.