There's two ways of looking at this year's Toronto Maple Leafs, both of which are true. They're a team that defied the skeptics and is almost certain to make the playoffs. They've also experienced the shooting-percentage regression that many expected, but made up for it with a different form of short-term success that can't be depended on in the long term.
The Leafs' regression is pretty obvious when you look at things at the level of goals for and against. In 2012-13, they scored 145 goals and allowed 128, a plus-17 goal difference. In 67 games this season, the Leafs have scored 189 goals and allowed 201, a minus-12 difference. If you converted those numbers to 82-game rates, the Leafs have gone from a plus-29 to a minus-15. The numbers guys, who thought that the Leafs weren't likely to post the same goal difference going forward, look pretty good.
"Fine," you might say, "but look at the standings. The Leafs played at a 97-point pace last year and are at a 95-point pace this year. Who cares about the goal difference." It's a fair point. The object is to win individual hockey games, not pile up goal difference. The thing is though, teams don't set out to win hockey games. Teams set out to score goals and to prevent them. The things that players try to do and that coaches want players to do are aimed at winning. Teams that are good at this tend to win more games than they lose. Teams that are bad at it tend to lose more games than they win.
As a rule, goal difference does an exceptional job of telling you how many points a team will have. There's a quick and dirty rule of thumb that for every three-goal difference a team is above or below zero, it will gain or lose a point in regulation. So, for example, this year's Leafs have 65 regulation points in 67 games. Their regulation goal difference is minus-12. Minus-12 divided by 3 equals minus-4. So we'd expect the Leafs to have 63 regulation points. They're basically getting what they deserve in regulation.
They're not a near-lock for the playoffs because of what they've done in regulation though. The Eastern Conference is kind of muddled, with Pittsburgh and Boston well clear of the pack and the Islanders, Florida and Buffalo playing out the string. Entering play Wednesday, here are the regulation records of the other 11 teams: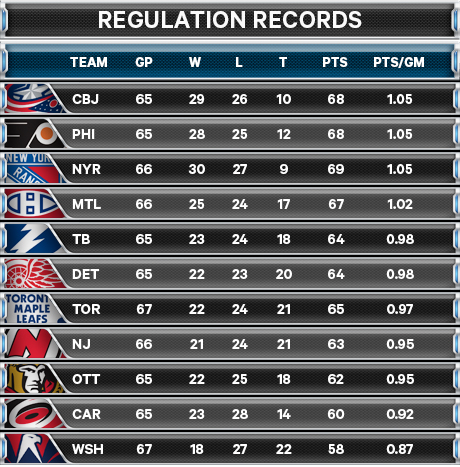 Toronto sits seventh in this group, ninth overall. It's fair to say that if it wasn't for the volume of points the Leafs have earned after 60 minutes, they wouldn't be in the position they're in.
There are three groups of teams that stick out there. Toronto, Washington, Tampa and Montreal have all played a lot of overtime and shootout games, and have all managed to win points in them at about the same rate. New Jersey, Detroit and Ottawa have played about the same number of games as the first group but have been horrible at turning those games into points. The Rangers, Columbus, Philadelphia and Carolina simply haven't played a lot of OT/SO games—and Carolina has been terrible at turning them into points.
At present, the Leafs are on pace to play 26 OT/SO games, which would tie for second most since the NHL introduced the shootout. From 2005-06 to 2011-12, teams that played 24-plus OT/SO games in a season averaged 19.6 the following year. Teams that played 14 or fewer averaged 18.6 OT/SO games the following year. What this means for the Maple Leafs is that they can expect fewer three point games next year while the teams with which they're competing for a playoff spot play in more of them. Worse, the Leafs can probably expect to be a little less effective at winning points in OT/SO, while teams with whom they're competing that have struggled this year improve.
As long as the Leafs get out-shot as badly as they do—their Corsi% was 44.1 percent last year, 43.6 percent this year—they're never going to be more than a team that can only make the playoffs if things go right. Will the Leafs try to fix their shot-differential problem? If they weren't moved to worry about it after last season, it's hard to imagine what would move them to worry about it after another glorious spring.
It seems more likely that they'll roll along until they have a season in which they don't get some breaks, miss the playoffs, fire some people and start over. Then they'll have wasted not just the year in which they don't get some breaks but all of the time in which they were a bubble playoff team and could have been trying to become a Cup contender. If you're a Leafs fan who'd like to see them become a contender, a second playoff berth in a row is a nice thing but it's a Pyrrhic victory.