At age 37, Marian Hossa is nearing that milestone that so few attain: upon his birthday on January 12, he will have spent half of his life employed as a National Hockey League player.
Now, think about that for a minute.
In order to become a "half-lifer" before the age of 40, one must play in their teens, as the 12th overall pick of the Ottawa Senators in 1997 did. Then, he would have to be good enough to stick around, because average players don't play into their late 30s. Only exceptional ones do.
So today, Hossa reminds us of Teemu Selanne in his later years, or Jaromir Jagr. On the surface he is thrilled to still compete with incoming stars like Connor McDavid and Artemi Panarin, while under the water he is pushed by pride, paddling harder than ever to keep up.
"It seems like there is a wave of young kids coming now, with so much talent and potential. So fun to watch," he said. "You see how the league is changing, more and more younger players have more chance now. And they're more prepared now for the league than we used to be."
Not much is as it used to be for Hossa, an eight time 30-goal scorer, with two 29-goal seasons thrown in.
He was once the consummate trigger man, with six seasons in which he had as many or more goals than assists, while today he is a period piece. Built strong and square like an old Skoda, but having adjusted to the new-age North American game like a sleek, newer model.
On a team with far more than its fair share of dependable leadership, Hossa is the favoured example for Blackhawks captain Jonathan Toews whenever a new, young face shows up in the Chicago dressing room.
"It's one of those things that a veteran guy in our room would just say: 'Just watch this guy. Don't do as I say, or do. Do what he does," Toews begins.
"All the little things he does, aside from the goals he's scoring right now, he's one of those guys who sets an example for young guys coming into the league."
Yes, there has been a spasm of production this fall, a start the likes of which Hossa has not had in years. He has 11 goals in his first 20 games, courtesy those thick Eastern European forearms that can still produce a world class wrist shot. And, of course, the gamesmanship accrued over 1,254 NHL games, an earned advantage needed to keep up with all the young pups flying around out there.
Remember when he was the guy who lost the 2008 Stanley Cup as a Penguin to Detroit, then lost again the following spring as a Red Wing to Pittsburgh? Today he has three rings, all won with Chicago, playing at the same 210 lbs. that he was as a 19-year-old in Ottawa. But he's working on improved quickness, resting more, and has trusted the Hawks trainers with his offseason program more than in the past.
"I haven't had such a long summer in a long time. Losing in the first round has some benefits too after so many long (springs)," he said. "My goal, going to Detroit (for the 2008-09 season), I looked at it as a great year for experience. To learn from those future Hall of Fames, so many of them there. That year helped me to become a better player both ways."
How many players are left in the game who can claim nuggets learned from Nicklas Lidstrom, Pavel Datsyuk, and Tomas Holmstrom? Or earlier in his career, from teammates like Vinny Prospal, Daniel Alfredsson and Peter Bondra?
His calling card has become fairly simple: responsible and strong on defence, and quick enough on offence to claim body position, then impossibly strong for defenders who try to steal back his ice.
"He can get to the net before guys, and then it's hard to defend him once he gets position," explains Edmonton winger Matt Hendricks. "His ability to skate (is coupled with being) on a very good team that plays the high-pace, quick style offensive game that he's accustomed to."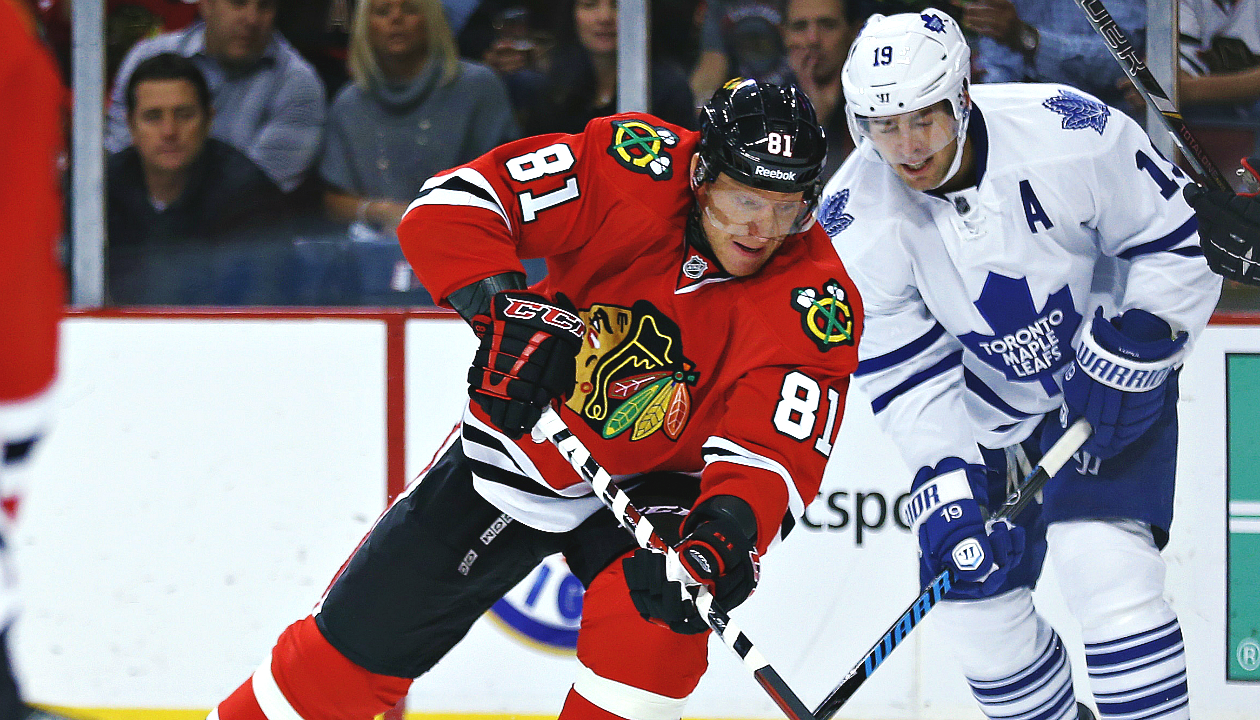 It's funny now to think back to 2009 when Hossa signed his current contract: a 12-year, $63.3 million deal. We scoffed when we learned that $59.3 million would be paid out in the first eight years, and the experts assured us, "He'll retire before playing those final four seasons at $1 million per season."
Well, next season Hossa will make a million bucks. And there are no signs that this Skoda is ready for the junkyard yet.
"The time went by really fast," he reflected. "I know, the next four years the contract drops. But right now I feel really good and enjoy it. Having lots of fun.
"If I can play I'm going to play. If I can be at the level I want to be, if there is no injuries, I would like to play."
Who knows? Maybe one more contract?