TORONTO — Nikita Zaitsev is buzzing.
Legs heavy from grinding through a two-minute, 11-second shift to the buzzer, ears ringing with the Maxine Nightingale hit that greets every Toronto Maple Leafs victory and head still shaking at Mitch Marner's willingness to go face first into a shot block in order to help his teammates get across the finish line and grab a 2-1 lead in their first-round series with Boston.
"I was a couple feet away from him," Zaitsev said of Monday's final sequence, which saw Marner throw his body in front of two David Pastrnak attempts. "Unbelievable. That's Mitchy, he's a two-way guy, like one of the best in the league. He shows that. You see him tracking, you see him killing penalties, blocking shots and what he can produce in the O-zone?
"He's a hell of a player. He's an elite guy."
He is a young Maple Leaf who has come of age. And he's not alone.
You could really sense it and see it on a night like this, with the series shifting to Scotiabank Arena and Toronto not only looking to atone for a poor Game 2 effort, but also coming to grips with the loss of Nazem Kadri for the remainder of Round 1 because of a suspension.
Given a chance to protect home-ice advantage, they looked like they'd been there before. Composed and in control. Consider it the return on the emotional investment made during a six-game series loss to Washington in 2017 and last year's seven-game heartbreaker to the Bruins.
This is the Leafs' best chance yet to advance to the second round — even if they've drawn the NHL's second-best team from the regular season and very well might be heading down a path back to another Game 7 at TD Garden.
That much became clear after watching them manage the puck and weather the swings in momentum on Monday night. It was a tight, see-saw affair and the Leafs found a small edge by keeping Patrice Bergeron's "Perfection Line" at bay — not to mention having a 94-point forward killing off the final seconds by blocking shots.
"I got fired up," said Trevor Moore, of Marner's second big moment in this series following his dazzling penalty shot goal in Game 1. "I think I jumped like six feet in the air."
"That's what you've got to do to win," added Leafs coach Mike Babcock. "Ideally, all those things are contagious. When you see your teammate do something like that, you're more likely to do it yourself.
"They talk about team-building. To me, that's team-building."
The Leafs have built up an understanding of how to play with a lead this season — now sitting at 38-0-1 in games where they were ahead entering the third period — and seem to have some additional mental fortitude to go with it.
They started Game 3 strong and rode the wave, seeing Boston push back hard before regaining some control and generating an 11-3 edge in high-danger chances during the middle frame. By the time it ended, the shot attempts were exactly even, 61-61, and the run of play had swung in a couple directions: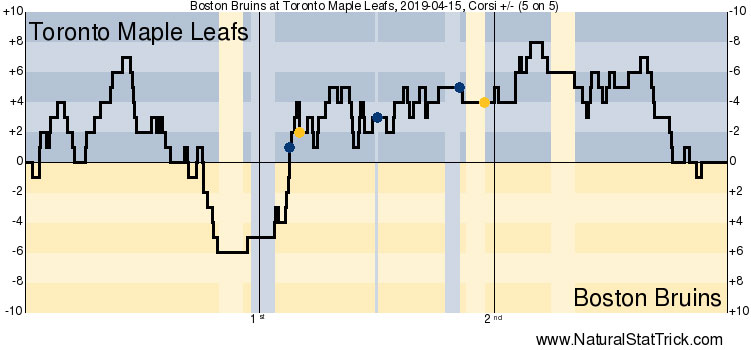 "The playoffs are a roller-coaster," said Zach Hyman. "There's highs and lows and you've got to stay even-keel and you've got to be ready for a push. We lost Game 2, we responded.
"Now we know that they're going to be raring to go for Game 4 [on Wednesday]. We've got to save home ice here. I think that experience goes a long way, we've been there before."
They found an edge on specialty teams — outscoring the Bruins 2-1 — and used last change to keep the Bergeron line away from Auston Matthews and Co. almost entirely. That freed them up to use Andreas Johnson and Kasperi Kapanen's speed to get pucks behind the Bruins' defencemen in the offensive zone while Tavares, Marner and Hyman sawed off Boston's nuclear trio.
Just like in the previous two playoff years, Matthews scored his first goal of the playoffs in Game 3. It came on his 11th shot and 23rd attempt of the series, but wasn't preceded by nearly as much personal frustration before it arrived.
He knew. More experience, man. And the 21-year-old is still the youngest player on the Leafs' roster, five months behind Marner.
"It's nice to get one," said Matthews. "It's another level when you score in the playoffs. I think I said it before: It's like an earthquake under you. The atmosphere here was unbelievable."
But the moment wasn't too big. It felt just right.
The immediate challenge only gets greater from here — Boston will make adjustments and play with more urgency, while the Leafs try to scrape out two more wins in four games or less.
However, for those who have been around these last few years Monday symbolized something. It was a reminder of how much the team has evolved and how far they've come from the playoffs past.
"We had a group of young guys," said Zaitsev. "They were like 18 years old or something when we played against [Washington]. For sure, we've been through it last years.
"It helps. It helps."
It's showing, too.