CRANBERRY TOWNSHIP, Pa. – There is a hint of sadness to be found inside the best organic story to sprout up during these Stanley Cup playoffs.
As Matt Murray's impact grows more historic with each successive start for the Pittsburgh Penguins, the 21-year-old further entrenches himself in the team's net. A net that has basically been the exclusive property of one Marc-Andre Fleury since 2005.
Fleury is backing up in this series against the Washington Capitals after recovering from his second concussion of the season. That's the way it should be. The way it has to be.
But that doesn't make it easy for the 31-year-old or other veteran members of an organization where he's beloved.
"I haven't played in a month now and what's important is us winning," Fleury said Tuesday afternoon. "Matty's given us a chance every game he's been in there. I'll stay ready, I'll encourage him. It's not a personal game, it's a team game.
"I'll try my best to contribute with whatever I'm doing just to help us win."
It will come as no surprise to anyone that has spent time around the Penguins over the last decade that Fleury is handling this situation with class. There are some here who say he's been the most beloved teammate during this current era and he's accomplished that by putting the team above all else.
We before me.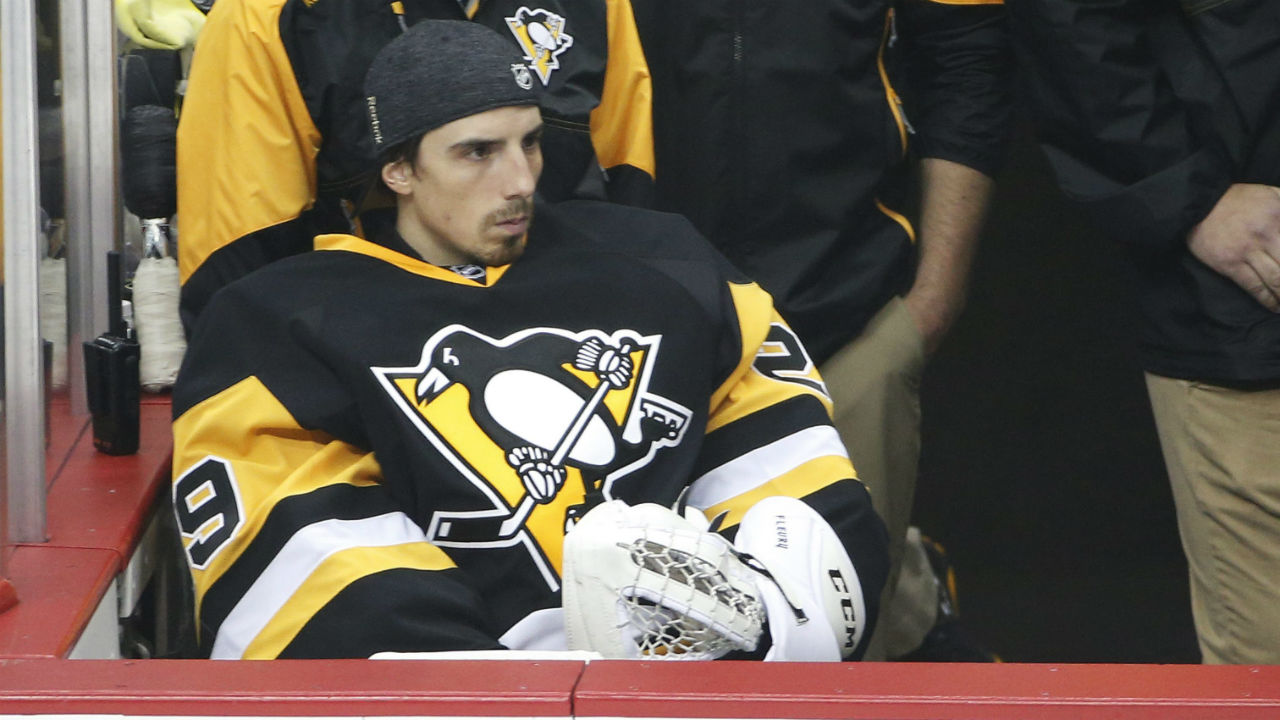 So it's only natural to see him encouraging Murray from the bench during a TV timeout – as he did during Monday's 3-2 victory over Washington in Game 3.
Where the hint of melancholy comes from is the growing sense that change might be on the horizon. The Penguins are thrilled with what they've seen from Murray, but there is an obvious domino effect in play with a potential expansion draft looming a year from now.
Teams will only be able to protect one goaltender if that happens. The young upstart is always favoured over the steady veteran in those types of decisions. While it's a fact probably not lost on Fleury, it's also not part of his current mindset.
"I'm not there yet," said Fleury. "I think the focus is still on winning this year. That's where it has to be. And when that's done then maybe we'll see."
An interesting aspect of the recent deal worked out by the NHL and NHL Players' Association regarding expansion draft rules is that only players with a full no-movement clause will have to be protected by their team, according to a source.
Fleury's contract includes a no-movement clause for the purposes of waivers or being assigned to the American Hockey League, but it is limited when it comes to trades. Each year he submits a 12-team list of teams where he can't be dealt.
As a result, he's not exempt from the expansion process and the Penguins would have to decide between protecting either him or Murray if both remained on the roster through the end of next season. It might ultimately force general manager Jim Rutherford into making up his mind sooner in order to trade one away and get a return on the asset.
The sample size on Murray's performance is small, but impressive.
He's looked completely comfortable since taking over for No. 3 goalie Jeff Zatkoff in the opening round, posting a 5-1 record and .944 save percentage.
That includes his ridiculous 47-save effort on Monday that helped the Penguins steal a victory and take a 2-1 series lead over Washington. Murray may be young and relatively inexperienced, but he carries himself like a seasoned vet.
"The first time I saw him walk in the dressing room, I don't know much about him," teammate Kris Letang said recently. "(Then) I started to practice with him and I saw that little cockiness. I really like it. He's a confident guy and he's got an attitude, saying like: 'I'm not going to leave that net, somebody has to drag me out of that net.'"
At this point, the only way Fleury gets back in there is if Murray gets injured or stumbles.
Anything is possible, of course, especially since the Penguins enter Game 4 on Wednesday without two of their top defencemen in the suspended Letang and injured Olli Maatta.
But Murray has shown the ability to weather a storm, which is why Capitals coach Barry Trotz described him as "looking like a franchise goaltender."
That's what Fleury has been for the Penguins organization since being drafted first overall in 2003.
He helped them win a Stanley Cup in 2009 and has already racked up an astounding 357 regular season victories. Were it not for the concussion he suffered on March 31 against Nashville, he'd probably still be considered the No. 1 man in Pittsburgh.
That was followed by a frustrating month of stops and starts, of always waking up hoping to feel better and having to wait too long for that day to arrive.
It opened the door and Murray came barging in. He's now made 19 NHL starts and has only lost two of them in regulation. With each passing victory, he's drawing comparisons to other rookie goalies who have delivered special performances.
"I can't say I've seen anything exactly like that," Penguins defenceman Ian Cole said after the Game 3 victory. "You've seen great performances – Cam Ward came in and played great as a rookie [for Carolina in 2006] – but in my eyes he's just as good as anyone in this league."
Murray may even be as good as the guy he's replacing.
While that's obviously positive news for the Penguins both now and in the future, it's a realization that comes with a heavy heart.