Scottsdale, Ariz. – Christmas comes early this year for Boris Dorozhenko, and for the whole fledgling Arizona hockey community.
The best and most unlikely present they could have ever asked for stands 6-foot-2, weighs a rock-solid 215 pounds, and comes in blue-and-white wrapping with a maple leaf on the front and No. 34 on the back.
Auston Matthews, the prodigiously talented son, is coming home, arriving Friday night at Gila River Arena.
Want to stream 56 Leafs games this season? Sign up for Sportsnet NOW
There will be friends, family, and who knows how many young fans in his jersey in attendance — products of the small, but vibrant hockey culture that has sprung forth in the desert.
Matthews, the No.1 overall pick in the 2016 NHL Draft, may be Toronto's saviour but he's the patron saint of hockey in the Valley of the Sun.
For Dorozhenko, watching the 19-year-old centre take the ice in an NHL game live for the first time and on the Arizona Coyotes' home rink no less, will be a surreal moment. It will blur nearly a decade of fantasizing about what might be possible with memories of the reality that made one of hockey's most unlikely dreams happen: many, many mornings spent doing many, many drills. Of road trips across North America. Video sessions. Camps. A bond cemented by sweat.
Sitting over a coffee recently, the past comes back in a flood.
"Coaching Auston became like a style of life," said Dorozhenko, who began working closely with Matthews when he was eight, after the Scottsdale kid had been bitten by the hockey bug watching Daniel Briere skate for the Coyotes. "We did a lot of six in the morning, getting up at five, because the ice time was reasonable.
"He was skating with me maybe three times a week, plus I was involved with his teams as a coach. I became very good friends with his father and his family and they decided at a certain moment that he should spend more time with me.
"At a certain moment they gave a big confidence in what I was doing and Auston believed in this and they believed in this. …. When he went to the U.S. development team [as 16-year-old], he was in good hands, but to make that delivery, it was hard."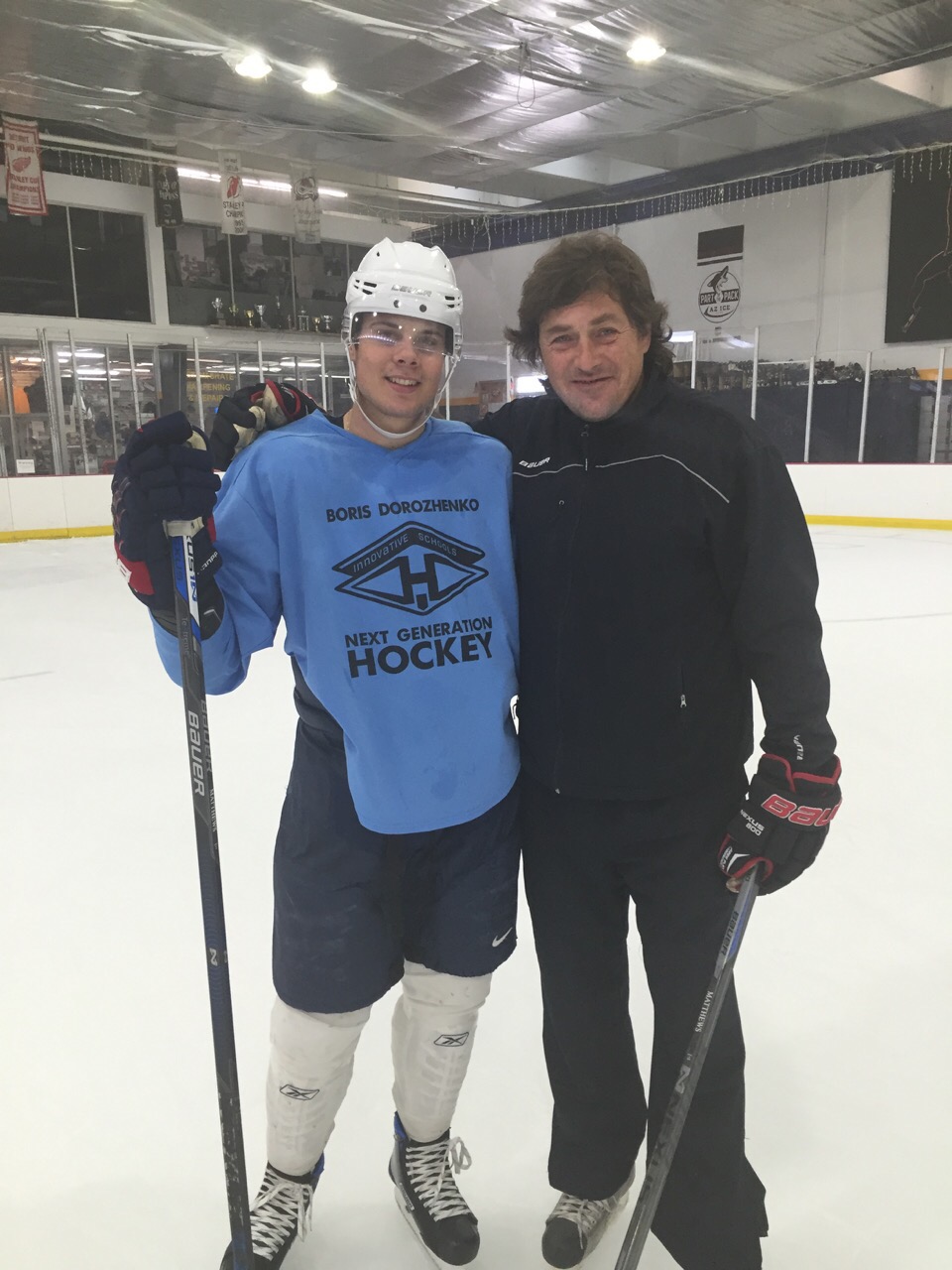 But it was worth it. Matthews comes home on a roll, with 10 goals in his past 13 games and second in the NHL rookie scoring race.
But no, it wasn't easy, even for someone with Matthews' talents, and the budding Leafs star credits the man he used to call "Uncle Boris" for much of his success.
"He's been huge for me. He always pushed me every day out on the ice to become better," said Matthews. "There were always those days you kind of hate him and stuff. But in the long run, kind of looking back on it, and when we spend time in the summer, you kind of laugh at all those memories you have.
"He's played a huge role in my success and my development getting to this point."
From the perspective of the Leafs and their fan base, Matthews represents an oasis, a clearly elite talent who seems perfectly suited to the responsibility that comes with being a franchise player.
More good news?
His mentor – like Leafs head coach Mike Babcock – is sure that Matthews is just scratching the surface.
"I tell you. He's still playing a little bit conservative, he feels a huge responsibility to make this team go," said Dorozhenko. "He knows what people expect from him. It's big pressure, but chemistry is starting. I can see it."
While Dorozhenko is looking forward to seeing him play in person for the first time as an NHLer, he has only missed one of his protégé's games thanks to the NHL's Center Ice package and his iPad.
"I can watch it even driving," he said.
He was on a cruise to Hawaii with his wife and two sons when Matthews made his spectacular four-goal NHL debut.
"I could not believe it," he recalled. "One. Two. And I knew: he's going to score another one. And another one. I've seen it many times.
"He can play really free or he can play kind of like a playoff style, when he doesn't want to make a mistake and play for the team," he says. "[But] any time he feels like he's going? And he's playing freely? Boom. I can tell you.
"I expect another multiple-goal game this season and in his career many multiple-point games."
There are so many elements about the Matthews family's hockey miracle that it will likely take the entirety of his career to play out before its random wonderfulness is fully appreciated. Starting from how an athletic Arizona son, born to a Mexican mom and a baseball-loving dad, chose hockey in the first place and then wound up as the star attraction in the most hockey-mad city on the planet.
But the presence of Dorozhenko in his life is another element that defies prediction. A native of Ukraine who played his hockey in the old Soviet Union, Dorozhenko's competitive career ended in his early 20s. He went on to complete a degree in applied mathematics in probability and statistics, but upon graduation an old hockey friend invited him to Mexico to help launch the sport on behalf of the Mexican Hockey Federation.
Starting nearly from scratch he built a program that had 12 peewee-age teams. His claim to fame – before Matthews blew up – was taking a select team to the Quebec International Pee-Wee Hockey Tournament and winning a game against a Canadian team.
"It was huge," he said. "People were like: 'What is going on? Mexicans beating Canadians in hockey? We can beat them [Mexico] sleeping and without skates'. It was a crazy thing."
It was from his base in Mexico City that he travelled to Arizona to put on some skating camps. Matthews attended one in 2006 and at the urging of Matthews' father and former NHLer Claude Lemieux, Dorozhenko relocated to the Phoenix area a year later.
From then on, Matthews' hockey immersion began in earnest as he fell in with small group of players with big goals and who believed in Dorozhenko's unorthodox approach to training – an intense focus on edge work and puck-handling, yielding skills born of countless repetitions.
It wasn't for everyone.
"There were the people who believed in Boris and the people who didn't believe in Boris," Dorozhenko said. "Ten years ago, in this Valley, 10 per cent of coaches gave me support. Coaches would shake my hand, smile and then walk away and say I was crazy."
His most radical position was his belief in the need for patience.
"I would coach a team and the parents would want power plays and drills with 2-on-1s and 3-on-2s," he said. "I would say 'they are 10 years old, what do they need to know the [power play] for?' Why do 2-on-1 drills with kids who can't take the puck on their backhand? "It's like Lego: First you need to make sure each piece is in place, and it's very easy after to put it all together. But you need each piece first.
"So maybe you spend the whole hour on taking passes on the backhand, or maybe a week or maybe a month. When he's ready, now let's try a 2-on-1. That's my philosophy."
Those who bought into it believed they were getting something unique.
"He's the best skating instructor I've ever seen," says Russ Courtnall, the former Leafs first-round pick who went on to play over 1,000 NHL games.
Courtnall's son Lawton would travel to Phoenix from his home in California every opportunity he could to train with Matthews and Dorozhenko, and was part of a tribe of elite young hockey players that would spend weeks each summer at camps that Courtnall helped set up for Dorozhenko across British Columbia. It was hockey immersion.
"The kids just loved the guy. They would work so hard trying to consume everything he was teaching and try to please him at the same time, it was amazing to see," said Courtnall, now a real estate developer.
"In the summers they would be away for weeks at a time and they would always rent a house or stay with family and Boris was really strict on and off the ice," said Courtnall. "They had to cook and clean their rooms, so it was a good life experience as well. I think that Auston's parents trusted [Boris] to spend that time with him was a big factor in his development."
It contributed to the greater whole: "This friendship with Auston helped me, outside the ice. You can't imagine how many things we did. In Victoria I rented a big house, 15 kids and a few coaches and parents, all staying in the one house. We skate three, sometimes five hours and then we play soccer or have a singing contest. I have a video of Auston and Lawton, I'll put it up one day.
"We spent a lot of time driving everywhere, we'd have Russian kids, Mexican kids, French Canadian kids. We had a very good time and this friendship outside helped grow the personality of young athletes.
"I'll push a little psychologically to jump over [their] head a little bit, to give a little more effort, but off the ice, we're friends again."
Matthews is only the best and highest profile of a number of elite hockey players who have emerged from Arizona having trained with Dorozhenko.
Todd Burgess, drafted in the fourth round by the Ottawa Senators in June and Austin Carroll, a seventh-round pick of the Calgary Flames in 2014 trained with Matthews and Dorozhenko, as did a number of players in the Canadian junior ranks and the USHL. Courtnall's son is a freshman at Western Michigan this year.
"My goal, with working with 20 people, was to make 50 per cent a success," said Dorozhenko.
Like Michelangelo and the Sistine Chapel, helping shape Matthews as a hockey player will be a career peak Dorozhenko knows will be difficult to repeat. He sees Matthews as a rare combination of pure athletic ability combined with an insatiable desire to improve, all on a clean slate that arrived with full support and cooperation of his family. Matthews is the embodiment of everything Dorozhenko has to teach.
"I worked with him pretty much every day for six years or so," says Matthews. "Pretty much seven days [a week, with him]. Yeah, I was just constantly on the ice, just trying to get better, I guess."
Every Leafs fan knows the results by know, but when you listen to Dorozhenko you realize it wasn't a fluke, but the product of a plan.
"He's strong on his edges, quick on the boards," said the teacher of his prized pupil. "He's really, really good around the net, especially coming from the corners. We skated a lot at a small, 3-on-3 facility and I feel he's strong in small areas because of that.
"His release is very quick. His hand-eye coordination was always really, really good. He was gifted with that. It's a total program."
As thrilled as he is for Matthews' successs, Dorozhenko admitted that it's left a bit of void.
"Initially my dream was to implement my style in North America," he said. "The second one was to train one National Hockey League player. When that happens, it's like, what is next? What is the next goal to reach?"
But the ember still burns.
"I'm definitely interested for myself to see if I can do it more than once. But the difficulty is the conditions," he said. "People bring their kids to me and think I can make them a great player. But they don't understand. It's a huge package. Believe me. I try to be a psychologist, a friend. I had the good support of Auston Matthews and his dad and grandfather too … Auston Matthews became like a family to me."
Families reunite for the holidays, even if only briefly. The Arizona hockey family will be together again to greet their favourite son on Friday night.
Watching will be Dorozhenko, his gift to the hockey world on ice for everyone to see.
For that Leafs fans can only give their thanks.