When the roof started to cave in, the cameras cut to a shot of Auston Matthews on the Toronto Maple Leafs bench. He kept a stoic expression that belied any of the understandable frustration bubbling up inside.
All the face of the Leafs franchise could really do was watch while Saturday's game slipped from grasp.
He had his own opportunities on the ice, of course, playing more minutes than any other Toronto forward. A review of his 25 shifts from Game 2 showed that he handled them quite well. Matthews had the puck on his stick a lot. He came out on the winning end of an early battle with Patrice Bergeron and intercepted a David Pastrnak cross-seam pass in the defensive zone.
The Leafs rolled around in the Boston end for most of his first six trips over the boards. And they were still trailing 3-0 after 12 minutes. Things didn't go so well when Matthews needed a breather.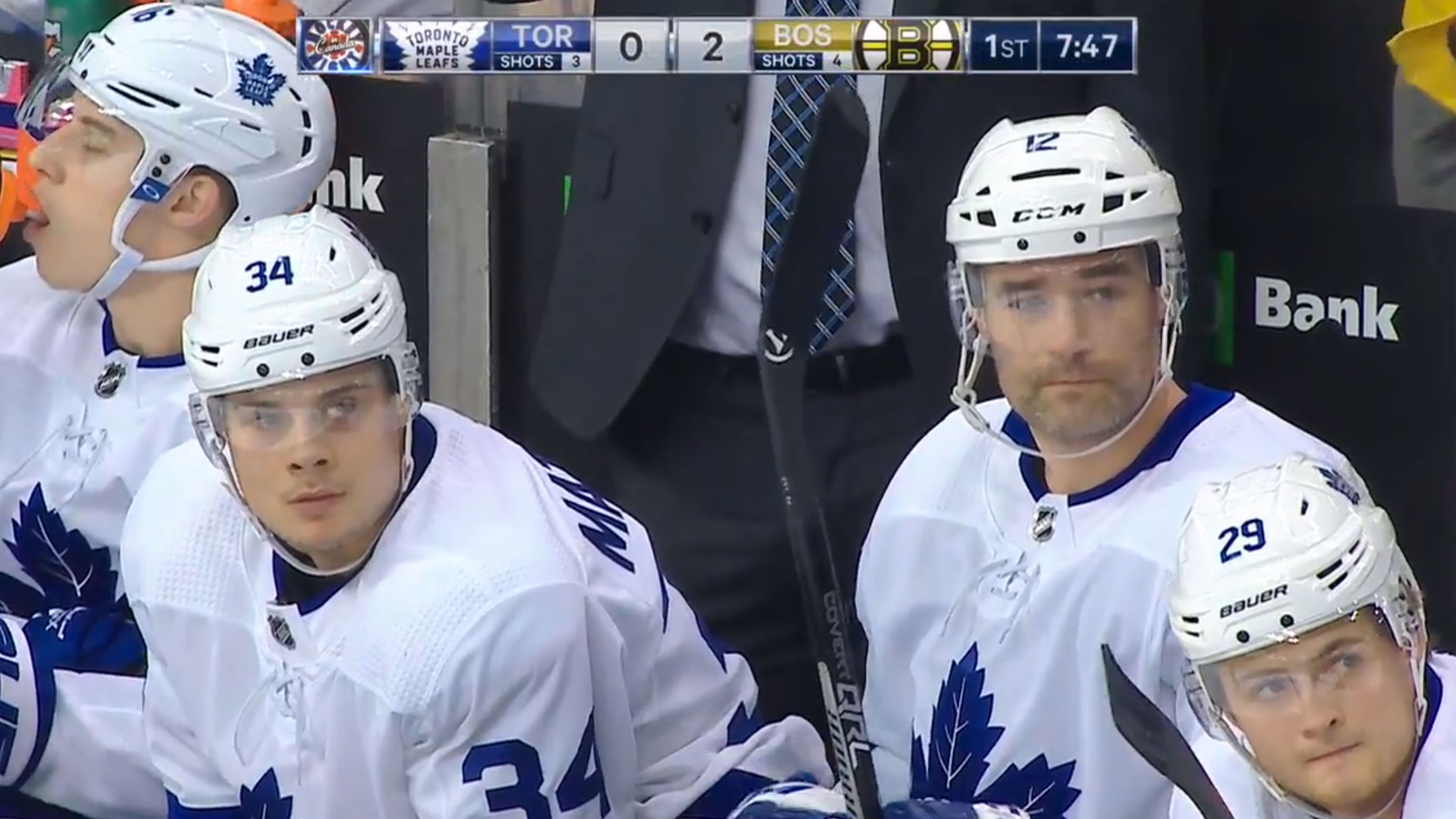 That's why he said "S––– happens, I guess, so … it's hockey" when asked about the 20 points put up by Bergeron's line through two games, compared with the bagel for his own. Despite failing to smash through the Chara–McAvoy wall and put a puck behind Tuukka Rask, he was a disruptive force in Game 2 while spending time working between six different wingers.
His pointed post-game response was a sign of process-driven thinking.
"Got to rebound for Game 3," Matthews added.
It has been a difficult season for the 20-year-old centre—perhaps never more difficult than right now at this moment. The three injury absences tested his patience and taxed his body. A completely unsheltered workload saw him challenged with higher-stress situations more frequently than in his rookie year.
That made for some tough nights to push through, like the Dec. 19 visit to Pittsburgh where Sidney Crosby kept his line to zero even-strength shot attempts. Or the elaborate game of keep-away Jonathan Toews orchestrated inside the United Center on Jan. 24.
"Jonathan Toews had the puck the whole time in the first 30 minutes," Babcock said then. "Obviously, he's a veteran player, and Matthews is a good player, but Toews knows how to play. It takes you a while to learn how to play in this league—to play right and face the puck and get used to playing against good players."
The pot of gold at the end of those lessons and time spent on the trainer's table was supposed to be the playoffs. And it may yet be, although you'd have to think Matthews and the Maple Leafs absolutely need a victory at the Air Canada Centre on Monday to slow this Bruins freight train.
Fantasy Hockey Pool
Play the Sportsnet Fantasy Hockey Pool for your chance to score big with over $22,000 worth of prizes to be awarded!
Much of the hope for a potential Game 3 turnaround falls on his shoulders, especially with No. 2 centre Nazem Kadri having removed himself from the series with a suspension. It remains so even though Matthews will only play one-third of the game. He may make good decisions during his minutes and see things unravel elsewhere.
But that is true of all the stars in our sport, each of whom carries the same burden of expectation: that they should be able to bend the outcome of a chaotic game built around team play with their superlative individual talent and will.
"You've got to do it. If you want to be considered a good, good player, you've got to do it at this time of the year," Babcock was saying earlier this week, before his team dug an 0-2 hole. "You want to be a winner, that's what the good players are, they're winners. They find a way to win. You've got to do it when it matters—it matters now. To me, that's how you separate yourself from the group. If you want to be—you look at Crosby's resume, you look at Jonathan Toews's resume, it's loaded with winning.
"When you become a serial winner, you get a ton of respect."
Somewhat surprisingly, Matthews has seen more even-strength minutes away from Bergeron (14:43) than with him (12:49) in this series. That speaks partly to the disjointed nature of the first two games, which saw tons of special-teams play and lopsided leads for Boston, but also to the fact that Babcock found his top pivot some softer spots to take control.
He darted out from behind the net and created a chance for Patrick Marleau during a shift against Sean Kuraly's fourth line. The steam was released from a couple Matthews rush attempts by the strong defensive sticks of Chara and Kevan Miller. Fooling goaltenders and defenders with a deceptive release in traffic is one of his greatest weapons—it accounts for his 15.9 per cent shooting percentage across 152 career NHL games—but the Bruins have yet to blink at the sleight of hand.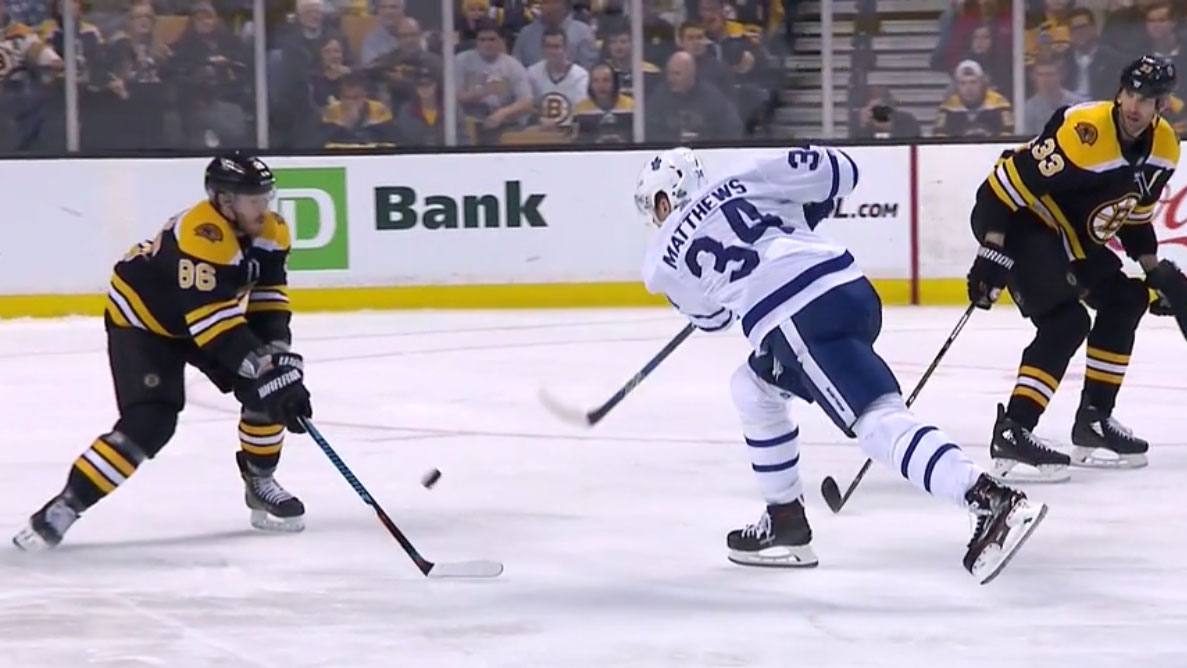 "I thought we had plenty of chances, plenty of opportunities," said Matthews. "At times we really had momentum on our side and really grinded them down low in their zone and controlled the play. It was a lot better than the first game."
Even if a couple of his nine shots on goal have come from longer distances than usual, the high-danger chances have been there. The Leafs generated 13.87 of those per 60 minutes with him on the ice this season and sit at 13.07 in the playoffs.
(As an aside, Pastrnak, Bergeron and Brad Marchand are absolutely shredding Toronto inside the home-plate area with league-best per-60 rates of 29.71, 29.65 and 25.78.)
It was upon returning home for Game 3 when Matthews broke through with his first goal in last year's playoff series against Washington. He followed that up by scoring in Games Nos. 4, 5 and 6 as well. He wasn't a focal point in the Caps' gameplan to the same degree he is now for the Bruins—drawing No. 2 centre Evgeny Kuznetsov and, after a mid-series adjustment, the top defence pairing of Dmitry Orlov and Matt Niskanen—and that's just another reminder of how life has changed.
What hasn't changed is his game-breaking ability and knack for rising to meet a challenge. The bar has been set by the Bruins' difference-makers and Matthews needs to find a way to turn his good shifts into even better results.
Otherwise a long, hard year might suddenly become shorter than he ever could have expected.