BUFFALO, N.Y. – It all started with Danny Briere.
So strong an impression did the one-time Phoenix Coyotes forward leave on a young Auston Matthews — particularly during an early autograph session — that those close to the Arizona-raised centre say he became forever enamoured with hockey.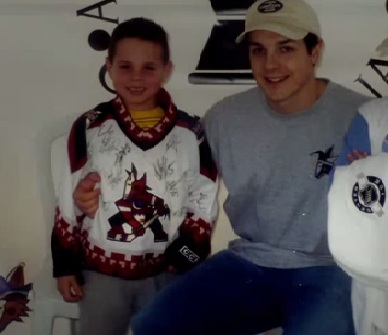 (Matthews seen here with Briere. Image from FOX Sports Arizona)
Briere, of course, would go on to have his most prolific season as a member of the Buffalo Sabres, and here Matthews sat inside First Niagara Center on Friday night – following in his footsteps – as the Toronto Maple Leafs called him to the stage with the first overall pick at the NHL draft.
Months before even playing a single game in Toronto, his story has already taken on a mythic quality.
In fact, it's nearly impossible to separate the 18-year-old from his journey to the NHL because it's so unique. Born in San Francisco to a Mexican mother and American father. Raised in Scottsdale, Ariz., not far from the Coyotes' Ice Den. A third-generation baseball star who eventually abandoned the sport to pursue a career in hockey.
Now he becomes the most important player to pull on a Leafs sweater in more than three decades.
The team will be mindful not to bill him as such, but after essentially punting on the 2015-16 season to set itself up for the chance to pick No. 1, it's tough to conclude otherwise. Matthews is the organization's first top draft choice since Wendel Clark in 1985 and stands to become the cornerstone piece of a long-overdue rebuild.
Scouts project him out as a high-end No. 1 centre – the Leafs haven't had one of those since Mats Sundin – and some compared him to Joe Sakic during a draft year where he dominated the Swiss League while playing for the Zurich Lions.
That Matthews will enter the NHL as a player of high interest during its centennial season is only fitting. Roughly 25 years have passed since the league embarked on a sunbelt expansion strategy designed to attract new fans and players to the sport.
He instantly becomes a poster child for that movement.
The Leafs will also be celebrating their 100th birthday in 2016-17 and Matthews was the first member of the organization to publicly don the new sweater they're introducing for it. However, general manager Lou Lamoriello cautioned against making too much of the symbolism the moment provided.
"I don't think there's any player that's going to be the face of this franchise," Lamoriello said Thursday. "The logo will be the face of this franchise."
Still, there wasn't much doubt about this selection.
Lamoriello, director of player personnel Mark Hunter, and other members of the scouting staff traveled to Russia in May to watch Matthews play at the IIHF World Hockey Championship. By the time they arrived in Buffalo this week, there was complete consensus inside the organization about using the No. 1 pick on him.
There's an added level of comfort that comes with the fact that he's already thrived while playing a year of professional hockey. After setting scoring records with the U.S. national development team, he eschewed college scholarships and the Western Hockey League by signing with Zurich in September.
Once again, it was the road less traveled. Once again, Matthews shone.
He had 46 points in 36 games despite being the youngest player in the league.
"I think I got a lot out of it," he said. "Just playing against older, more experienced players in a pretty good league, having Marc Crawford as a coach, a lot of these things played into the experience. … You know, the NHL is a much harder league, it's the best league in the world for a reason.
"There's definitely going to be an adjustment, a learning curve, but it's something I think I can take in stride."
What will serve him well is the fact that he's already built like a man at six-foot-two and 210 pounds. He was born two days after the cut-off for last year's draft and is only four months younger than Mitch Marner, the player Toronto selected fourth overall in 2015.
It would rank as a major surprise if he wasn't a fixture at Air Canada Centre next season.
For all of the focus on how different Matthews' upbringing was from other elite prospects, he did share one important thing in common with a good majority of them: he comes from a strong, supportive family.
Ema and Brian Matthews have made the kind of sacrifices typical of many hockey parents to allow their child to chase his dream. They had to be proudest of all as Hunter called Auston's name at the outset of Friday's draft, an important milestone in a young life that has already seen many of them.
It is because of his strong foundation that those who know Matthews well believe he's perfectly suited to handle life in the Maple Leafs' fish bowl.
"Obviously, it's the hockey mecca of the world," Matthews said of Toronto in a pre-draft conversation. "It seems to be the centre of the hockey universe. They're obviously very passionate fans. As a hockey market, it's a pretty exciting place to play."
It's bound to become even more exciting with him there.