Late on Friday night the Montreal Canadiens announced that they had completed a trade with the Arizona Coyotes, sending Alex Galchenyuk alone to the desert (literally this time) in exchange for Max Domi.
On the face of that deal, it looks to be a substantial fleecing in Arizona's favour, with Galchenyuk coming off of a three year stretch where he averaged 0.67 points per game despite a knee injury that tanked over half of his 2016-17 season, and having to earn his way up the lineup last year on a team that didn't seem to believe in him, and was more likely to throw him boat anchors on his line than life vests.
Domi on the other hand, averaged 0.61 points per game over the last three seasons, and he also had a huge portion of his 2016-17 season tanked by an upper-body injury.
That doesn't seem like as big of a push as the initial reaction on social media would have you think, but the big issue there is that Galchenyuk has scored 0.29 goals per game over that time, and Domi has scored 0.16, so the Canadiens have given up the player who is approximately twice the goal scorer, and has scored 30 goals before.
[relatedlinks]
Goals are king in the NHL, but there were a few mischaracterizations running rampant in criticism of the trade that should be corrected:
1. There were quite a few people saying that Max Domi is "almost 24", but he turned 23 in March, just over three months ago. By that token Galchenyuk is "almost 25" so I don't think age makes much of a difference here. At this stage in their careers, both players are pretty much what they will be, with maybe a few minor tweaks along the way, these are their prime years.
2. Arizona general manager John Chayka said he believed Galchenyuk can play centre and wouldn't have made the trade otherwise, which led to some saying the trade was a centre for a left-winger (Domi). Domi has played centre in the NHL, specifically last year where he took four times as many faceoffs as Galchenyuk did, however Galchenyuk has spent far more time in the middle over the last three seasons, and despite what the Canadiens have said, he's been very successful there. Still, he's not guaranteed to play centre, and Domi isn't unfamiliar with playing centre, even if he may be destined for the wing.
With those criticisms addressed, let's look at what each player actually brings to the table offensively.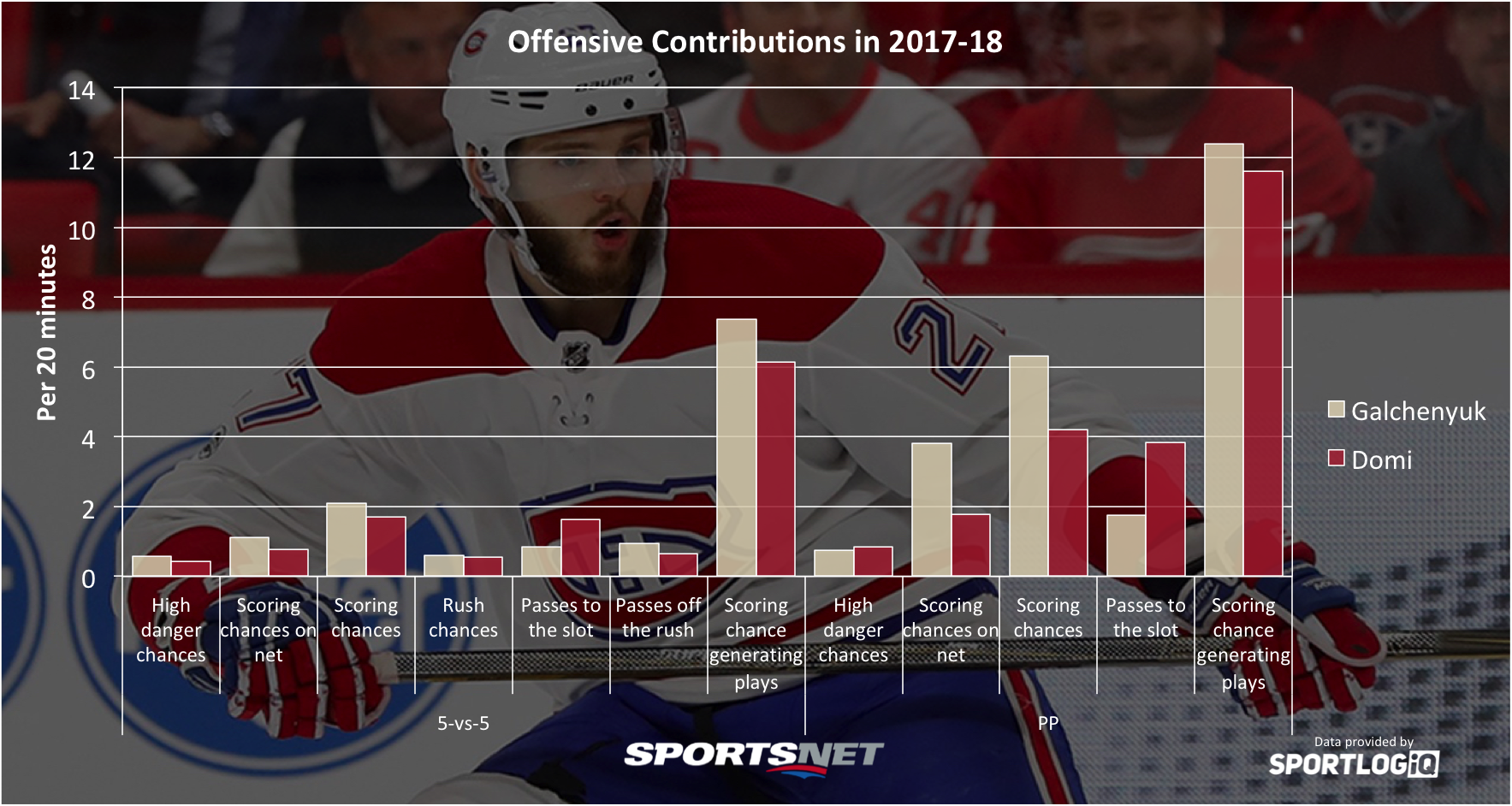 Right away you can see that while these two players put up similar point production, how they do it couldn't be more different. Galchenyuk is a shooter who dominates the high slot, where most snipers shoot from, and while he likes to attack off the rush, those attacks are usually with him carrying the puck and passing to a teammate instead of being the shooter, which is part of the reason he creates more as a centre, as attacking through the middle with the puck on his stick creates more options for him.
Domi meanwhile, is a dismal scoring-chance producer who prefers to get in closer to the net on the rare occasions he does actually shoot from inside the slot, but he is a borderline elite playmaker in terms of passing the puck into the slot both at even strength and on the power play, an area that the Canadiens have been sorely lacking for years now.
Last season Jonathan Drouin led the Canadiens with 1.31 successful passes to the slot per 20 minutes at 5-on-5, and no one else was even close. That had Drouin ranked 63rd in the NHL among forwards, while Domi was 20th.
It's important to note that while passes to the slot are important, in terms of overall scoring chance generation for their teammates, Galchenyuk has a significant lead on Domi, ranking 67th in the NHL among forwards, while Domi ranked 175th. What this means is that while Domi creates high-quality chances for his teammates, Galchenyuk still creates more overall, and he is far more likely to be a singular impact player who can take over games, while Domi needs to be surrounded by goal scorers to finish his plays, and hasn't been able to score for himself.
The Canadiens last season completed the 23rd-most passes to the slot at both 5-on-5 and overall, and they were 30th in pass to the slot success rates at 5-on-5 and in all situations as well, so this very much appears to be an attempt to address a dire need.
The crazy thing is, this might be a bet that pays off when you look at the number of Canadiens players who scored at way below average rates due to taking very static shots last season.
Artturi Lehkonen was 15th in the entire NHL in scoring chances-per-minute at 5-on-5 last season, Brendan Gallagher was 22nd, Charles Hudon was 88th, and Max Pacioretty was 92nd. Pacioretty isn't guaranteed to be back with the club, but if he is, he likely represents the biggest oncoming regression.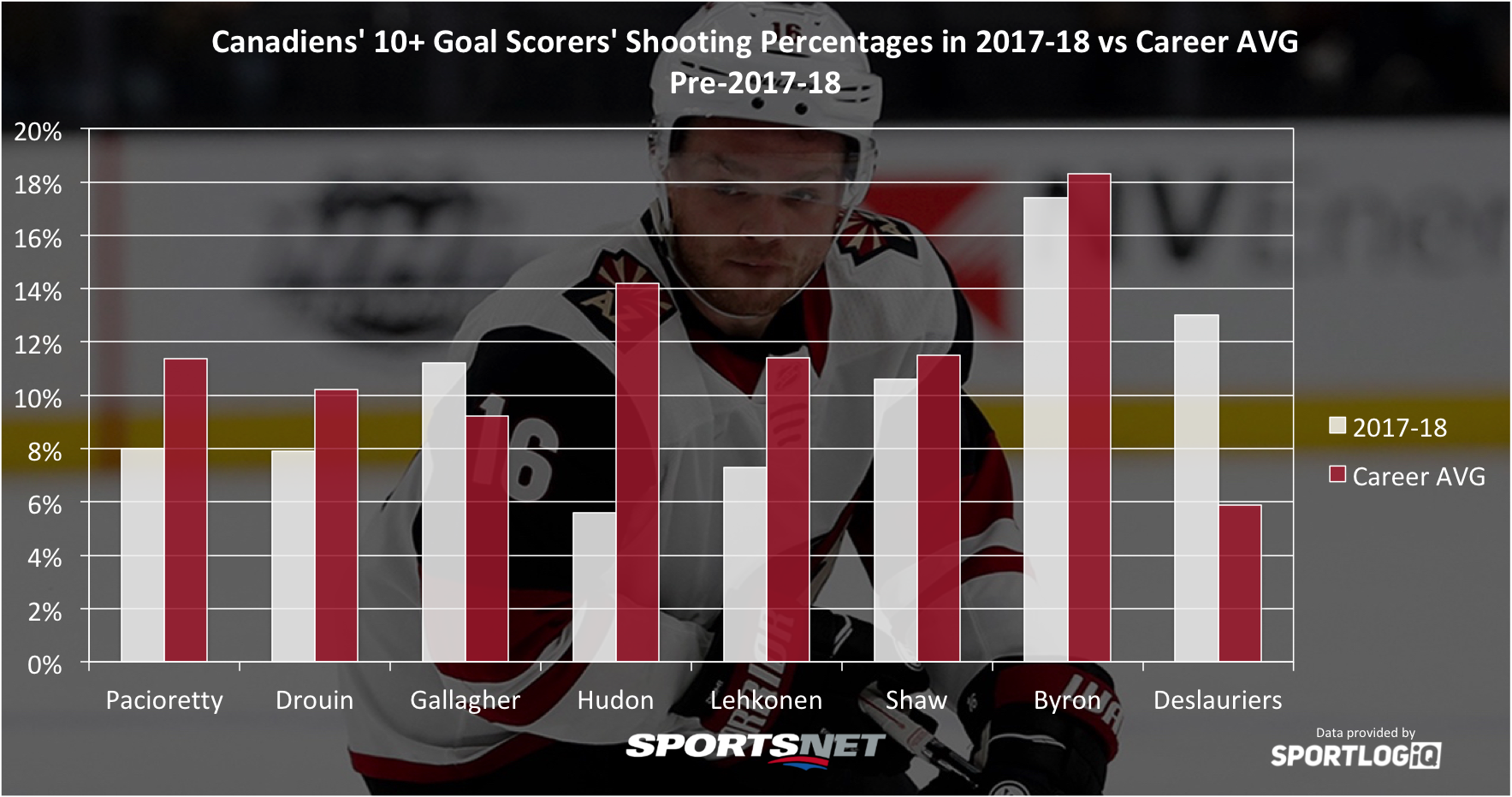 Looking at the Canadiens' 10-plus goal scorers last season, only Brendan Gallagher and Nicolas Deslauriers shot above their career norms coming into the season, although please note that Hudon's shooting percentage is pulled from his AHL career due to so few NHL games played before last season. Hudon shouldn't be expected to score at that kind of clip in the NHL, but the point should be taken that he has been a high-percentage shooter throughout his professional career.
Ironically, Galchenyuk was among the biggest outliers the Habs had last season, shooting 8.92 per cent with a 13.55 career shooting percentage coming into the season. An average shooting year would have netted him a 29-goal season.
I'm not suggesting that Domi is the cure-all to the Canadiens' lack of pre-shot movement, especially when you consider that Drouin led the team in that area last year at 5-on-5 and no one seemed to be able to score when he was on the ice.
Domi spent a huge chunk of last season playing on a line with Christian Dvorak, and he shot 9.9 per cent after scoring on 17 per cent of his shots last season, so his presence doesn't guarantee anything, but the playmaking ability Domi displays is absolutely something the Canadiens are trying to address here, and I think they're banking on adding that playmaking ability to a group of shooting forwards making a bigger impact on team goals than Galchenyuk's style of play would.
In making that bet, they almost certainly gave up the better, more talented, more dynamic player, and they sold on Galchenyuk when his value was extraordinarily low. I don't think it was good asset management by any stretch of the imagination, but I kinda see the logic, and I wouldn't be overly shocked if it works out.
The one issue for the Canadiens that arises is if they decide to put Domi in the middle, and don't acquire another top-end centre, running Drouin, Domi, and Phillip Danault gives you three centres who are more likely to be below 15 goals in an 82-game season, and that's simply not good enough in today's league. Playmaking is extremely important, but unless you're Joe Thornton or Henrik Sedin, you can't be a top-six centre and score 10-12 goals per year on a contending team.
Domi may be addressing a need, but he also has no choice but to improve his shooting game as well if he wants to be a success in Montreal.