It hasn't been a banner year in Arizona. Even with fairly modest expectations, they've managed to disappoint, and have been so bad that most of what you read about them at the moment is astonishment at Oliver Ekman-Larsson's goal differential, and speculation on where he might sign in 2019 as a UFA.
The Coyotes are five points worse than the team ahead of them, the perennially terrible Buffalo Sabres, and can at least look forward to a solid position in the draft lottery, but this season doesn't have many other bright spots.
Clayton Keller would be one. The 19-year-old rookie appears to have the makings of a franchise forward, but it would probably be a better story if the Coyotes' previous bright spots were progressing as well.
But, on the surface, that hasn't been the case for Max Domi.
In his third season in the NHL, Domi has gone from averaging .642 points per game as a rookie, to .644 as a sophomore, to just .352 points per game this season.
That's a catastrophic drop in production for a high-end offensive player who, turning just 23 next month, should be entering the prime of his career. So what has happened to Domi?
The strength of the team around him is undoubtedly a factor, but what jumps out right away is that Domi's shooting percentage has gone from 11.5 per cent as a rookie, to 8.3 per cent last season, down to 2.8 per cent this year. Now whatever you think of Domi, wherever he happens to be shooting from, you're not going to convince me that shooting 2.8 per cent is anything but bad luck. Still, we should test this by looking at his even strength numbers.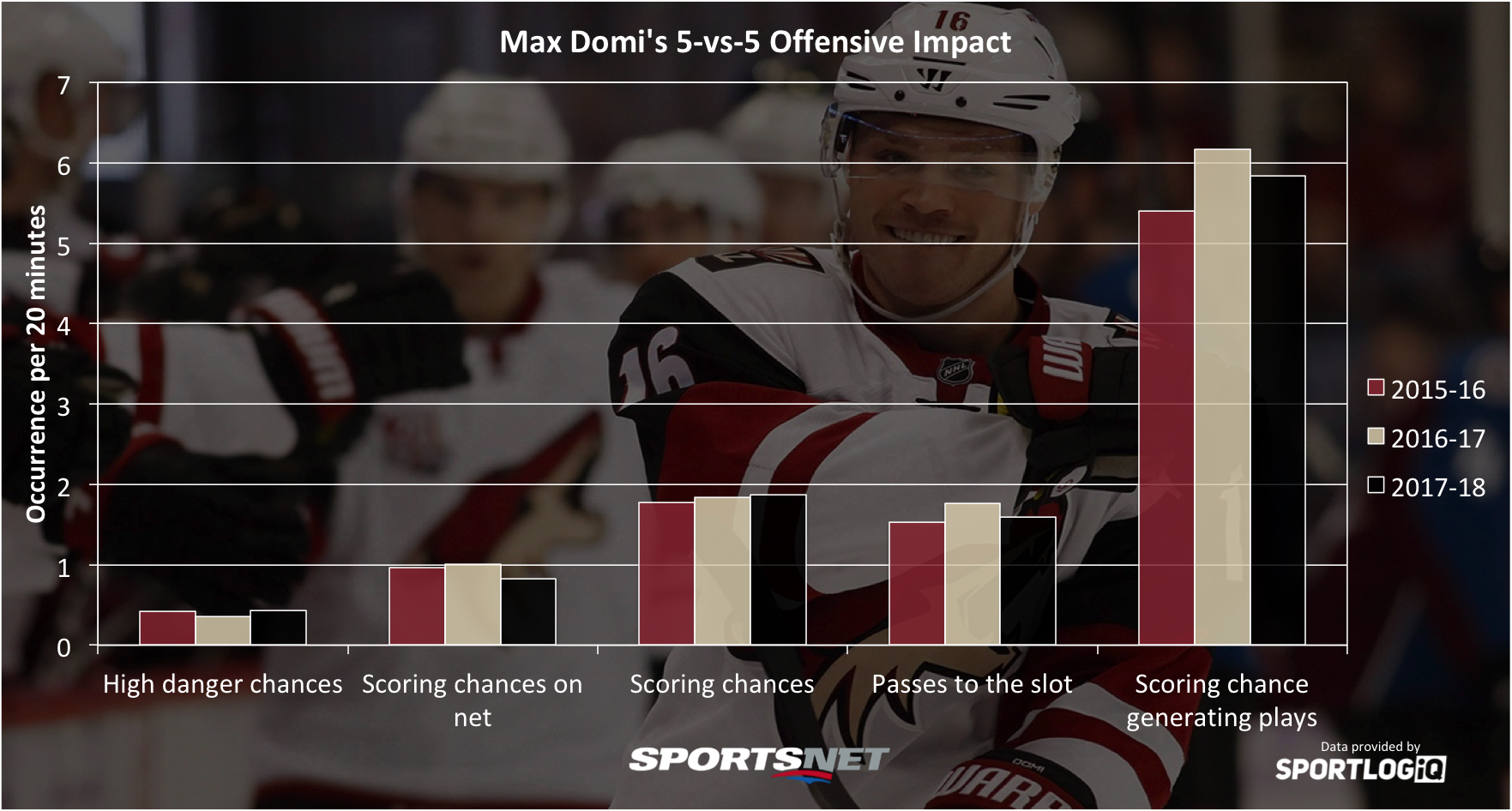 One thing to note with Domi is that he doesn't get to the front of the net very often. That makes sense considering he's mostly a playmaker, and putting himself at the goal mouth would negate his ability to make passes, or even receive the puck, considering how tightly the front of the net is defended.
Domi is at his best when the puck is on his stick, which means he's best away from traffic. That doesn't mean he's soft. Anyone who watches him play knows that's not the case, but he needs a bit of space to do his best work in the offensive zone.
Overall, Domi isn't a big shooter, but after a down year in high danger chances last season, he's actually increased his output this year. But one problem he's had is getting the scoring chances he does generate on the net. The previous two years Domi turned just over 54 per cent of his scoring chances into shots on goal, but this season he's down to just 44 per cent. That's not likely due to a lack of skill on his part and more likely just some random variance killing his goal scoring in a small sample.
Dimitri Filipovic provides entertaining and thoughtful dialogue about the game of hockey with an analytical edge. Not as nerdy as it sounds.
Based on his shot rate and shooting locations, Domi isn't going to be a high-end goal scorer in the NHL, but his three goals this season are not indicative of his future production either. He should start scoring more, probably around 15 times per season in an average year, provided nothing changes in his shot rate and selection.
When it comes to playmaking, Domi saw a significant improvement last season over his rookie year, both in successful passes to the slot and in scoring chances generated. Both areas have taken a hit in 2017-18, but not to the extent that would explain his assists dropping by about a third.
In fact, Domi's ability to create scoring chances at 5-on-5 is still second on the Coyotes, behind only Derek Stepan. And despite his low scoring chance numbers, Domi is somehow second on the Coyotes in those too, behind only Brandon Perlini.
So what we have here is a player who is wildly above average offensively in terms of inputs that create goals and points, on a team that is shockingly bereft of point producers. Aside from not getting much help from teammates, Domi is also suffering bewilderingly awful luck.
The good news for the Coyotes is Domi is up for a new contract as a restricted free agent with no arbitration rights, so he has very little bargaining power and is going to bounce back in a big way.