After a long and drawn out divorce that didn't end so amicably, the Montreal Canadiens were finally able to trade Max Pacioretty as training camp began in the 2018-19 season, and it appeared everyone was happy.
Pacioretty, for his part, seemed thrilled to be in Vegas, while the Canadiens got a great return in a top prospect in Nick Suzuki, a draft pick, and Tomas Tatar. Since then, though, it's been a bit of a rough ride for Pacioretty.
Tatar has experienced a career renaissance in Montreal. Part of the top line with Phillip Danault and Brendan Gallagher, Tatar is second on the Canadiens in points, putting up almost three primary points per 60 minutes at 5-on-5, and sporting a ridiculous plus-13.44 per cent Corsi relative to teammates, according to Corsica.
Playing with Gallagher is always a bonus, but Tatar has been great in his own right, showing that his struggles in Vegas were an anomaly, and if he was a throw-in for the trade for Vegas to dump salary, that it was clearly a mistake on their part.
Pacioretty, meanwhile, has not been off to such a hot start with his new team, starting this season in much the same way he did last season. An injury early may have thrown him off, as well as his centre in Paul Stastny going down, but the fact remains he has just two points – both goals – in 12 games.
Not to pick on Pacioretty, but his two goals has him behind such offensive luminaries as Ryan Reaves and Pierre-Edouard Bellemare. That likely won't last forever, as Pacioretty is simply too talented of a scorer, but as he returns to Montreal where he has done most of the scoring in his career, what's going wrong?
Isolating Pacioretty's most standout skill, let's look at how he fairs compared to the rest of the NHL's forwards with 100 or more minutes played in shot attempts and scoring chances.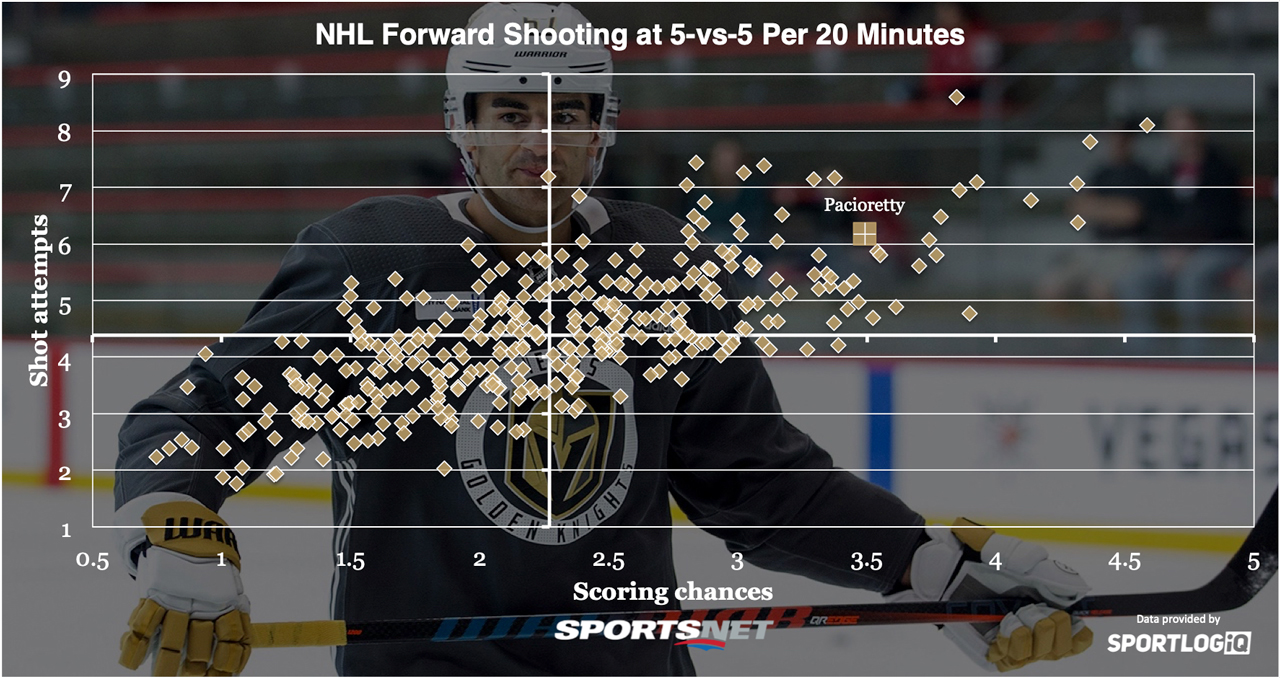 With the axes set at the NHL's averages for forwards, we can see pretty clearly that Pacioretty is still a premier shooter in the NHL, although he's not in the elite of the elite so far this season, which he usually is in shot volume at the very least.
While Pacioretty's shot rate is only very good and not elite, the percentage of his shot attempts that are from the slot have risen from 39.5 per cent last season, to 56.5 per cent this season, so despite those struggles to score, Pacioretty has absolutely been putting in the work to get on the board.
For a player who can score from a distance, producing more scoring chances per minute played than all but 17 other NHLers is a very good sign that he will begin to find success soon.
With that said, one issue Pacioretty has had this season is that only four players in the NHL have had more of their scoring chances blocked by opponents than he has at 1.07 per 20 minutes. Between blocks and misses, only 53.8 per cent of Pacioretty's scoring chances have been on net, tying him for 234th in the NHL there, and dropping him from 18th to 53rd in scoring chances on net.
We know from past history that getting scoring chances at all is more predictive of future goal scoring than scoring chances on net, as misses and blocks can fluctuate wildly in small samples. That fluctuation can go part of the way towards explaining Pacioretty's goal scoring troubles.
The craziest part of this lack of point production for Pacioretty is that it's not just his scoring that's light, he doesn't have an assist yet, and he's been making some excellent passes.
Pacioretty's 1.34 successful passes to the slot per 20 minutes at 5-on-5 ranks him 81st in the NHL this season, top-line numbers for a player who isn't a typically great playmaker. His 0.94 passes off the rush per 20 minutes ranks him 41st, and his 8.49 scoring chance-generating plays per 20 minutes locks him in at 34th in the NHL, tied with Auston Matthews.
Those aren't the numbers of a player playing poorly, and it's not like his teammates are playing poorly either, as Pacioretty's 1.48 scoring chances per 20 minutes that are immediately preceded by a pass rank him 13th in the NHL, and his 1.07 of those that hit the net rank fifth.
Outside of a couple of players, the Golden Knights have been in the opposite situation that they experienced last season with very poor shooting luck, but the play on the ice has been brilliant. The same goes for Pacioretty, and eventually you have to think the good work put in will pay dividends, even in a game as random as hockey.
For now though, Pacioretty returns to the team he used to captain, his home for a decade, scoring like an enforcer instead of a sniper. Perhaps there will be some extra motivation to turn the page on Hockey Night in Canada.