Getting close to the end of the season, one of the most interesting questions being thrown out there is whether Connor McDavid can challenge for the Calder Trophy as the NHL's top rookie despite missing nearly half the season.
McDavid can only play a maximum of 45 games, so the odds would be against him no matter what, but there are four other standout rookie forwards, not to mention Shayne Gostisbehere on defence, to compete with.
McDavid is currently seventh in rookie scoring despite playing half the games of five of those those ahead of him, but the question is whether McDavid is significantly ahead of his competition to the point where it cancels out the missed games.
Let's compare him to the other four standout rookie forwards offensively.
It's a tough field for the teenagers, with Jack Eichel specifically looking a step behind in terms of both scoring chances and passes in order to create offence. Of the teens in this group, McDavid is clearly ahead of the pack, though Dylan Larkin is surprisingly close.
This breakdown is also a little unfair to Eichel though, as the strongest area of his game isn't offensive involvement, but transitioning the puck up the ice. In fact, no forward in the NHL makes as many possession driving plays per 20 minutes at even strength as Eichel. However, offensively, he's behind the group.
Max Domi and Artemi Panarin have the advantage of being a little older and a little more mature physically, even if physicality wouldn't be the first word you would use to describe either of them.
Panarin is the biggest competition McDavid has, in fact he's the only player of the group that's ahead of McDavid in more than one statistic, with Eichel being a hair ahead in East-West passes. Combine this with Panarin having the rookie scoring lead by a significant margin, and I think it's fair to say he's the guy McDavid is in competition with.
If both players close out their seasons with the same scoring pace as they've maintained so far, McDavid will finish with 48 points in 45 games, while Panarin will hit 74 points in 80 games. That's pretty huge gap in points for the voters to assume that McDavid could match had he not broken his collar bone, but it wouldn't be surprising if he was given the benefit of the doubt.
Shifting to even strength production only, McDavid is on pace for 37 points in 45 games, while Panarin is on pace for 52 over 80, so the gap closes a bit.
We can also take a look at linemates for each player, with Panarin's most common linemates averaging 5.9 scoring chance generating plays per 20 minutes played, and McDavid's averaging 4.65. This means that while Panarin is generating slightly more scoring chances than McDavid is, he has a significantly better opportunity to do so because his linemates are better.
When you add to this, that Panarin has five years years of age on McDavid, many voters may be convinced that his season was superior.
Age differences don't automatically give you extra points in the Calder voting, but we know that it's much more difficult for a teenager to have success at the NHL level than it is for someone in their mid-20's, and that knowledge should rightly boost McDavid's candidacy.
Both Panarin and McDavid have very high shooting percentages this season, which could mean some of their goal scoring is unsustainable, so another way we can look at who has been better is shot locations to see if one's goal scoring is more sustainable than the other's.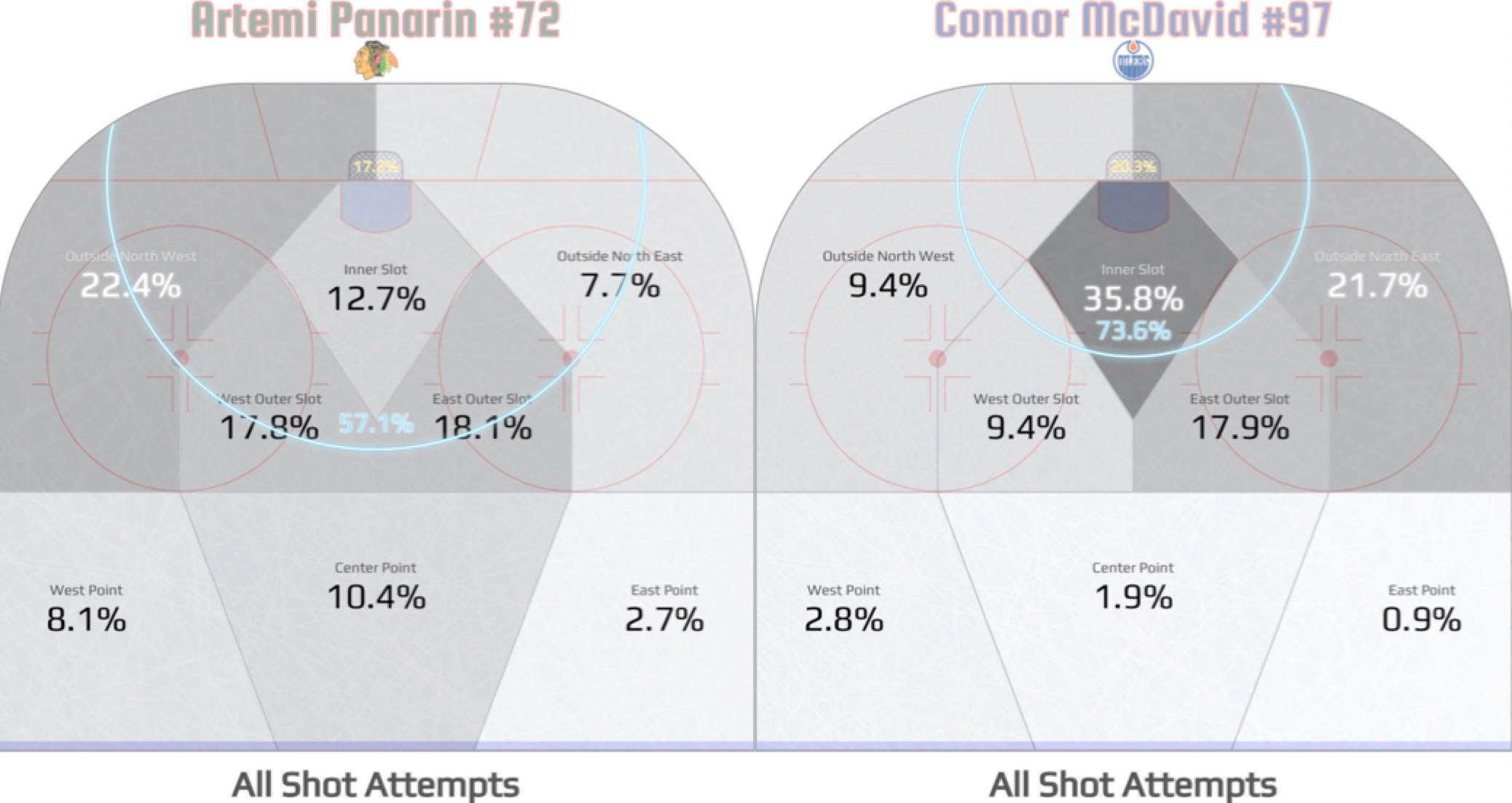 The blue line represents the player's median shot distance, meaning half of the player's shot attempts are within the line, and half are outside it. Panarin has produced more scoring chances in terms of volume, but his shot locations are nowhere close to as dangerous as McDavid's, and McDavid has remarkable accuracy on his shots (the blue number is the percent that are on net).
Both players are slick with the puck, but when it comes to putting the puck in the net, bet on McDavid continuing to have a sky high shooting percentage in the future.
None of this is to say that Panarin isn't a great hockey player, he undoubtedly is, but McDavid isn't great, he's generational.