BUFFALO — "It's something you (media) guys create, to be honest."
Taylor Hall has been through the ol' draft comparison meat grinder since the day he and Tyler Seguin were drafted one-two back in 2010. Now he looks across the dressing room at Connor McDavid, with the Oilers set to play Buffalo in the first ever meeting between McDavid and Jack Eichel — the "Mac and Jack" to his "Taylor or Tyler."
"I don't know (Eichel) very well," says McDavid, who is becoming more at ease away from the big media scrums. "Really, it's just another game for me."
But Hall knows. He's been there before.
"Connor might say it's not a big deal," Hall said. "I'm sure he wants to play well."
---
Watch:
Edmonton vs. Buffalo live Tuesday on Sportsnet West and
Rogers GameCentre Live
at 7:30 p.m. ET.
---
Hockey players are a funny, frustrating lot. If this were football, there is a better chance that one of these two would be cocky enough to challenge the other. We'd get a headline that moved this rivalry ahead of the game, somehow.
But seldom in hockey, where Eichel has been the perfect gentleman thus far in Buffalo, while McDavid has gone to abnormal lengths to visibly place himself on the appropriate rung on the dressing room ladder reserved for teenagers in a room full of NHL veterans.
It's simply not McDavid's style to care who fans or media think is a better player or draft choice — him or Eichel. The Canadian, or the American.
"It doesn't matter, and I think he'd (Eichel) say the same thing. It doesn't matter what anyone thinks."
Eichel, goalless in his last six games and with only one over his last 13, is struggling at the three-quarter pole of his rookie season. He appears worn down, as expected, compared to a fresher McDavid, who missed nearly half his season when he broke his collarbone.
Buffalo went 1-2 through California of late, shut out in both Los Angeles and Anaheim. Eichel was on the ice for both Kings goals Saturday, and his plus-minus has dived to minus-15, worst among the league's 168 rookies.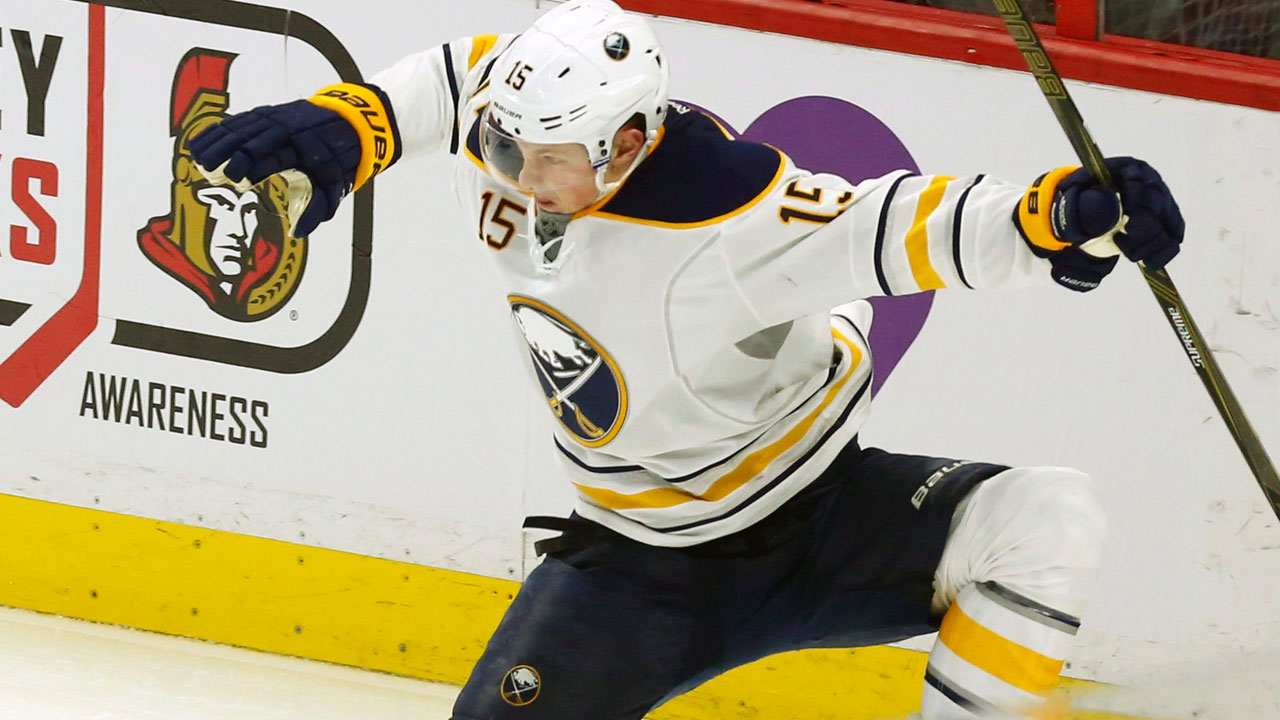 Jack Eichel has slowed down in his first NHL season. (Fred Chartrand/CP)
"For myself, no production in these three games," Eichel told The Buffalo News. "I need to be a lot better and I need to step up. Coach puts me in great situations, playing with great players, on the power play. I'm getting the opportunities. I need to start to finish. It starts with me."
To best get inside this pairing, you've got to spend some time with Hall. He said all the same things for as long as it took for him to become comfortable enough to admit, as he does now, that the comparison does get inside the heads of the compared.
"I'd bet that if Connor and Jack were in the same room there would be some awkwardness," Hall said. "Sometimes there's some of that with Tyler and I, and he and I have been together quite a few times at World Championships and whatnot. We can joke around about it now, but they're pretty new to the rivalry."
So, let us inside a bit, Taylor. How would two millionaire, high-end Team Canada candidates "joke around" when it came to something like being drafted together at the top end of the NHL Draft?
"We were waiting for an elevator once, at the World Championships. Just him and I," begins Hall. "The door opened and we were both looking to walk in, and he goes, 'You go first. You've gone first before.' I had never seen that side of him, and I thought it was funny. It was maybe the first moment between us where we'd joked around about it.
"I have a lot of respect for Tyler. I wouldn't say we're texting buddies or anything like that, but we're certainly friends when we see each other."
McDavid was injured when Eichel and the Sabres came through Edmonton back in December, with Eichel scoring once in a 4-2 Oilers win. Today he has 41 points (17 goals 24 assists) in 63 games, and to compare those totals to McDavid's 29 points (10 goals, 19 assists) in 27 games is difficult.
The injury spared McDavid from the erosion that every rookie who plays his first full NHL season faces, not to mention costing him 37 games. So it's not as easy as comparing McDavid's 1.07 points per game to Eichel's 0.65, though if McDavid finishes the season averaging better than a point per game he will get Calder votes despite having only played, at the most, 45 games.
"I'm excited about (Tuesday) because my friends and family are going to be there," said McDavid, who says he's barely seen Eichel play this season with the time zone difference and his busy schedule. "I didn't get to play in the Toronto game, so this is my home(coming) game I guess."
Hall smiles.
"There's no doubt," he admits, "when I go play Dallas or Dallas comes here, you get up for it a little more. You want to prove yourself.
"That's what competition is about."
They'll meet tonight for the first time, and the next time they see each other will be in Quebec City at the training camp for Team North America at next fall's World Cup of Hockey.
"That would be interesting, a different dynamic for sure," nodded McDavid. "I'm sure everyone has us pegged as rivals, but it would be great to get a chance to play with him."
Maybe they can share an elevator.