The Tampa Bay Lightning pushed back into top spot in the NHL after shutting out Chicago 2-0 Monday night, but for one day the expansion Vegas Golden Knights held top spot more than halfway through their first season.
It's unfathomable that an expansion team could be so successful so quickly, but on the other hand, we've seen bad teams stay hot for almost entire seasons before crashing and burning. The Maple Leafs under Randy Carlyle did it three years in a row, and we've seen it happen with Patrick Roy's Avalanche, the Minnesota Wild, and others.
Running red hot in shooting and save percentages for 50 or so games can make poorly constructed teams look great. But are the Golden Knights one of those teams?
Dimitri Filipovic provides entertaining and thoughtful dialogue about the game of hockey with an analytical edge. Not as nerdy as it sounds.
A quick look at Corsica.Hockey has the Golden Knights at seventh in the NHL in score-adjusted Corsi, and sixth in expected goals-for percentage at 5-on-5. But let's get into more detail and look at how well they're actually controlling shot quality at 5-on-5 and all situations compared to the other top NHL teams.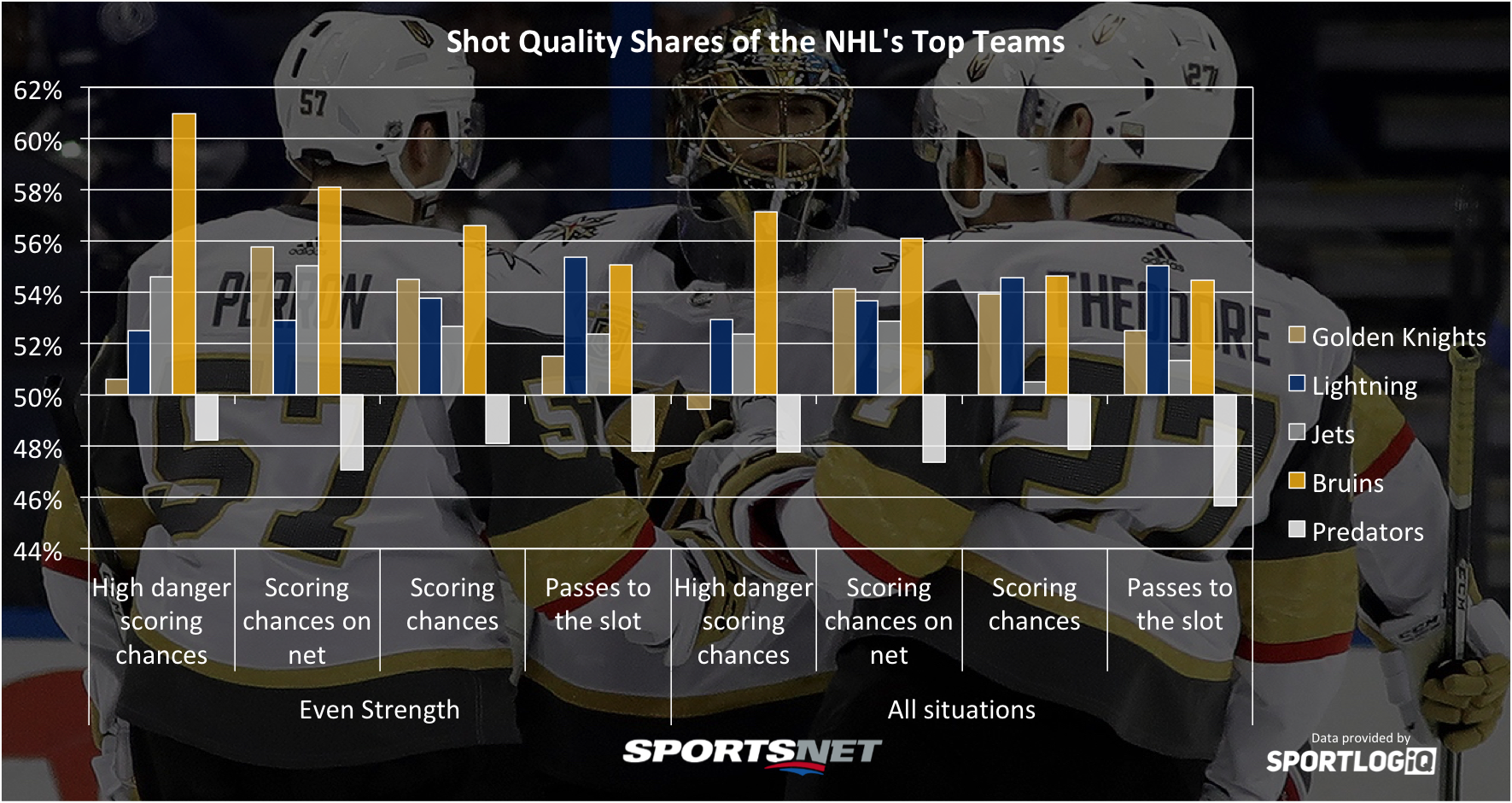 Going through the top-five teams in the NHL by standings points, the Golden Knights don't seem to be the pretenders of the group. That actually looks to be the Nashville Predators, who are below even in every single measure. Part of that comes from a really rough start, but the Preds have had a brutal season when it comes to manufacturing offence and rely far too much on their defencemen, especially when their bottom two forward lines are on the ice.
The Boston Bruins, meanwhile, are arguably the best team in the NHL and manufacture offence at about the 10th-best rate, with high danger chances at even strength being their bread and butter. They're also the stingiest defensive team in the league by a huge margin.
The Golden Knights, though, still stack up quite nicely. When you look at high danger chances alone, they don't look like a team on top of the league, even though they're clearly a playoff team. But they have an excellent share of scoring chances on net, meaning they shoot tons from the high slot and don't allow many shots from there.
Steve Carp talks Vegas Golden Knights success and the team helping Vegas heal after a tragedy
January 22 2018
Across the board, the Golden Knights appear to be a strong team, in terms of controlling possession and manufacturing quality shots while not allowing a bunch. If they're able to improve their high danger chances on special teams, they could even be a Stanley Cup contender.
But let's focus on even strength and look at the whole league in raw scoring chance differential: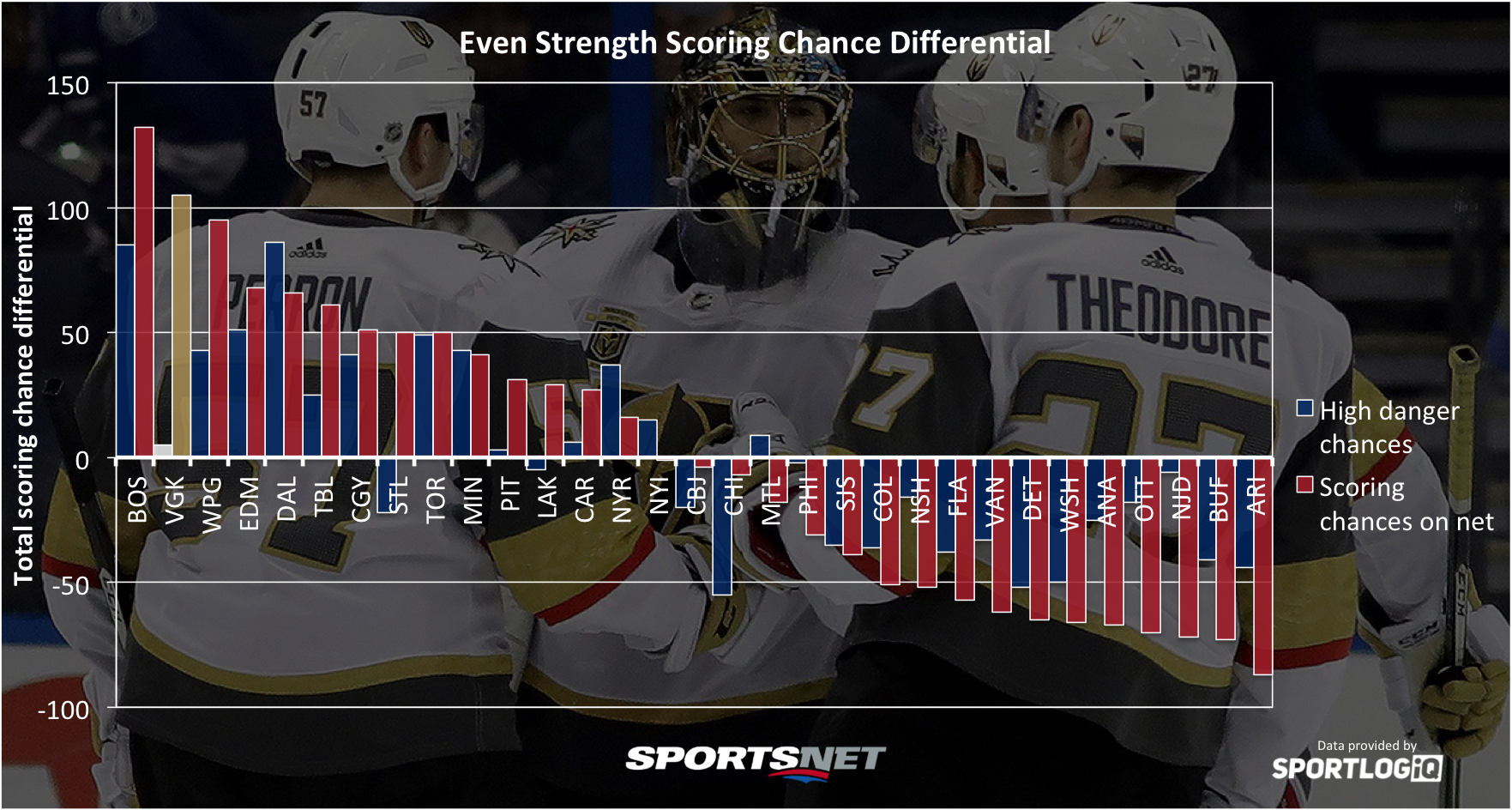 I've highlighted Vegas in their colours for contrast and, shockingly, they're the second-best team in the entire league in scoring-chance-on-net plus/minus, which goes a long way to explaining how they've been able to manufacture so many goals while keeping them out of their own net.
The high danger chance differential is far less flattering, as they place 13th in the league in shots from the inner slot, which means they're likely due for a bit of regression. Even still, while they may not rank among those at the top of the league in that stat, they're far from pretenders.
This breakdown also helps to show why teams like the Winnipeg Jets were able to overcome their mediocre Corsi through the first half. On the other side there's Edmonton, which seems to be doing everything well, but finds a way to lose anyway.
The Golden Knights are far from an unstoppable force teams should be terrified of drawing in the first round, but they're not going to be an easy out and just happy to be there either. Playing without the burden of expectations, and with essentially every player having a chip on their shoulder after being cast-off, Vegas has beaten every projection of what they could be.