The so-called zamboni driver who served as a backup goaltender to Jonathan Bernier and the Toronto Marlies last Friday is not just a zamboni driver.
And he's no stranger to the Marlies either.
David Ayres, the Mattamy Athletic Centre's building operations manager, has a history with the team that made the unusual call-up less than surprising. At least to those who know him.
"I've been practicing with the Marlies for three years now," Ayres told Sportsnet earlier this week. "I've been on the ice with injured players, healthy scratches. I practiced with the black aces every single day three years ago. I've been in full team practices when goalies get called up (to the Leafs) or get injured. I know a lot of guys on the team and they used to tease me, 'You practice all the time, but you're never going to get into a game.'
"The equipment guys would tease me too, saying that the opposing team's goalie is sick and that I was set to play that day," he said. "So when they did call me on Friday, I didn't believe it. Will, the assistant equipment manager called and then handed it off to Chris, the head equipment manager and I told them I wasn't getting out of bed, where I actually was. Finally, Kyle Dubas got on the phone and said, 'No Dave, we're not joking. Throw your gear in the truck and get rolling.'"
An injury to James Reimer meant that Antoine Bibeau had to be called up from the Marlies, leaving a hole on the bench that needed to be filled. Bernier, meanwhile, was on a conditioning stint after a string of poor performances with the Leafs and a personal 0-8-1 start to the season.
Ayres grew up a goaltender, as did his father Bob and brother Chris. He played rep hockey in Whitby growing up and even attended a couple of junior camps. Then, as happens to countless others, he got burnt out on playing and moved on.
On the way to the rink in Rochester, Ayres only had time to call his brother to give him the news. He lost his father two months ago and said he had always told David that he would get his chance one day. David dealt with a kidney transplant earlier in his life and later two bouts with skin cancer.
"When I walked into the dressing room, the guys were like, 'Finally! You get your chance!'" Ayres said.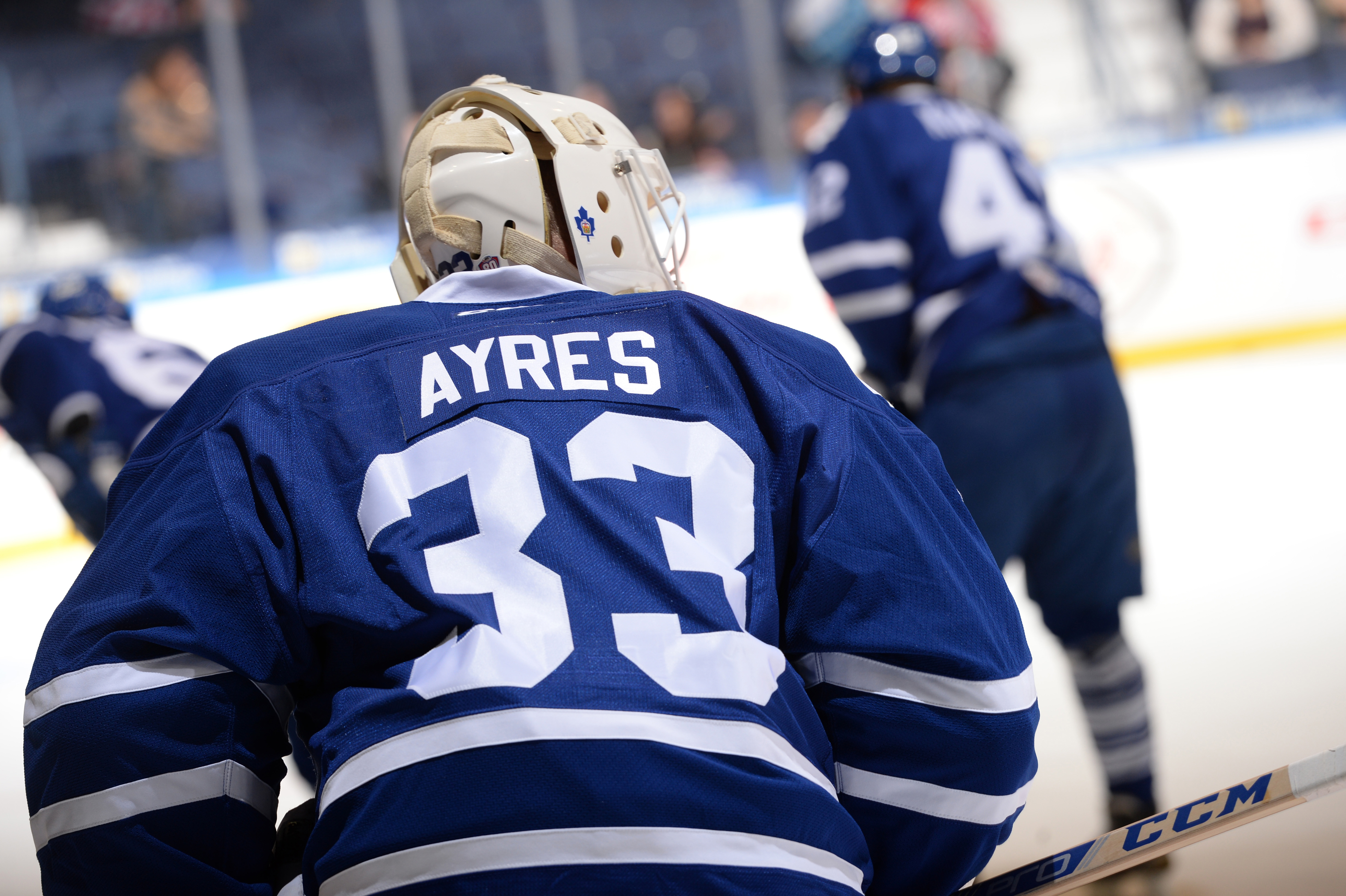 Despite all the pressure on Bernier, who was dealing with a demotion, Ayres still found the struggling goalie happy to share the room and his crease with the 38-year-old.
"It was even better to back up Bernier, he was such a nice guy who welcomed me with open arms," he said. "Bernier told me, 'It's so cool you get this chance. Plus, it takes a little pressure off me!'
"I've been on the ice maybe 100 times with these guys but as soon as I stepped out into warmup, I started to feel a bit shaky," said Ayres. "It wasn't a big deal, but I just got nervous. I know where these guys like to shoot but I kinda froze just a little."
Bernier would finish with a shutout in his Marlies debut and he recorded a second straight shutout two nights later.
"To watch Bernier play was just awesome," said Ayres. "He was so relaxed and was having so much fun that day. You could see his confidence growing during the game. He's very vocal with the guys on the ice and they loved that. It helps the younger kids when he tells them where to go. During TV timeouts, he would come to the bench and tell guys to drop back further or curl over here and they would. You'd see it progress during the game."
Ayres felt the urge to actually appear in the game, but only under the right circumstances.
"I wasn't feeling great the day of the game so when I was in warmup, I was taking some deeps breaths," he said. "Then Bernier got hit in the throat in the first period when the puck came up under his mask. I was like, 'Here we go.' In the second period he took a puck of the face and it knocked his mask off. I was thinking I'd like to go in, but was hoping Bernier wouldn't get seriously hurt."
Ayres said he will have his game stick signed by the team which he will hang on the wall of his father's room in their house.
"He used to say to me, 'Trust me, you're going to get into a game some day,'" said Ayres.
With so much movement among Leafs and Marlies goaltenders, Ayres may have to consider making this more than a part-time gig.
"I said to Kyle Dubas, 'Thanks for the once-in-a-lifetime opportunity,' and he said, 'You never know man. If we're in a crunch again, I'm gonna give you a call.' If for some strange reason it does, I would jump all over it.'"
Photos courtesy: Micheline Veluvolu/Rochester Americans