When he was growing up in Boonton Township, N.J., Jon Krawczyk and one of his friends would spend hours scheming about how they might one day buy the New Jersey Devils.
Through high school, Krawczyk rarely missed a game in the mid-1980s at Brendan Byrne Arena, thanks to his dad's season tickets. After he left for college and eventually settled in California to work as an artist, he would go to games whenever he came home, and he tuned in for all the rest from across the continent—first on the radio, then online and finally with the Center Ice package.
All of which is to say that as Devils fans go, Krawczyk is the real deal. And there he was last August, standing on the doorstep of Martin Brodeur's house in St. Louis, waiting to knock.
"I'm usually not nervous in these situations, but with Marty I was a little nervous to go out and meet him at his house, you know?" Krawczyk says. "He doesn't know who the hell I am."
The retired goalie didn't know the 45-year-old sculptor, but he was expecting him. Krawczyk had brought along a computer jammed with photos of Brodeur, which he'd gathered from the team and online. They were there to sort out how Krawczyk would capture Brodeur in bronze for a statue that would stand outside the arena where the 43-year-old Devils great had helped author three Stanley Cup championships and mowed through the NHL record books.
In October, the Devils announced that they would retire Brodeur's no. 30 at the Feb. 9 home game against the Edmonton Oilers, and dedicate a statue to him at the same time.
Krawczyk was the artist tapped to create the statue, and he originally envisioned something similar to another sculpture he created for the Prudential Center in 2009.
"Stanley" is a 24-foot-tall stainless steel hockey player poised to make a slap shot; the angular, stylized work hulks over Championship Plaza like something that tumbled off a futuristic pyramid. But it turned out the Devils organization wanted something closer to life-size and realistic in style.
In St. Louis, as Krawczyk and Brodeur flipped through photos together, the artist's nerves evaporated—the future Hall of Famer was friendly and laid-back, basically just a normal guy. Krawczyk was leaning toward an action pose—one of Brodeur's infamously dexterous glove saves, maybe—but the former goalie didn't respond much to those images.
Then they came across a photo of the salute Brodeur always offered at the end of a game: his mask was flipped back to reveal his face, his stick was raised to the crowd, and he flashed a wink at his kids in the stands. That was it.
It's unusual to depict a player in something other than a game pose, but then, Brodeur is an uncommon sort of goalie.
"I think that's what makes it so cool. Marty is such a different type of player," Krawczyk says. "I mean, they made rules to combat him."
Once he got back to his studio in Malibu, Krawczyk had the Devils send him unworn versions of every piece of Brodeur's equipment, along with a stick he'd actually used, because the artist wanted to make sure the taping was accurate. Krawczyk built a human model out of Styrofoam and layered it with clay to sculpt the goalie's body and head.
But before he started making casts of the equipment, he couldn't resist: he put it all on and had his 13-year-old son, Jak, take a few shots on him. It gave him renewed respect for Brodeur's athleticism—and a capacity for claustrophobia Krawczyk didn't know he had.
"Man, those pads, it's amazing how big they are and how much they stop you from moving," he says.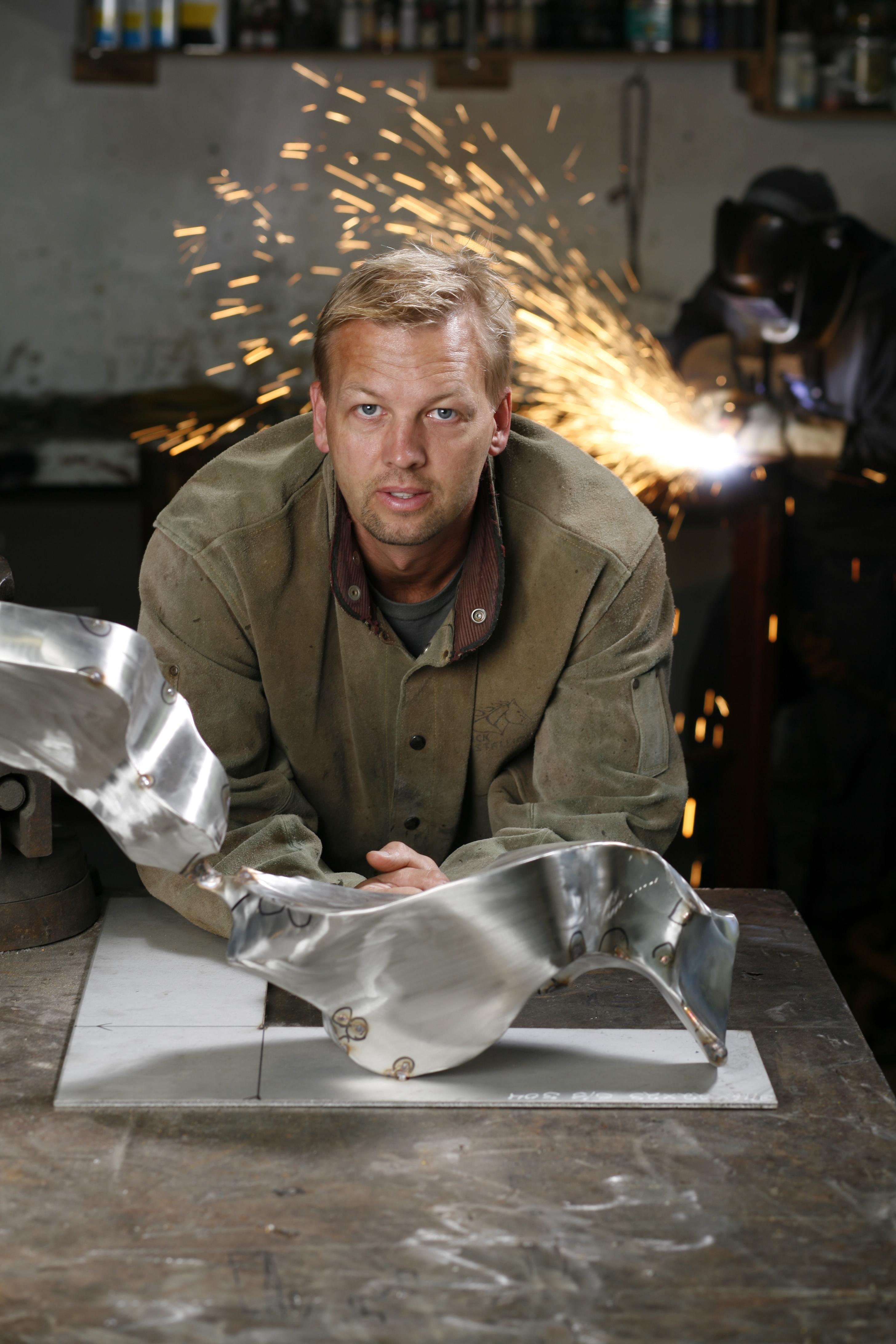 He sculpted Brodeur's face based on the many photos he took from different angles when he visited the goalie's home, and all the equipment was coated in a thin layer of wax and cast to make exact replicas. Krawczyk then slightly enlarged everything so the final sculpture will be 10 to 15 per cent larger than the man himself.
"When you're doing a realistic pose of somebody, doing it life-size, they kind of shrink and fall away a little bit, so it doesn't look right," he says. "Especially a monumental pose like that."
With the stick raised over his head, Bronze Marty will stand about 10 feet tall and weigh about 800 pounds.
In order to get it ready in time for the Feb. 9 game when the Devils plan to hoist Brodeur's number to the rafters, Krawczyk completed the sculpting process in just over three months—half the time he would usually take for a piece like this. The final casting began at a specialized foundry just before Christmas, and the pieces should be done and assembled in the next few days.
"The only thing [I've seen] is from the helmet down to the waist and out to the arms—that was what I did all in clay, so I know exactly what that looks like. But the pads come on afterward because they were cast separately, so I won't see it fully together until probably next week," Krawczyk says. "That's the moment when you're like, 'Oh my god, it's real.'"
Once the statue is complete, Krawczyk will bundle it in blankets and strap it snugly into a trailer behind his truck, and then he'll drive it to Newark to deliver it himself, like he did with Stanley.
"Driving stuff across the country is kind of the fun part, because it's over and you get to see the finished work," he says. "It's a long drive, but to be honest, I don't really trust anybody to take it."
No one has seen the work in progress, including the man who's being immortalized—it's all a bit like a bride on her wedding day for Krawczyk in that sense. But on his way back to his home state, with his German shepherd, Chief, in the truck for company and Bronze Marty along for the ride, Krawczyk may stop off at a house in St. Louis for a sneak preview before the official unveiling.
He'll stand on the doorstep again, and maybe he'll feel a different kind of nervous waiting to knock and introduce his team's greatest player to the bronze version of himself.
That teenager never did figure out a way to buy the New Jersey Devils—but really, this isn't too bad.