Eugene Melnyk needs to get real.
Start with looking at the roster of his Ottawa Senators. It's not good enough. Good enough to be in the Stanley Cup playoffs? Sure, if everything had gone right this season in the same way it went right last season when the glass slipper fit so snugly.
That, of course, almost never happens in a league as competitive and closely bunched as the NHL. You might get all the breaks one year, but never the next. No wonder head coach Dave Cameron spoke last October of the importance of managing expectations. He knew he had an owner who might be a little overly optimistic, and one who can shoot from the hip when he's unhappy.
For Melnyk to state his team should be in the NHL's top "five or six" right now is a lovely daydream, but isn't connected to the reality of his roster, unless you really believed Andrew Hammond was Patrick Roy and Mark Stone was Brett Hull.
Otherwise, he's got a team with one star, Erik Karlsson, a so-so defence corps and a good but not great set of forwards.
That's what $68 million buys you in the NHL these days, the number Melnyk tossed out as though it would shock the world, as though it was somehow an extraordinary amount of money compared to what the rest of the league spends. You know, like Dr. Evil saying "one MILLION dollars."
Generalfanager.com currently has the Senators 22nd on the NHL payroll list at about $64.9 million. That's slightly different than Melnyk's $68 million figure, which could be accounted for by potential performance bonuses and/or coaches salaries.
The Senators used to make it work because they made good, non-flashy decisions, and often hard ones. They drafted very well, taking reliable assets like Daniel Alfredsson, Andreas Dackell, Magnus Arvedson, Mike Fisher, Chris Neil, Antoine Vermette and Chris Kelly after the first round.
They took Marian Hossa 12th in the '97 draft when there was mostly uncertainty and disappointment after the sixth pick. They acquired Wade Redden from the Islanders when Bryan Berard wouldn't report. Later, they signed Hossa to a three-year, $18 million deal they couldn't afford, and quickly swapped him to Atlanta for Dany Heatley.
Ultimately, a trip to the 2007 Stanley Cup Final was the product of being smart and resourceful, a franchise forced by economic circumstances – bankruptcy, the Canadian dollar – to operate in a way other teams didn't.
Nine seasons later, including this one, it's clear that's not the Senator way any more. Since that fabulous spring, they've had more than 94 points in a season only once, will have missed the playoffs four times (including this year) and won exactly one playoff series.
Now, instead of being clever and resourceful, they're just a team that doesn't spend enough to be taken terribly seriously. Powered by the goal-scoring of Mark Stone, the incredible netminding of Andrew Hammond and the coaching savvy of Cameron, Melnyk's squad raced to the playoffs last year before being quickly ousted in six games by Montreal.
To think they'd just pick up from there was folly. They simply don't have the talent necessary to pursue a Cup or be in the top "five or six" in the NHL.
They did back in '07. But those days are long gone.
Since then, aside from taking Karlsson 15th overall in 2008, the Sens have stopped being that organization that was a little smarter at the draft table than everyone else and was able to stretch a dollar further than spendthrift organizations like the Rangers and Flyers.
Look at the 2011 draft as one example. The Sens had three first rounders that year, and took Mika Zibanejad (6th), Stefan Noesen (21st) and Matt Puempel (24th). Zibanejad is a good NHL forward, somewhere between a No. 2 and a No. 3 centre. Noesen is nowhere, deep in the Anaheim minor league system. Puempel has been up-and-down in the Ottawa system, not yet able to get a roster spot and keep it.
Those kind of missed opportunities tend to catch up with you.
Now, the Sens have a roster with two highly-paid players, Bobby Ryan and Dion Phaneuf, who can't produce as much as the $14.25 combined cap hit suggests they must for the math to work for a team like Ottawa. Taking a stab at Phaneuf was a noble effort to try and save this season – of all the Canadian teams, at least Ottawa tried something aggressive to make the playoffs – but now you have a No. 3 defenceman making $7 million moving forward.
Moreover, that deal was as much about saving cash, about $4 million next season, and
getting rid of contracts they didn't like to Milan Michalek, Jared Cowen and Colin Greening. The Sens like to backload contracts and when they don't work, out the door they go. So keep an eye on Ryan; his salary of $6.5 million this season now starts to increase, and is $7.5 million for the final four years of his contract.
But the truth is since drafting Karlsson, the Sens haven't acquired a world class talent through the draft, in free agency or in a trade. The state of this team is about having a lineup that's middle-of-the-pack.
Now, there are things that could make this work better in the future. Kyle Turris could return hale and hearty and be a No. 1 centre. Zibanejad is only 22. Last June's two picks in the second half of the first round, defenceman Thomas Chabot and centre Colin White, could pay off handsomely.
What the Sens really need is a replay of June 23, 2001 when Marshall Johnston fooled Mike Milbury into trading him Zdeno Chara and a first round pick that turned into Jason Spezza, in exchange for Alexei Yashin, a deal that allowed Ottawa to take a massive step forward.
But those types of deals are happening less and less in the NHL because of the salary cap. Free agency offers little in the way of star quality most summers, and Ottawa hasn't been a destination of choice over the years. Moreover, Melnyk thinks it's "baloney" to believe more money would make the Sens better.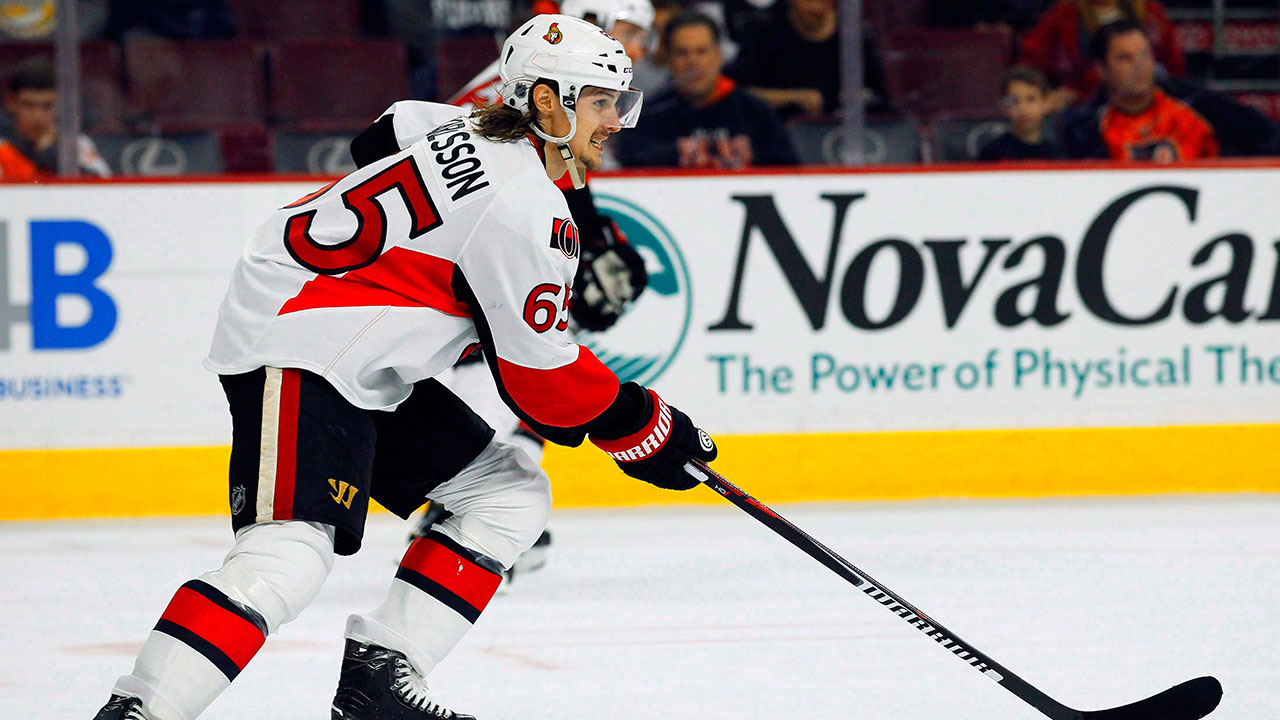 "I don't think just throwing money at players is the smart thing to do," he said on Tuesday. Melnyk, who survived a serious health scare last year, said "nobody is safe" in the organization. But then he added that Murray is staying as GM, that he'd be "disappointed" if Cameron wasn't kept on and that it's "not a rebuild of the team" he's looking at.
So this does limit the options. The Sens could take a swing at Jonathan Drouin, although Steve Yzerman was asking for Cody Ceci and more. They could hope April 30 delivers a miracle via the draft lottery.
They can also trade inconsistent winger Mike Hoffman, probably the best goal-scorer on the team.
Go three-for-three on those scenarios – get Drouin, land a top three pick, move Hoffman for big returns – and you might end up with the team Melnyk believes he already has, one capable of being in the top quarter of the NHL.
But three-for-three is a tough ask, particularly since two of those scenarios require a trading partner.
Murray, should he choose to keep doing this job, is going to have to have a whale of an off-season to meet his owner's inflated expectations.