Jonathan Bernier was brought to Toronto for a coronation. The 11th-overall pick in 2006, who had been patiently biding his time in Los Angeles as the understudy to Conn Smythe winner Jonathan Quick, was the presumptive starter for the Leafs at 25 years old. This despite never having played more than 25 games in an NHL season.
Bernier was brought in to supplant James Reimer, who had carried a surprising Leafs side to the NHL playoffs, where they unforgettably collapsed to the Boston Bruins. The start to the 2013-14 season for Bernier couldn't have gone better, as he raced out to one of the best starts for any goaltender in Leafs history. He and Reimer kept the team afloat and in the playoff race for most of the year, before Bernier was felled by a sports hernia and knee injury late in the season. Despite a horrible collapse for the Leafs to end the year, he couldn't really be held responsible as he posted the sixth-best 5v5 SV% amongst regular NHL starters.
The injuries at the close of the year led to renewed questions around Bernier's durability and the need for an NHL starter to carry a heavy workload if he hoped to enter the upper echelons of his position. Bernier recovered in time to return as the starter for his 2014-15 contract year. Unfortunately the pending RFA has had to ride out one of the most chaotic seasons in Leafs history, and along with the rest of the roster, has seen his future called into question.
So wherever Bernier ends up going forward, the question of how valuable he is hovers in the picture as this season winds to a close. As a 26-year-old goaltender with fewer than 200 NHL games on his resume, some room for doubt remains about where Bernier's true ability will rank amongst starters around the NHL.
There are 21 goaltenders currently active in the NHL that we can use as a basis of comparison to Bernier. They all played 3,500 or more 5v5 minutes in 80 or more games, between the ages of 24 and 26. Looking at their performance across those three years, we can additionally split apart their saves into high-, medium- and low-danger based on where the shots originated from. Weighting each type by the proportion of shots in each group, we can arrive at an Adjusted 5v5 SV% that accounts for shot difficulty in balanced manpower situations better than traditional SV% does.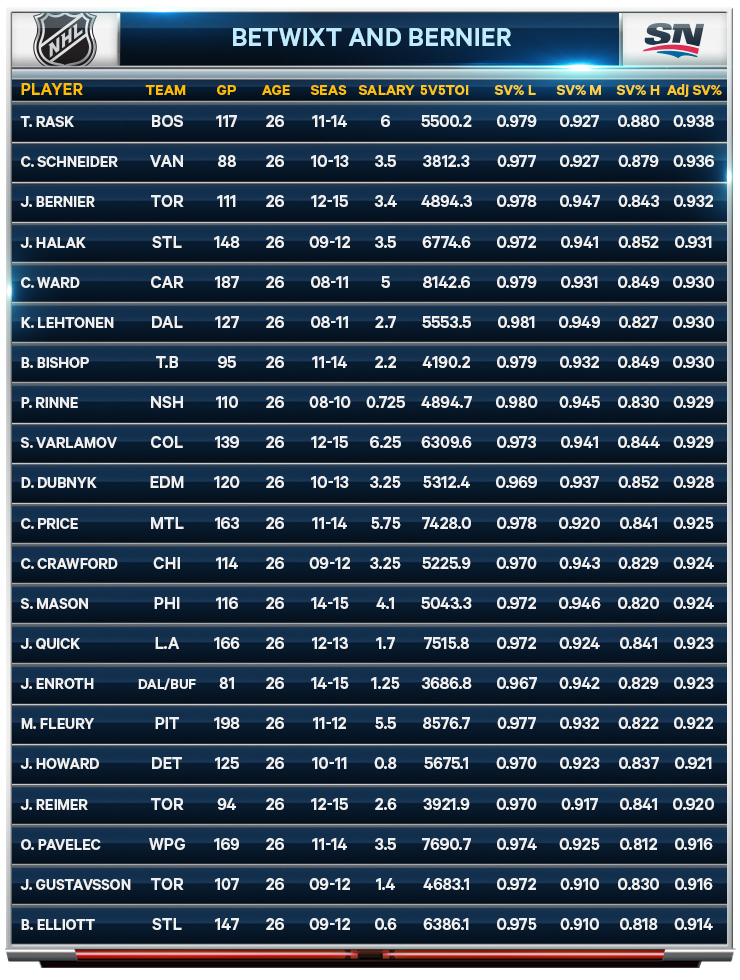 Based on the list given, we can say at this point that it is increasingly unlikely that Bernier is an inferior starting goaltender, and he probably deserves a decent RFA payday. I would suggest though that the Leafs should try to refrain from extending Bernier long-term to a big-money deal.
The key to cost-controlled assets is recouping value beyond the market price of adding an equivalent player via unrestricted free agency or trade. Above Bernier in a similar age range are Tuukka Rask and Cory Schneider. Rask is under contract through the 2020-21 season with a $7-million cap hit, Schneider is under contract through '21-22 with a $6-million cap hit. Other recent comparables would be Bobrovsky ($7.425M through '18-19), Price ($6.5M through '17-18), Crawford ($6M through '19-20); Varlamov ($5.9M through '18-19); Quick ($5.8M through '20-21); and Mason ($4.1M '17-18).
Rask has a Stanley Cup and Vezina Trophy; Quick has two Cups and a Conn Smythe Trophy; Crawford has a Cup; Bobrovsky has a Vezina; Price has an Olympic gold medal who has twice led the NHL in wins, currently leads the league in save percentage and is in the running for the Vezina and Hart Trophies. Bernier doesn't really fit into that group at this stage of his career.
Which leaves us with Cory Schneider, Semyon Varlamov, and the former Calder Trophy-winner Mason, who has redeemed himself in Philadelphia after exile from Columbus. If the team extending Bernier wants him locked-up at reasonable cost long term, I'd imagine his camp seeks out a number close to $5.75 million per year across five years—taking him through the 2020-21 campaign. Alternatively, coming off a relatively down season, it is entirely plausible a team like Toronto hopes to ink him to a bridge contract that buys fewer of his UFA years at a cheaper cost—around $4.5 million per year.
The last option that must be considered is the fact that Bernier's greatest value to the Leafs may lie as a trade chip. Reimer has started capably in the NHL before, and can likely perform the role during a rebuild at a lower cost than Bernier, who is also likely to fetch more of a return via trade. Remember that when he came to Toronto—as a backup with little track record as a capable starter—he cost Ben Scrivens, Matt Frattin, and a second-round pick.
At this point, it would have to be assumed he is closer in worth to Cory Schneider when he was moved from the Canucks to the Devils at the cost of New Jersey's first-rounder—ninth overall in the 2013 draft. A top-10 pick in 2015 would definitely come in handy for a rebuilding team like the Leafs.
Whichever way it shakes out, the Leafs need to ask themselves if retaining Bernier at an exorbitant cost is worthwhile in the midst of a longer term rebuild. There is something to be said for not throwing developing prospects to the wolves. And if the team does eventually hope to battle for a playoff spot, having a decent option in net would be helpful.