While Johnny Gaudreau and Sean Monahan get all the press coming out of Calgary, if you ask Flames fans in the know who has been the biggest driver of success on that team for the last few seasons, you're likely to hear the name Mikael Backlund.
Backlund has flown under the radar as an excellent hockey player for a long time, but he really started to get attention from those outside Calgary last season when he finally hit the 20-goal mark for the first time.
This year, with nearly a quarter of the season to go, he's already equaled last season's offensive production, and you could make an argument he was the team's MVP while some of their marquee stars struggled to start the season.
What makes Backlund special isn't his offensive game, though. That's just starting to catch up to his domination of the run of play, just look at his performance relative to his teammates this season.
Whether it's pushing the play with shot attempts, passes, or goals, Backlund is extremely successful, and part of what makes him so good is his decision making. He has the skating ability and hands to make moves and carry the puck himself, so while he's on the ice the Flames are less likely to give up the puck when they don't need to.
Backlund is the prototypical player that proves that making the so-called 'safe play' isn't the best play, it's just the easiest thing you can do. Using his high skill level and willingness to take a small risk for big gain, he drives play better than any other Flames forward, forming one of the NHL's most dominant possession lines with Michael Frolik and rookie Matthew Tkachuk.
What I want to focus on beyond transition though, is Backlund's defensive prowess. Keeping in mind that while he's on the ice the Flames get 54.6% of shot attempts at even strength, looking at his defensive plays compared to his teammates is illuminating.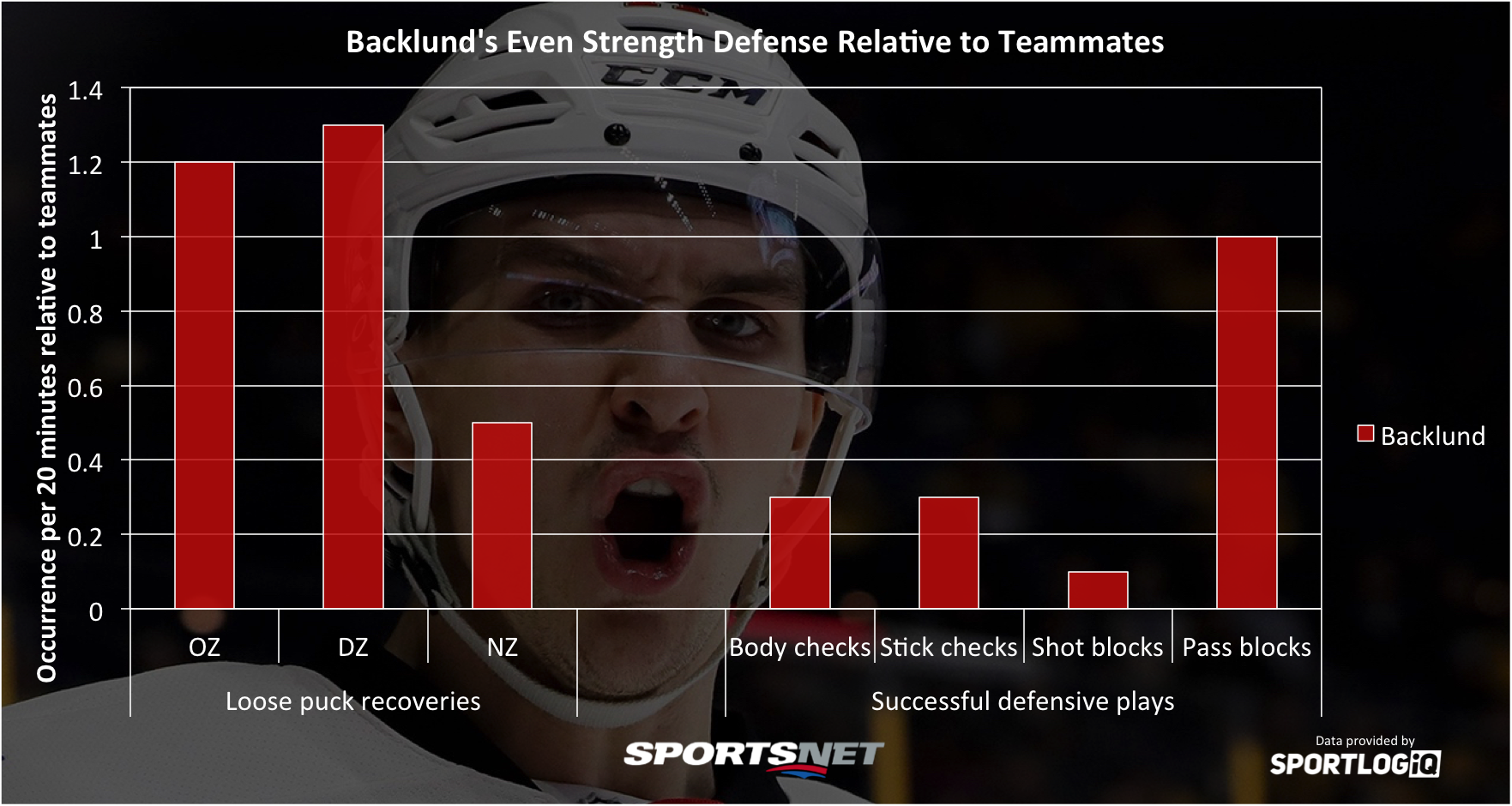 In every defensive category, Backlund is more involved than his teammates despite having the puck more often. Backlund's dominance on loose pucks is impressive enough on its own, but how often he creates those opportunities for loose pucks is incredible.
To put it into context, when it comes to blocking passes, Backlund is nearly twice as disruptive as the average Flames forward, and he's excellent at recovering himself and starting rushes in the opposite direction.
Some players make you play with your head on a swivel because you don't want to get laid out. With Backlund, although he is more physical than average, you have to be aware of him because he continually pops into passing lanes at the last second.
At 27 years old, we're likely seeing the best offensive years Backlund has to offer right now, so he won't ever be a top-end offensive centre, however when you account for defence and transition play, he is easily the Flames' most impactful.
Then again, this is the fourth straight season where Backlund's even strength offence has increased in terms of goals and points per 60 minutes, so maybe we're seeing a specialized player coming out of his shell. Should the Flames stick with the line he's on now as Tkachuk matures, we might see what Backlund is truly capable of with a pair of excellent wingers.