"Michael, this beer commercial lifestyle you're living has got to end sometime."
That was the reality check Mike Babcock's mom gave the young man before he went on to become the only hockey coach in the Triple Gold Club.
Babcock, 53, was in a reflective mood Thursday as he returned to his Prairie roots at the University of Saskatchewan to receive an honourary Doctor of Laws for outstanding achievement and exceptional service to the community.
The U of S provided Babcock with an education and one season patrolling the Huskies' blue line under coach Dave King. More important, Babcock said Thursday during his spring convocation speech at the school, it gave him Maureen Dunham: "My wife and my life."
Babcock joined Gordie Howe and Canadian Olympians Diane Jones-Konihowski and Catriona Le May Doan as Saskatchewan sports stars to be awarded honourary degrees from the U of S. Babcock is one of three ex-Huskies currently coaching NHL teams. (Edmonton's Todd McLellan and Vancouver's Willie Desjardins are the others.)
Upon winning the 2008 Stanley Cup with Detroit, Babcock brought the trophy to the Royal University Hospital on the U of S campus, and the City of Saskatoon declared July 17, 2010 "Mike Babcock Day" after his first Olympic gold with Team Canada.
In a 10-minute address to the graduates, the head coach of the Toronto Maple Leafs hoped to give the cap-and-gown crowd "a pearl to give you for the rest of your life."
Instead he gave three.
1. Embrace being uncomfortable
"College is the best time of your life," he said.
Babcock knows the crowd has heard this before. He said the greatness of university goes beyond the keggers, though. Its value rests in new ideas and being stretched and finding out about yourself.
He recognized that some won't have a plan after graduation.
"Momentary doubt — we all have it," Babcock said. "The journey is where the joy is. That's where the fun's at."
He stressed the importance of constant growth, risk-taking, and maintaining a sense of curiosity into adulthood.
"Don't let college be the best memories of your life," he warned. "Dream big. Dream big."
2. Find the gift of passion.
"Don't dare settle," Babcock said.
"What gets you energized? What excites you? Figure that out, then chase it as hard as you can. When you love what you do, it's not a job. Grind harder and stay with it longer than the next guy."
Babcock pointed to a couple of his champion players, Sidney Crosby and Nicklas Lidstrom, as examples.
"Everybody talks about their skill," Babcock said. But that's not why they win. "It's their drive train. It's their passion… It's in their heart. It's in their soul."
3. Choose your attitude every day.
Babcock took a moment to read Attitude, by evangelical Christian pastor Charles Swindel. The poem was given to him by Scotty Bowman, whom he considers "the greatest coach ever."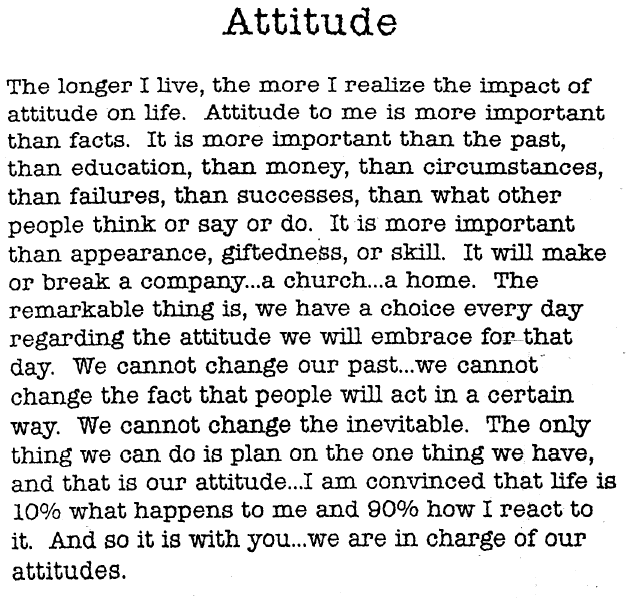 After spraying his wisdom all over the congregation, Babcock left his fellow grads with a few more quick nuggets to live by:
Laugh lots. It's great medicine for the soul.
Love. Share yourself with others.
Live. Enjoy your family.
"Graduates, your dreams await you," Babcock concluded. "Go get 'em."
Anyone else have their skates laced already?