After winning the Frank J. Selke Trophy four times in the last six seasons, and arguably deserving it all six, Patrice Bergeron is clearly the gold standard among the NHL's defensive forwards. This year however, despite having an excellent season, Bergeron has missed enough games due to injury that the field is a bit more open.
I don't believe that playing just 64 games disqualifies Bergeron from winning the award, but he would likely need to lap his peers in order to get voters to overlook missing 18 games.
The names most commonly brought up in the running this year are Bergeron and Kopitar of course, as they're the usual suspects, along with Sean Couturier, Aleksander Barkov, and Mikko Koivu.
[relatedlinks]
It's fairly difficult to isolate defensive play in the NHL, because while offence is about breaking down systems and individual talent more often than not, defence is a systemic thing, where all parts need to work together to be effective. One player can't do it all defensively, and it can be tough to single out their individual impact.
With that in mind, I want to look at this two ways: how a team's defensive performance changes when these players are on the ice as a team, and then how often each of them are engaging in defensively beneficial plays on an individual basis.
Let's start with relative team impact.
One thing to point out here is that negative numbers are good, as that means the metric is occurring less frequently while that player is on the ice than when they're off.
Surprisingly, the Bruins have allowed more high-danger chances with Bergeron on the ice than when he's off, which is partially a function of how difficult the minutes he plays are, but also how excellent their depth has been in the defensive end. Bergeron is still performing better than any other Selke canadidate in goals against, largely due to his impact on pre-shot movement in his defensive zone.
Bergeron is phenomenal at getting into passing lanes and either blocking or causing players to not even attempt passes into the slot area. No forward in the NHL is on the ice for fewer passes to the slot against per minute played at 5-vs-5 than Bergeron this year.
The three players in the middle are having admirable defensive seasons, but they are quite literally in the middle of the pack in team impact, while the big standout here is Koivu.
Koivu has been knocking at the door of the Selke for years now, but it looks like he may finally be having the season to justify a win. No forward has had as large of an impact in limiting scoring chances relative to their team, and he's had just as much of an impact on high-danger chances, shot attempts, and passes to the slot.
But again, these are on-ice statistics, and in many ways they could more accurately reflect the performance of lines or units than individuals, so let's look at the individual defensive involvement of all these players.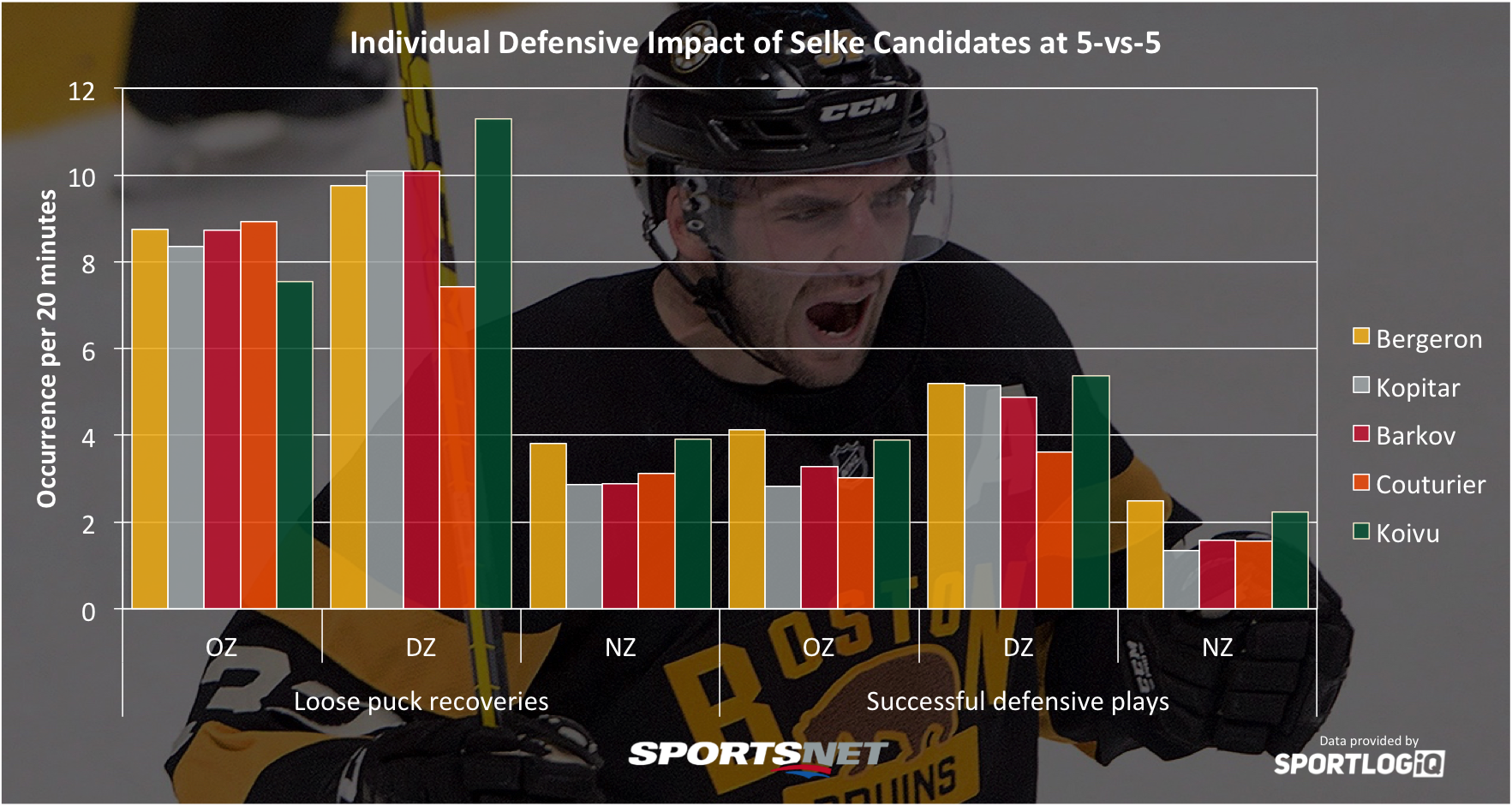 For several years Bergeron has been the king of playing without the puck, leading the league in loose puck recoveries, and successful defensive plays that remove possession from opponents. He's still incredible by any measure, with his biggest strength over his peers being neutral zone dominance, but for the first time Koivu is right there with him.
Koivu is less aggressive in the offensive zone recovering pucks, he's just not as strong of a forechecker as Bergeron, but he's ahead in the defensive zone in both puck recoveries and successful defensive plays, and he actually recovers more pucks in the neutral zone as well.
Based purely on defensive play this season, Koivu would be the guy I would give the nod to, but he does face an uphill battle.
Even though there's really no mention of it in the language of the award, the Selke has become an award for more than just defensive play, and usually it is a pre-requisite that the winner has a great offensive year as well.
That will hurt Koivu's chances, because he only has 41 points in 77 games so far, while Bergeron has 59 in 58, Kopitar has an amazing 90 in 79, Barkov has 75 in 75, and Couturier has 71 in 78. That's a lot of performance to overlook for voters, but if you're truly looking for the "forward who demonstrates the most skill in the defensive component of the game," that's Koivu this year.