Denis Potvin doesn't want you to read this.
The media is making too much of what Milan Lucic said to Dale Weise and Alexei Emelin in the end-of-series handshake line Wednesday night that tied a sloppy bow on seven games of toxic and intoxicating playoff hockey between the Montreal Canadiens and Boston Bruins.
The Hall of Fame defenceman turned analyst would rather the focus be on Carey Price's stellar goaltending or Cup-less veteran Daniel Briere's remarkable clutch delivery — really anything but the gracelessness that marred hockey's bittersweet reception line.
You've already read the blogs and watched the clips by now.
Lucic had some words with Weise in the handshake line. Weise told reporters he had be "threatened" by Lucic, and Lucic called Weise a baby for whining about it to the media.
"It's overshadowed the game," says Potvin, who played 185 NHL playoff games and won four Stanley Cups with the New York Islanders.
Stanley Cup-winning tough guy Brad May agrees.
"You got to be more graceful in defeat. You can't be doing that, especially in today's world with all the cameras and attention on it. But I have no problem with what [Lucic] said or did," May says. "I just think it's not classy."
Honour is not just a necessity in defeat, though. It takes two hands to shake.
"You've got to be more graceful in victory," Potvin counters. "This whole thing about the Canadiens feeling disrespected and Dale Weise going to the media and saying something about what happened on the ice, that's a code that's been broken."
It's not as if Weise played the series on some moral high ground. It was the Montreal winger, you'll recall, who mocked a popular Bruins trademark when he pounded his chest in celebration after scoring a breakaway goal midway through the Habs' Game 3 victory. Weise admitted afterward that it was a "shot at Boston."
"Isn't winning enough?" Potvin says. "That's my question to Weise."
The ceremonial back-pats and mumbling of "good game" as a gentlemanly ritual not only predates the Internet, it predates the NHL. But opposing players need to be smarter about their actions and their words in our Twitter-triggered, multi-camera-angled world.
Think back to the anticipation surrounding the Round 1 handshake between Chicago's Brent Seabrook and St. Louis's David Backes after a series in which Seabrook dazed (concussed?) Backes with an illegal hit.
Viewers, May included, were waiting to see what would happen. Yet the fact the rivals kept it classy still made for headlines and gifs: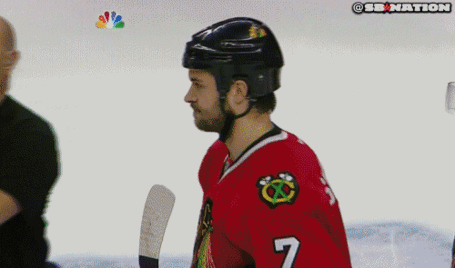 For friends in opposing sweaters, the moment can be genuine. Carey Price and Patrice Bergeron won a gold medal as Team Canada teammates less than three months ago; there was a bond in their post-series embrace. But Potvin believes that even if you have no use for your opponent during the series, you must swallow all that aggression the second you remove your right glove.
"I fought guys and shook hands with them after the series and had a beer with them later on," Potvin says. "And if you didn't want to do that, you did the Billy Smith – you went right to the dressing room. If you were so ticked off that you lost the series – Billy did it even if we won the series! – you had that option of just not going in the line."
It's the old, "if you can't say anything nice, don't say anything at all" strategy and it was memorably used by an upset Chris Chelios when his Red Wings were eliminated by the Anaheim Ducks in 2007.
"If I could go out there today and shake all their hands right now, I would," Chelios said three days after the snub.
The most bitter of rivals, Martin Brodeur and Sean Avery refused to shake each other's hand after butting heads in a heated Rangers-Devils series (and have continued to feud despite Avery's retirement). Same thing with foes Kris Draper and Claude Lemieux during one of the nasty Avalanche-Red Wings affairs of the mid-'90s.
Abstaining is one thing; maintaining the battle post-buzzer is another.
The NHL adores its rivalries and has purposely constructed a new playoff format to fuel them. With that comes an ugly by-product, however: actual, real-life hate, a feeling that doesn't just vanish with the sound of the whistle.
"I've done one thing that I'm completely ashamed about and if it was on camera, it would be terrible," May says. "Sometimes it's hard to control your emotions in the heat of it."
May was representing Team Canada in the 1996 world championships. He got hit from behind in the gold-medal game against the Czech Republic by defenceman Stanislav Neckar. The check dislocated May's shoulder. Hurt and furious, May ran into the gold-winning Czech player in the hallway afterward and punched him.
"It was face-to-face, but I hauled off and I suckered Stan Neckar. Almost knocked him down in the hallway," May says. "I couldn't get over it, and I hit him.
"When you lose, you're not happy. It's not easy to look that guy in the eye who just pummeled you or beat you. You remember what he said, how it played out, the emotion involved. But you got to lose gracefully."
Here's a tip to the defeated, courtesy of a Hall of Famer who both won and lost his share of Stanley Cups.
"The winners will say, 'Great series.' And you say, 'Thanks,'" Potivn says. "It's simple. What am I gonna do? Get mad at Gretzky and punch Messier because we lost in '84? They beat us. A sign of strength is accepting the outcome."
---
Watch: Stanley Cup handshake commercial that makes grown men cry

---
Watch: Danny Briere mic'd up for handshake line

---