Mitch Marner has arguably been Toronto's best player all series long. With two goals and six assists, most of his production has come at key moments for the Maple Leafs, too.
Marner's play has more than passed the eye test. He's looked dynamic and has been surprisingly strong defensively in a tough matchup role alongside Tomas Plekanec and Patrick Marleau.
Livestream every single game of the 2018 Stanley Cup Playoffs—blackout free—plus the Toronto Blue Jays, key Raptors & NBA Playoffs matchups and the 100th Mastercard Memorial Cup, all in one subscription.
Because of Marner's role, the more traditional statistics we use to measure performance don't look that flattering. The Leafs get just 46.4 per cent of the shot attempts while Marner is on the ice, which is 2.03 per cent worse than when he's not on the ice, but neither Plekanec nor Marleau are possession drivers at this stage of their careers. Marner's starting a majority of his non-neutral zone shifts in the defensive end and he's facing a grueling matchup against Patrice Bergeron's line.
With all that pressure facing him, Marner has risen to the challenge and the Leafs have outscored the Bruins by a 5-2 margin when he's on the ice. That kind of performance despite being hemmed in his own zone a bit too often may not be sustainable over an 82-game season, but we can look into the data to see what has allowed Marner to help create that situation in a short playoff series.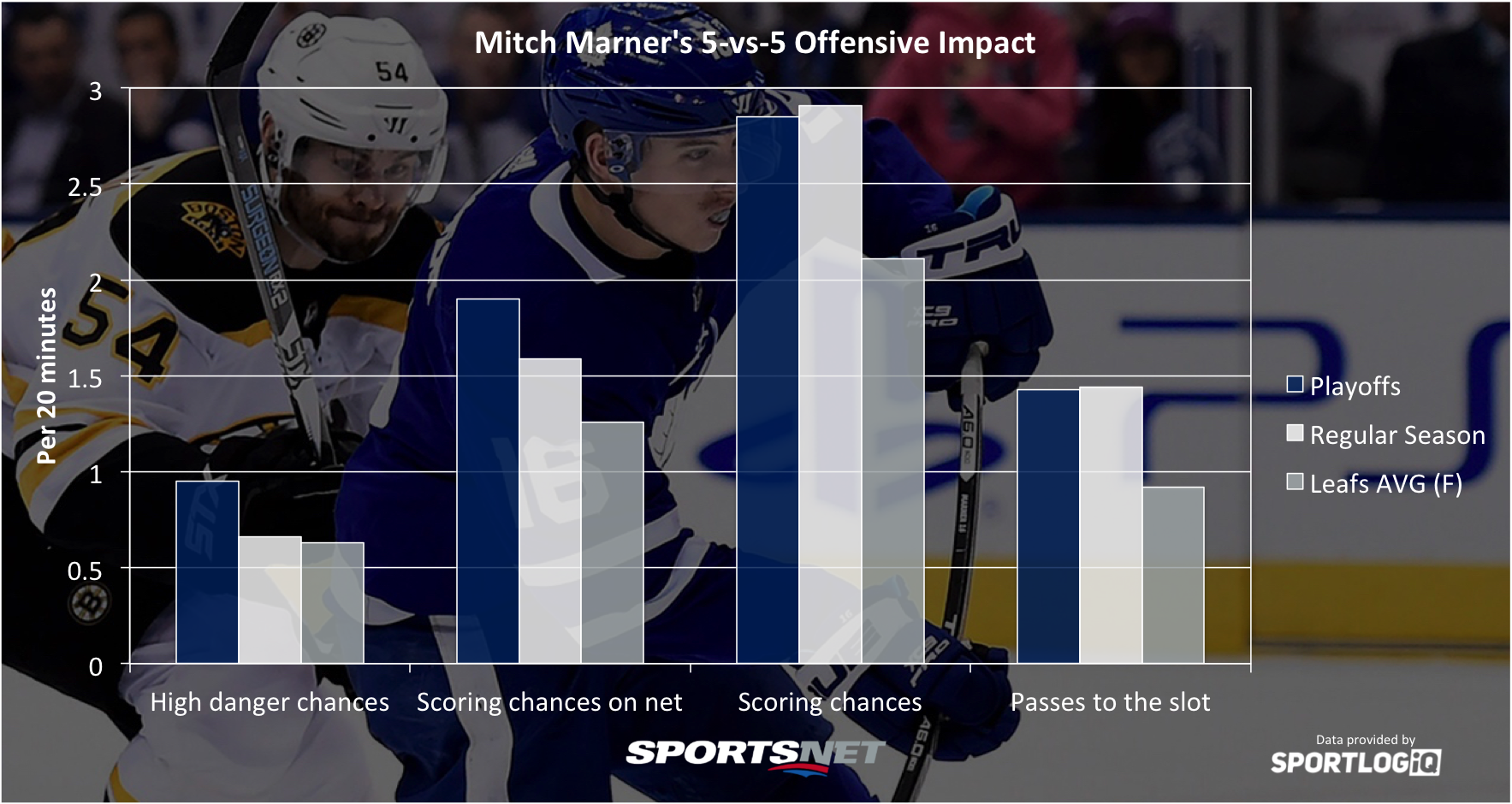 On the surface, Marner is putting up scoring chances and successfully passing to the slot at about the same rate as he was in the regular season. But it's important to remember the Bruins were the best team in the NHL at limiting chances and passes to the slot in the regular season and, in general, the playoffs are much tighter as well.
What's impressive about Marner's progression this season is that he has continually taken his shots closer and closer to the net after being a bit of a perimeter player to start his NHL career. In fact, only Tyler Bozak and Zach Hyman are getting more high danger chances per minute played than Marner at even strength.
Marner is also getting a higher percentage of his scoring chances on net, which could be a short-term fluctuation of good fortune, or he's fighting for better lanes and shooting well right now.
But Marner's offensive impact against the Bruins isn't the only thing that sticks out to me. Another key takeaway is his ability to weather the storm in the defensive zone without giving up too many high-quality chances and then making an immediate transition to offence when the puck becomes available.
For example, Marner leads all Leafs forwards in recovered rebounds in the defensive zone with 1.43 per 20 minutes, but what's even more remarkable is what he does with the puck when he gets it on his stick.
It's one thing to generate a controlled exit out of the defensive zone, but if you immediately turn the puck over it can be just as ineffective as an average dump out. What makes Marner special is his ability to create successful sequences of plays after getting the puck in the defensive zone.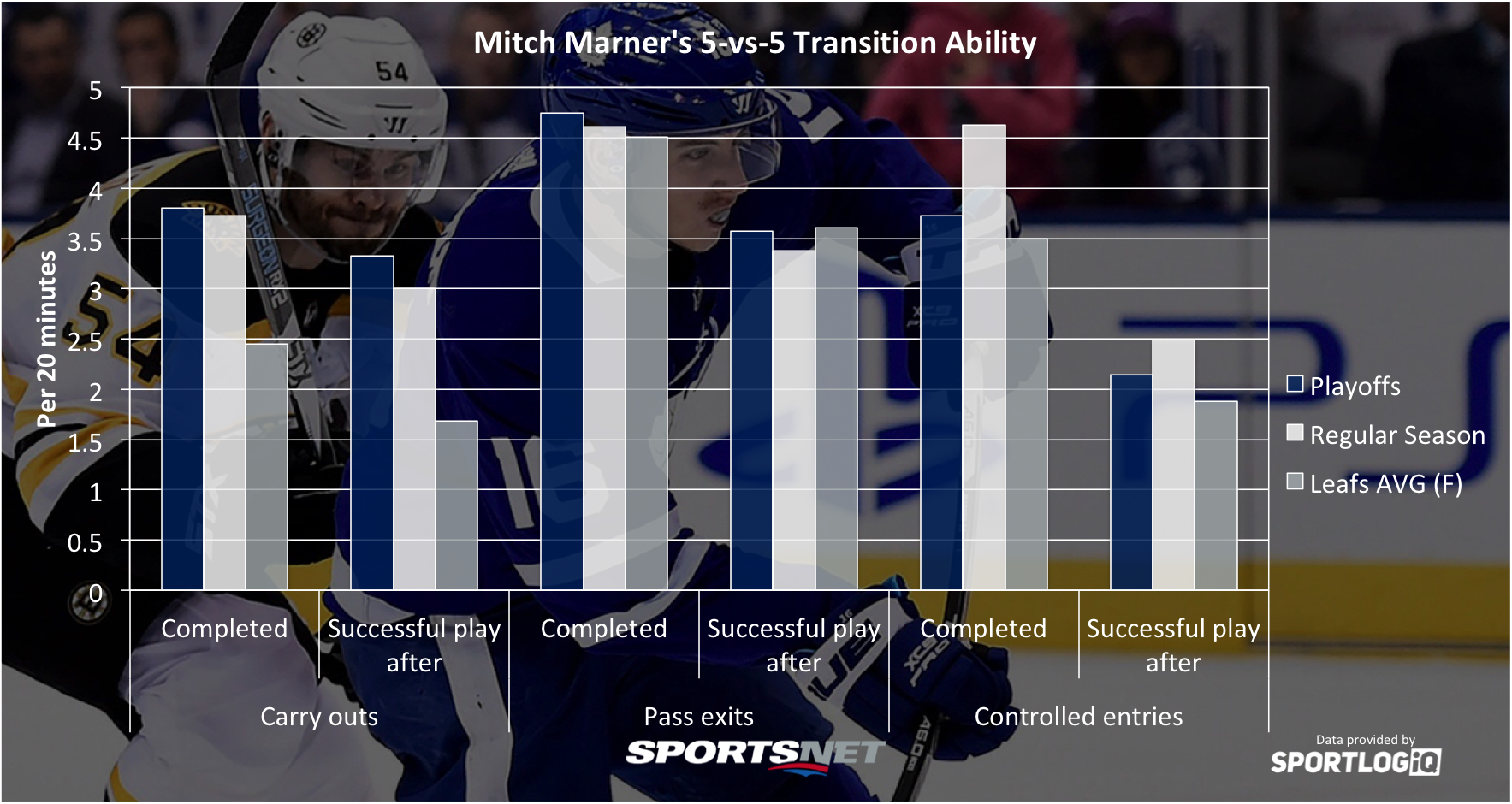 Only William Nylander carries the puck out of the defensive zone more often than Marner among Maple Leafs, but while Nylander's carry-outs end in failed plays immediately after 47.4 per cent of the time this series, Marner is only failing to make a pass or carry the puck through the neutral zone 12.5 per cent of the time. That success rate means Marner leads the Leafs in successful sequences exiting the zone by a wide margin.
Marner doesn't stand out from the crowd as much when it comes to defensive zone exits made through passing, but he still completes the fourth-most on the Leafs. And his pass exits set his teammates up well, since they're followed up by effectively navigating the neutral zone 75 per cent of the time.
The frequency with which Marner gains the offensive zone has taken a bit of a hit this series because the Bruins have done a good job limiting his lanes and forcing some dump-ins. But to compensate for this drop, when Marner does gain the offensive zone with possession, he's followed it up with a successful play 57.4 per cent of the time in Round 1, versus 53.8 per cent of the time in the regular season.
Marner's ability to string together successful plays against an incredibly disruptive team like the Bruins, which leads the league in causing turnovers, has made it possible for Toronto to force a Game 7.
If the Leafs end up knocking out the Bruins, Mitch Marner will deserve just as much credit for the upset as Frederik Andersen.