[sidebar]
The first rule of mock drafts is there is no such thing as mock drafts they are purely for fun.
Light, best-guess speculation — even more so in this case.
Unlike a mock entry draft, we won't have a clue which players will even be made available to George McPhee and the Vegas Golden Knights come 5 p.m. ET on June 17, when the other 30 clubs must submit their protection lists to McPhee (and the hockey-loving masses).
We expect plenty of trades and signings between now and the deadline to reshape the draft picture.
We do know the official protected list based on no-movement clauses, but even in those cases, a crafty GM could persuade their veteran to waive that clause so they can protect another player more likely to get plucked.
McPhee said pitches for side deals from competing GMs (i.e., "We'll give you X prospect or entry draft pick if you promise to not take Y off our existing roster") began prior to March.
"Other teams want to do more than we want to do," owner Bill Foley told Vegas radio. "They want to lock up some of their players for the playoff run and after the playoff run.
"George is a deal maker, especially in hockey. If we give up the right to draft a good player, we are going to get something good for it."
Based on current NHL rosters and some no-brainer side deals — Matt Murray, for example, would need to be exposed if the draft were today, but the Penguins won't let that happen — here's a stab at the player Vegas will steal from your favourite team this off-season.
Take your own shot at an expansion draft via the excellent CapFriendly.com.
"Based on the rosters fans are drafting and fiddling with the tool myself, the Vegas team will have trouble scoring goals, but they'll be a strong defensive team and strong in net," says CapFriendly's lead developer, Jamie Davis.
We'll find out how off-base this mock draft is on June 21, when the Knights announce Reid Duke's teammates during a televised event in Vegas.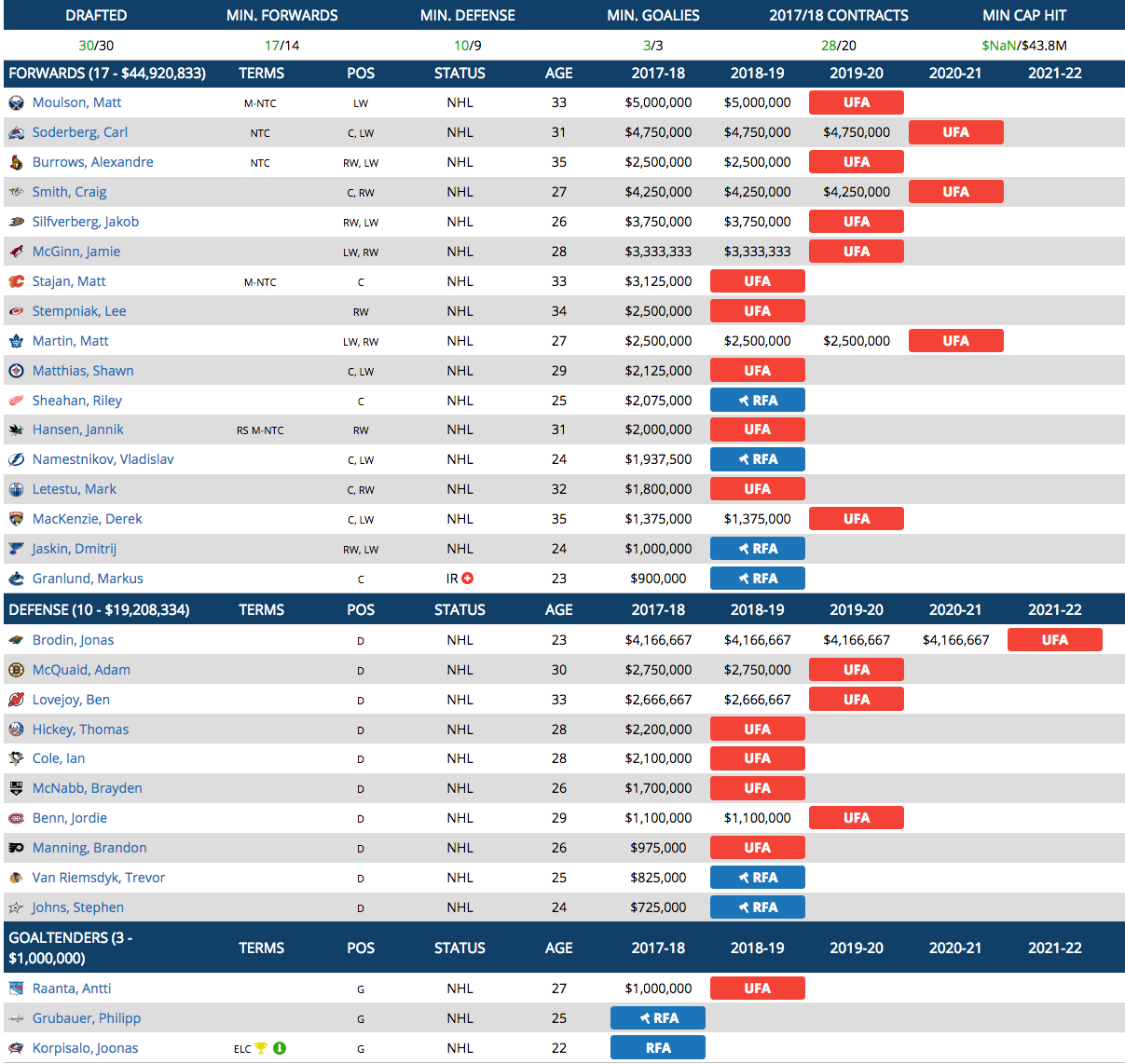 [relatedlinks]