As they've risen to mainstream prominence in the past year or so there's been some spirited discussion in the hockey community about micro stats, and just what kind of practical value we can squeeze out of them once we get past the initial barrier of accessibility.
One area where they've led to some particularly interesting findings has been in the neutral zone, specifically when honing in on the identification of a defenceman's primary responsibilities and then quantifying how well they're able to actually perform them.
Before we discuss some of the more revelatory observations from this past post-season, here are a few tips on how the data was collected and how it should be interpreted:
It was tracked by yours truly. It encompasses every minute that was played at five-on-five throughout the 2017 Stanley Cup Playoffs.
Big thanks to Sean Tierney for putting the viz together and making it look pretty.
The cut-off for making the list was a minimum of four games played so as to be inclusive of the teams that were immediately swept out of the playoffs. For the players who appeared in only a handful of games, there's a distinct possibility the data might be a misrepresentation of their true talent. After all, when you're dealing with such a small sample a couple of plays in either direction can distort the picture.
Possession Exit % is the percentage of a player's exit attempts that resulted in their team leaving the defensive zone cleanly while retaining possession of the puck, whether they carried it out themselves or passed it to a teammate. Carry-In % is the percentage of zone entry attempts against in which the player being directly targeted by the puck carrier relinquished the blue line and allowed them to enter unabated. The Top Right quadrant is Good (think of it as Keeping up with Karlsson), whereas the Bottom Left quadrant is Bad (think of it as Sagging back with Seabrook).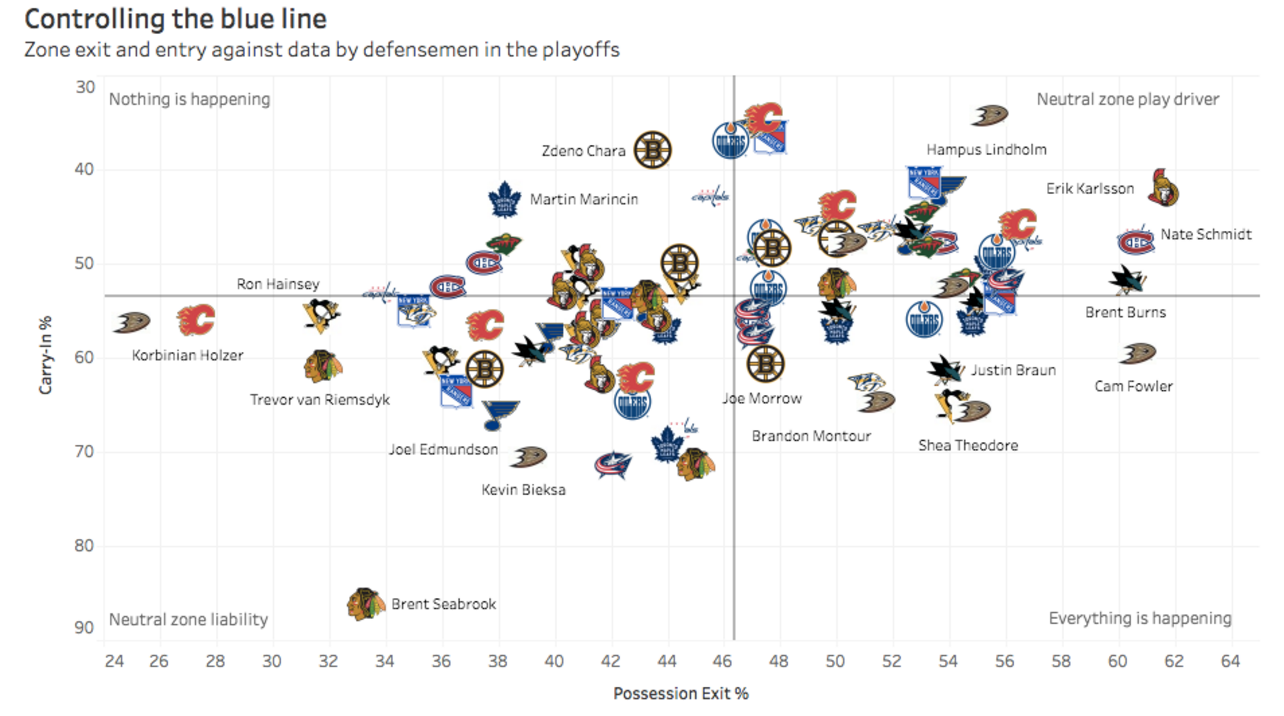 • Hampus Lindholm, Dougie Hamilton, P.K. Subban, Brendan Smith, Adam Larsson, Zdeno Chara, Ryan McDonagh, Erik Karlsson, Colton Parayko and John Carlson.
Those are all undeniably very good defencemen (albeit to varying degrees), and they're also the only ones who were better at protecting their own blue line against entries than Martin Marincin was this post-season.
Marincin is a fascinating player because of how divisive he can be. It's pretty obvious what his detractors see in him – he's slow, drudging around like he's wearing cinder blocks for skates. Unlike most of the larger players at his position, he doesn't compensate for that lack of speed by putting his frame to use in the form of physical play. He's not particularly skilled, and that's reflected by the measly six goals and 37 points he's managed in his 227 combined AHL and NHL games over the past four seasons.
And yet, whenever he's on the ice, his team somehow manages to outshoot and outscore the opponent relative to when he's on the bench. One possible explanation for those results could be the work he does defensively in the neutral zone, using his reach as a deterrent to poke and prod at the puck until it's been dislodged from the attacker.
I petition we give Marincin the nickname 'The Sloth'. He may be unnervingly slow at times, but once he uncoils his arms he provides opposing forwards with a unique problem that's clearly effective, even if it's not as obvious as some of the other stuff about his game.
• Even though more people have been slowly experiencing their come to Jesus moment about how ridiculously good Hampus Lindholm really is, when you look at how Norris Trophy votes are being doled out it's clear that perception still hasn't caught up to reality.
It'll be tough for him to get the type of national love he deserves registering only modest point totals in Anaheim, but he's turned the act of using angles to beat forwards to the spot they're trying to get to into a science. In fact, no one was a stingier defender of their own blue line than Lindholm during the 2017 post-season:
| Player | Team | Games Played | Targets | Carry-In % | Break-Up % |
| --- | --- | --- | --- | --- | --- |
| Hampus Lindholm | ANA | 17 | 70 | 34.29 | 21.43 |
| Dougie Hamilton | CGY | 4 | 29 | 34.48 | 20.69 |
| PK Subban | NSH | 22 | 152 | 35.53 | 11.84 |
| Brendan Smith | NYR | 12 | 60 | 36.67 | 15.00 |
| Adam Larsson | EDM | 13 | 84 | 36.9 | 10.71 |
| Zdeno Chara | BOS | 6 | 50 | 38.00 | 18.00 |
| Ryan McDonagh | NYR | 12 | 89 | 41.57 | 16.85 |
| Erik Karlsson | OTT | 19 | 131 | 41.98 | 16.03 |
| Colton Parayko | STL | 11 | 59 | 42.37 | 13.56 |
| John Carlson | WSH | 13 | 63 | 42.86 | 19.05 |
| Martin Marincin | TOR | 6 | 44 | 43.18 | 20.45 |
| Mark Giordano | CGY | 4 | 32 | 43.75 | 6.25 |
| Jared Spurgeon | MIN | 5 | 36 | 44.44 | 13.89 |
| Mattias Ekholm | NSH | 22 | 135 | 45.19 | 12.59 |
The way Lindholm dissects opposing attackers is a true joy to watch and makes him stand out from the pack. He uses his combination of skating ability, smarts, and occasionally well-placed brute force to apply pressure where it's needed so that he can impose his will on whatever is happening on the ice.
Here's a perfect example of that at work:
That's Zack Kassian who he just effortlessly muscled off the puck, stripping it from him masterfully without taking a penalty before kickstarting a counter attack the other way.
Next up is Connor McDavid, who provides an entirely different set of challenges to adapt to and deal with. In his short time in the league, McDavid has already used that generational blazing speed to create a lifetime's worth of highlights that all follow a similar blueprint. He beats his primary defender to the outside, plants his foot and turns the corner on him, before getting to the net and either scoring himself or serving it up on a silver platter for a teammate.
Lindholm shows how smart of a defender he is here, knowing that if he sags back like he might
against essentially everyone else he'll become a victim. Instead Lindholm attacks McDavid, knocking him off stride just enough to halt his momentum, affording an opportunity to nudge the loose puck over to a teammate for a clean breakout.
• It wouldn't be a discussion about microstats and defencemen without a section on Kris Russell, who has somehow been turned into the poster child for the debate. That's in large part due to first Jim Nill's and then Peter Chiarelli's continued assertions that he's amongst the league's best puck movers when it comes to breaking out of his own zone.
While we don't have the luxury of parsing the specific data Edmonton is using themselves, here's a telling breakdown of how each Oilers defenceman did in the transition game during the playoffs:
| Player | Games Played | Exit Attempts | Exits | Exits with Possession | Possession % |
| --- | --- | --- | --- | --- | --- |
| Oscar Klefbom | 12 | 97 | 86 | 54 | 55.67 |
| Andrej Sekera | 11 | 64 | 56 | 34 | 53.13 |
| Darnell Nurse | 13 | 82 | 66 | 39 | 47.56 |
| Matt Benning | 12 | 59 | 50 | 28 | 47.46 |
| Adam Larsson | 13 | 106 | 93 | 49 | 46.23 |
| Kris Russell | 13 | 117 | 102 | 50 | 42.74 |
Russell does in fact get the puck out of his zone more frequently than any of his teammates, but it's important to consider the details of why he's in the position to do so and how he accomplishes it. Exits tend to be a function of opportunity – for you to be breaking out, you need to have initially spent time hemmed in your own zone.
This is why we should be more interested in the far column on the right, which illustrates what the player is doing with those opportunities and whether he's actually moving the puck with purpose or just aimlessly clearing the puck out of danger. This is where the case for Russell as an effective puck-mover really falls apart, because despite being an able skater not devoid of skill he far too frequently settles for the safe off-the-glass-and-out:
While Russell does get past the initial forecheck by lifting the puck out of the defensive zone, it does very little good once it's retrieved by the Ducks and skated back in. It's not registered as a dangerous giveaway that leads to an immediate scoring chance, but it may as well be because it's just delaying the inevitable.
• I'd be remiss to not mention Erik Karlsson and the superhuman performance he put together this post-season. The sheer volume he was asked to shoulder for his team was one thing, but the fact he was able to handle it without any real signs of slippage in effectiveness was what sets him apart from the rest.
To put his workload in perspective:
Karlsson had 294 exit attempts, of which 181 were with possession (for a success rate north of 61 per cent, tops in the league).
The next most heavily relied upon defenceman in the league in terms of volume of breakouts was Mattias Ekholm with 242 exit attempts, 119 of which were successful.
The next Senators defenceman on the list was Cody Ceci with 142 and 59, respectively.
I understand why more voters than just the one were reluctant to go as far as giving him a Conn Smythe vote considering the Senators fell short in the Eastern Conference Final, but on an individual level no single player was more valuable to his team than Karlsson.
[relatedlinks]