The league has reached an interesting crossroads with regards to parity. If you look around the NHL there are a few great teams, a few atrocious teams, and a murky middle composed of about 15-20 teams that are separated by a razor-thin margin. Just nine points in the standings separate the 11th-placed Senators and the 28th-placed Red Wings.
A majority of front offices have wised up to the fact they need to be using more nuanced statistical analysis to help inform and guide their decisions. With most of the league's brainpower now using at least some version of the same publicly available material to help them figure out who to target and who to stay away from, it's become more difficult to beat the system and uncover hidden value. There's a heightened general awareness to things that used to be more exploitable.
It's not impossible to find hidden value, but teams looking to get ahead need to be craftier.
One area teams could examine closer is the role of back-up goaltender. When starters would routinely handle workloads of 70 games or more the back-up position was often overlooked, but it is now appreciably more important in the NHL.
The tide turned on the goaltending position just a handful of years ago. Now that we know fatigue considerably erodes effectiveness both in back-to-back situations and over the long haul of a marathon season, we've seen teams typically ease up on how frequently they use their No. 1 goalie and opt instead for a more balanced split.
This season in particular has been a grind for goalies, accentuating the importance of closely monitoring their workloads and usage. Largely due to a condensed schedule courtesy of the World Cup and the mandated bye weeks, we've seen previously consistent performers struggle in highly uncharacteristic fashion.
With that in mind, you'd figure teams would prioritize having a reliable back-up to call upon. But if you look around the league, there's an alarming number of teams that are woefully unprepared for this situation. While some of it could be chalked up to negligence, I think a lot of it actually has to do with a systemic flaw in the way NHL teams have historically gone about filling the position: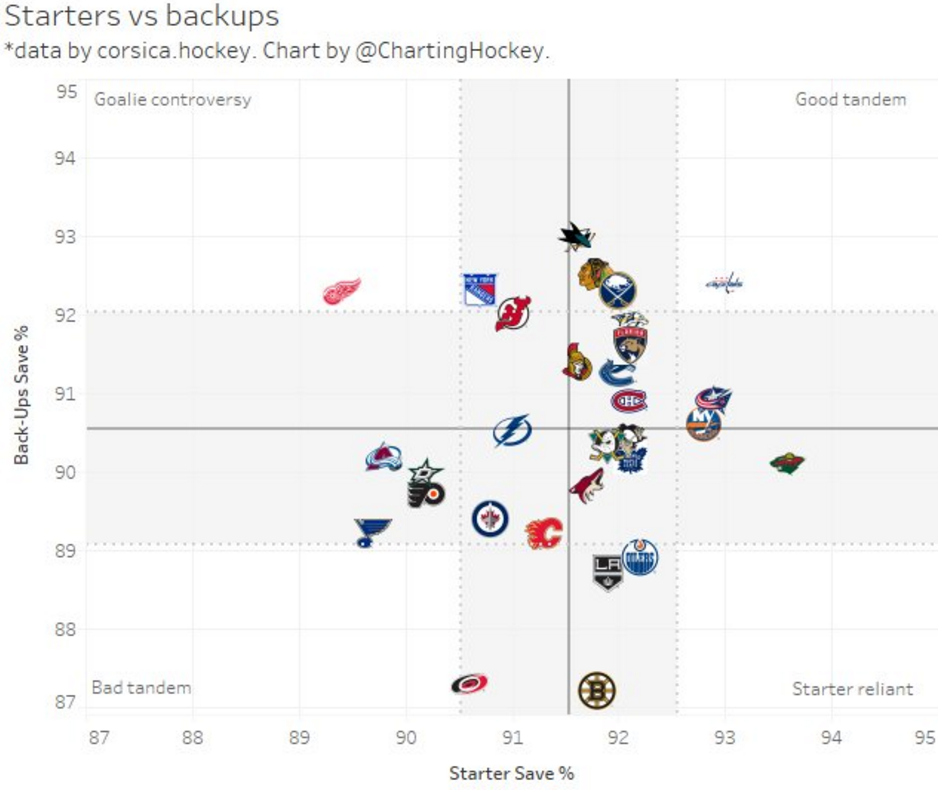 There's undeniably a psychological element to the position that needs to be considered. Most teams are understandably hesitant to give this job to a young goalie in their system who they're developing. Conventional thinking suggests, at this early point in a player's career, sporadic playing time could be detrimental and they'd be better off working on their game at a lower level. As a back-up you only really get to play once every couple of weeks, which also means you don't have the luxury of playing through your struggles and working out the kinks in an in-game setting.
I imagine that's a big reason why some teams tend to generally favour veterans who have bounced around the league to play the back-up role. Like in MLB where we constantly see veteran relief pitchers given opportunity after opportunity because they're considered to be 'proven closers' the NHL is no different when it comes to recycling its talent.
Teams tend to be conservative and they prefer the safe back-up goaltending option they're familiar with because they theoretically know what they'll get. The issue with that line of thinking is that it generally comes at the expense of actual ability — there's usually a reason why recycled back-ups haven't cemented a regular spot for themselves.
By playing an inferior puck-stopped, you're essentially knowingly punting valuable points on the nights you choose to give your starter a breather, which in today's NHL is inexcusable given how valuable every single one of them is.
Take the Edmonton Oilers, who talked themselves into starting the season with Jonas Gustavsson as their back-up. He's technically fallen into the category of 'established NHL back-up' based on his usage over the past few years, but that has more to do with the repeated opportunities he's been given rather than anything statistical he's done to warrant it. So when Gustavsson got pummelled to start the year (the Oilers lost four of the five games he started) before being demoted, it wasn't all that surprising.
The Hockey PDOcast with Dimitri Filipovic provides entertaining and thoughtful dialogue about the game of hockey with an analytical edge. Not as nerdy as it sounds.
Now Edmonton finds itself in a precarious situation without a real back-up they can trust to play even occasionally, meaning that Cam Talbot is on pace for a preposterous 72 starts. He's been tremendous to date, but considering what we now know about the effects of fatigue on the position, treating Talbot like he's mid-2000s Miikka Kiprusoff or Martin Brodeur doesn't seem like an advisable strategy for a team with newfound playoff aspirations.
Tuukka Rask isn't being relied upon quite as heavily as Talbot, but all things considered I wouldn't blame the coach for changing that down the stretch. The Bruins are 25-12-4 in Rask's starts, compared to a shockingly putrid 1-9-2 without him. They're on the playoff bubble right now, and if they wind up missing it'll be entirely because of how many points they gave away early in the season when they turned to a back-up.
The Hurricanes remain a mystery. They're once again a strong 5-on-5 team, just as they've been ever since Bill Peters took over. Unfortunately, they're also once again being hurt by their goaltending. They're 30th in even strength save percentage and 28th in all situations since Peters took over in 2014 — this season, they're 30th at even strength at 26th in all situations.
What's particularly puzzling about this season, though, is they've essentially completely given up on finding a second option to split the duties in net with Cam Ward after Eddie Lack's poor play and head injuries took him out of the equation. Carolina has turned to Ward for 37 of their 41 games since the end of October even though he hasn't been up to snuff for five-plus years now. The fact this progressive, forward-thinking franchise keeps going back to Ward despite such a mountain of evidence suggesting otherwise is truly bizarre. Especially considering that they're on the periphery of a playoff spot with only the one glaring weakness on the roster.
Another fascinating case study is the dichotomy between the St. Louis Blues and Nashville Predators, who have been polar opposites this season: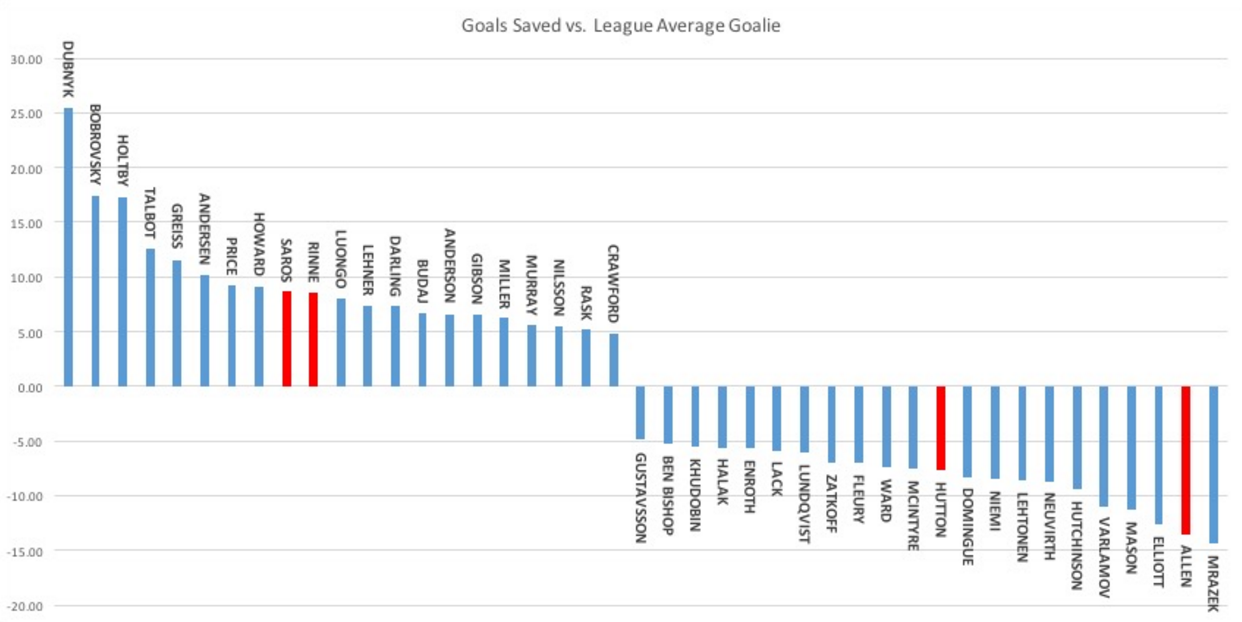 After leading the league in save percentage last season, the Blues traded Brian Elliott for financial reasons, half-heartedly replacing him with Carter Hutton. Both he and incumbent starter Jake Allen have completely cratered, remarkably dropping the Blues to 30th in save percentage just one year later.
Ken Hitchcock ultimately paid for those struggles Wednesday morning, but the "show me a good goalie and I'll show you a good coach" phrase works in the inverse, too. Just the fact they were holding down a playoff spot at the time of Hitchcock's dismissal, despite the awful goaltending, is a minor miracle. Look at their standing amongst the worst team save percentages since 2007 and their unique ability to survive it:
| TEAM | SEASON | SAVE % | PLAYOFFS Y/N |
| --- | --- | --- | --- |
| TBL | 20072008 | 88.49 | N |
| TOR | 20082009 | 88.49 | N |
| FLA | 20122013 | 88.70 | N |
| STL | 20162017 | 88.70 | TBD |
| EDM | 20142015 | 88.80 | N |
| TBL | 20112012 | 88.89 | N |
| CGY | 20122013 | 88.89 | N |
| COL | 20102011 | 89.00 | N |
| NJD | 20122013 | 89.01 | N |
| DAL | 20082009 | 89.11 | N |
| CGY | 20152016 | 89.19 | N |
| TOR | 20092010 | 89.23 | N |
| TOR | 20072008 | 89.35 | N |
| COL | 20082009 | 89.35 | N |
| NYI | 20132014 | 89.41 | N |
On the other hand, Nashville let Hutton hit free agency and opted to run with Juuse Saros instead and he's rewarded them. Under the same workload, Saros has already allowed 14 fewer goals than Hutton would've based on their averages this season. It's important not to get carried away after just 10 starts – especially after the rocky ride we've gone through with Petr Mrazek and Andrei Vasilevskiy. But the Predators should strongly consider giving Saros a healthier share of starts in the second half of the season to help conserve 34-year-old Pekka Rinne and see if Saros is capable of taking the No. 1 job in the near future.
These days we're all justifiably obsessed with finding possible avenues for getting a slight leg up on the competition. Given how packed together the standings are, for a significant portion of the NHL every potential extra point could ultimately be the difference between making or missing the playoffs.
You'd think that alone would be enough to make teams devote a greater level of attention and resources to the back-up position and handle it with more care than they historically have. While it's always been true that you need good goaltending to win in the NHL, this season has shown that having just the one reliable option in net isn't even enough anymore either.