Trevor Timmins' philosophy has always been to pick the best player available, but you have to wonder if the Montreal Canadiens' director of player recruitment and development has ever had more incentive to draft by position.
Old story: The Canadiens need centres. None of their fans would begrudge them for using all six of their picks in this year's draft on players who can play in the middle of the ice.
New story: The Canadiens just traded the best defensive prospect to hit their system (Mikhail Sergachev) since Ryan McDonagh and P.K. Subban were drafted in 2007. It wouldn't be even slightly surprising if the blue line was their area of focus at this year's draft.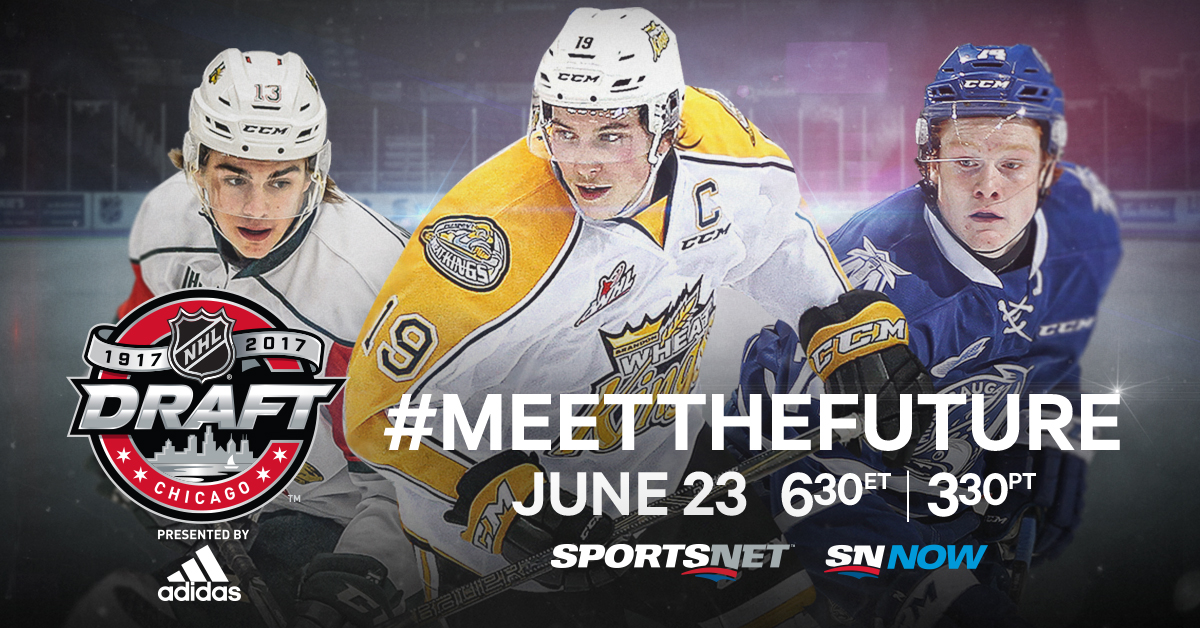 Here's the curveball: It's just as likely the Canadiens trade up, or out, of the first round as it is that they hang on to the 25th overall pick. They could put together a package that lands them closer to the top of the order. Or perhaps they're forced to part with the pick to entice Vegas to take on an unwanted salary (here's looking at the $6 million Tomas Plekanec makes). Or maybe they have a package in mind that nets them a roster player or two.
This is always a guessing game, but pinning down Montreal's plan for the draft is anything but easy. Here's our best shot at it, assuming they stick with the 25th overall pick.
2017 Draft Picks
25th
56th
58th
68th
87th
149th
TOP 3 PROSPECTS CURRENTLY IN THE SYSTEM
Charlie Lindgren, G: A 23-year-old who signed out of St. Cloud State in 2016. He had an exceptional AHL season with 24 wins and a .914 save percentage on a defensively average St. John's IceCaps team. In three NHL starts, he's 3-0 with a .943 save percentage.
Charles Hudon, F: A 22-year-old forward who was drafted in the fifth round in 2012. In three full AHL seasons, he's averaged 25 goals and accumulated 159 points in 198 games played. In three NHL games this season, averaging less than 10 minutes per game, he managed two assists.
Noah Juulsen, D: A 20-year-old drafted 26th overall in 2015. He may not be your prototypical new-school defender, but he's 6-foot-3, takes care of his own end efficiently, and he moves the puck well. Collected only 124 points in 239 games with the Everett Silvertips, but served as a leading shutdown man throughout his tenure and played the same role with the 2017 Canadian World Junior team.
TWO PLAYERS WHO MAY BE AVAILABLE IN ROUND 1
Robert Thomas, C, London Knights (OHL): 6-feet, 193 pounds. He's a right-handed, playmaking centre who had a breakout season, scoring 16 goals and 66 points in 66 games before adding 12 points in 14 playoff games. NHL Central Scouting has him ranked 22nd among North American skaters.
Nicolas Hague, D, Mississauga Steelheads (OHL): 6-foot-6, 214 pounds. The big lefty had 46 points in 65 games this season before adding 12 points in 18 playoff games. Skates really well, has a cannon of a shot, and he's an efficient player in the defensive zone.
BEST 25th OVERALL PICKS IN NHL HISTORY:
Mark Howe, 1974: A Hall-of-Famer who scored 504 points (many of them as a left winger) in 426 games in the WHA before adding 742 points in 929 NHL contests as a defenceman. Oh yeah, he's also Gordie's son.
Cam Ward, 2002: Ward has 625 NHL games under his belt and a Conn Smythe on his shelf for his stellar work backstopping the Hurricanes to the first Stanley Cup win in their history (2006).
Brenden Morrow, 1997: Lost in the Cup Final with the Stars as a rookie and honed his craft as a tough-as-nails competitor who topped out at 33 goals in 2010-11. He had 575 points in 991 games and was known for his leadership.
OTHER NOTABLE PICKS AT 25th OVERALL
• The Edmonton Oilers selected Andrew Cogliano with the 25th overall pick in 2005.
• The Calgary Flames selected Stephane Matteau with the 25th overall pick in 1987.
• The St. Louis Blues selected Patrik Berglund with the 25th overall pick in 2006.
WORST 25th OVERALL PICKS IN NHL HISTORY
Mikhail Kuleshov, 1999: Played three games with the Avs and never scored more than 20 points in an AHL or KHL season.
Eric Lavigne, 1991: Played one NHL game. Best part of his game was dropping the gloves, picking up thousands of penalty minutes in time split between the now-defunct IHL, AHL, QSPHL and LNAH.
Patrick White, 2007: Not only did he never get into an NHL game, he never got into an AHL game. But hey, he had 16 points in 40 games in France's top professional league in 2016-17.
CANADIENS' HISTORY OF PICKING 25th OVERALL
The Habs drafted Michael McCarron 25th overall in 2013 and he has since played 51 games in the NHL. He has potential to be a third-line centre and will be fighting for a roster spot with the Canadiens come September.
The Canadiens also drafted Alexander Perezhogin 25th overall in 2001. The most memorable moment of his 128-game NHL career was an accidental collision he had with Philadelphia's Keith Primeau, concussing Primeau and effectively ending his career.
[relatedlinks]