Last month's Canadiens prospect report gave us an in-depth look at what the top-10 prospects in the organization had to focus on in order to eventually ascend to NHL rank. Canadiens director of player personnel and player development Martin Lapointe was forthcoming and pointed in his evaluation.
For this month, we're turning to Laval Rocket head coach Sylvain Lefebvre to give us the skinny on how different Canadiens prospects are developing with the team's AHL affiliate.
We're skipping defenceman Noah Juulsen, who broke his foot during Canadiens training camp and is still 2-3 weeks from making his Rocket debut.
Without further ado, here are Lefebvre's observations on several key Canadiens prospects.
Charlie Lindgren, 23, G
Signed as unrestricted free agent in 2015
Season to date: 9 GP, 3 W, .885 SA%, 3.53 GAA
SN: What do you like most about him?
Lefebvre: "He competes. He's a gamer. He wants the net, and he knows when he's playing well and also knows when he's not playing well. He's a very competitive guy.
"Even the games that he didn't play as well and had a bunch of goals scored on him; it's not that he was awful. He made a bunch of great saves. It's a team-game. We didn't play our best games in front of him, either."
SN: What can he do better?
Lefebvre: "What he can do better is just his mental preparation.
"But, like I said, he competes a lot and I think he just needs to get back to basics and compete even more—even in practices."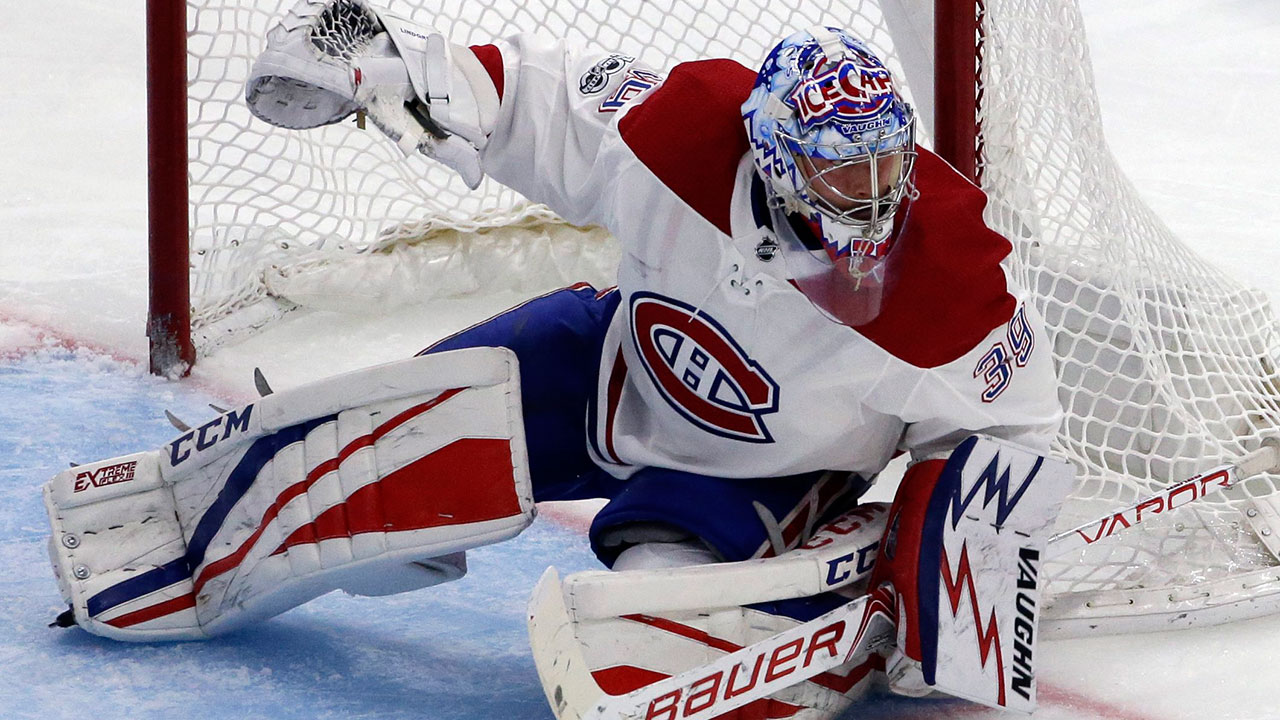 Reason for optimism…
NCAA prospects Jake Evans and Ryan Poehling are off to a terrific start for their respective teams.
Evans, who was selected by the Canadiens in the seventh round of the 2014 draft, has three goals and 12 assists in eight games with Notre Dame and leads all NCAA scorers with 15 points.
Poehling, who was drafted 26th overall by the Canadiens in 2017, started off his season with St. Cloud State by scoring two goals and adding six assists in his first five games.
Antoine Waked, 21, RW
Signed as an unrestricted free agent in 2017
Season to date: 11 GP, 0 G, 2 A, 2 P, -3
SN: What do you like most about him?
Lefebvre: "He hounds the puck. He's very aggressive on the forecheck, he'll get physical, and he can make the odd play, too. I like his hockey sense.
"He's in a bit of a rut lately, but I think that's normal for a first-year guy"
SN: What can he do better?
Lefebvre: "For him it's really about being consistent and for him to be as good as he can on any given night. That's the biggest challenge for a guy who's just become a professional athlete; to be as good as you can be every night. You know you'll have some downs, but you don't want to have too many. You don't want the jagged edge to disappear and you want the right learning curve and to find more consistency.
"For coaches, when you have players who can be consistent, that's the real nice thing to have. I think he can get better at that."
Live stream over 300 marquee regular season games, regional matchups for the Edmonton Oilers, Calgary Flames, Vancouver Canucks and Toronto Maple Leafs, and the entire 2018 Stanley Cup Playoffs.
Jeremy Gregoire, 22, C/RW
Drafted: 6th round, 176th overall, 2013
Season to date: 7 GP, 1 G, 3 A, 4 P, +4
SN: What do you like most about him?
Lefebvre: "He's another guy that's a gamer. He'll fight anyone, and sometimes we have to tell him not to fight a certain guy that's too big. He's got the heart of a lion. He's improved a lot in the last two years. He's been injured a bit lately.
"He can bring some offence. I use him in all different situations—most of it on the penalty kill—and I know I can play him on any line. I've even used him at centre at times. I know what I get from Jeremy. He's a guy that brings it every night."
SN: Does he have the talent to one day graduate to the NHL?
Lefebvre: "I wasn't the most talented player, but sometimes when you can bring consistency and intangibles other players don't have you can make it to the NHL. When you bring the work ethic and the edge other players don't have—that's what Jeremy has. Even if people think he's not the most talented guy, he's one of those guys—because of his heart and the way he plays—that can maybe cause a surprise and make it to the NHL."
Brett Lernout, 22, RD
Drafted: 3rd round, 73rd overall in 2014
Season to date: 13 GP, 0 G, 1 A, 0 P, -3
SN: What do you like most about this player?
Lefebvre: "He was the most improved player last year. He made a big jump in his skating. He's a faster skater than people think, and I like his physical presence, also. When he plays physical early in a game, you know that he's prepared and you know that he's going to play a good game. He's a guy we've used a lot on the penalty kill and even some power plays. He's logged a lot of minutes and right now he's playing on our top pairing with Matt Taormina, and we like that pairing."
SN: What can he do better?
Lefebvre: "He needs to improve his mobility, but also his playmaking. His first pass… to be an NHL guy on a regular basis, your results on puck touches have to be a lot more positive than negative. I think there's always an improvement for a guy like Lerny to make in that part of the game."
Senior Writer Ryan Dixon and NHL Editor Rory Boylen always give it 110%, but never rely on clichés when it comes to podcasting. Instead, they use a mix of facts, fun and a varied group of hockey voices to cover Canada's most beloved game.
Daniel Carr, 26, LW
Signed as an unrestricted free agent in 2014
Season to date: 11 GP, 7 G, 5 A, 12 P, -1
SN: What do you like most about him?
Lefebvre: "He seems to be on a mission right now; he wants to get back in the NHL. He went through a tough time last year with injuries and he was sent down and called back up and sent down again. Being put on waivers after this year's training camp and not being picked up was kind of a hard pill to swallow for him, and he's on a mission to get back into the NHL.
"He's a goal scorer. That's what he does. He loves to play, he loves to have the puck in key situations, and those are things you love about him. He loves the game so much; he works at his game, and if you ask him to do something he'll do it. He's always trying to improve on every aspect of his game."
SN: If a scoring role isn't available to him in Montreal, is there something he can focus on to fill a specific role that makes him more appealing as a call-up option?
Lefebvre: "This year he's on my first penalty killing unit, with Byron Freose right now, and he's done an amazing job so far. In a recent game we had to kill a penalty in the last minute where Toronto pulled the goalie and we were 4-on-6 and he blocked two or three shots and cleared the puck. His positioning is improving a lot on the penalty kill and he's been a pleasant surprise there for us, for sure."
Dimitri Filipovic provides entertaining and thoughtful dialogue about the game of hockey with an analytical edge. Not as nerdy as it sounds.
Daniel Audette, 21, C
Drafted: 5th round, 147th overall in 2014
Season to date: 13 GP, 4 G, 3 A, 7 P, -8
SN: What do you like most about this player?
"I like his speed and his playmaking ability. He was fast last year, he worked out really hard this past summer and put in the time, and he's improved his skating and his quickness. His play with the puck, too. Obviously he needs to improve on his defensive zone coverage, which he did a bit last year. He's building his foundation right now. Maybe points aren't coming as quickly or easily as he would like, but we see improvement in certain aspects of his game and the defensive zone is one of them."
SN: Does he have an NHL future?
Lefebvre: "I think he has the speed and the skill and can add onto it. I think he has an NHL future. When? I don't know. But sometimes players take longer than others, and he might be one of them. If you look at [Canadiens forward] Charles Hudon, it took him three years. Maybe Daniel will be a guy like that, who takes a bit more time. But when he does make the jump, maybe he'll stick around."
Nikita Scherbak, 21, RW
Drafted: 1st round, 26th overall in 2014
Season to date in AHL (called up for two games before injury): 6 GP, 1 G, 8 A, 9 P, +3
SN: Did you see something different in Scherbak after being cut early in training camp by Montreal?
Lefebvre: "He was more enthused. He didn't like being sent down after training camp this year. He went back for one pre-season game at the end and he knew he was only going for a game and coming back, but the week where he was sent down to practice with us before that I asked him to lead the way for our other guys and he embraced that role. He really took that on. He worked hard, he was a different player in that last [NHL] pre-season game versus the rest of training camp. I thought he skated better and was more confident with the puck.
"When he has the puck that's when he's good. It's a matter of sometimes going to get the puck and being strong on the puck, and we tend to forget that he's missed quite a bit of time due to injury—even if it's his third season in the pros. He's also a late birthday. He's not even 22 yet. I think he's still growing into his body and he's going to get stronger. He's a big kid, and if he can get stronger and become more powerful without losing any speed, he's going to be a good player in the NHL.
This season, home is where the hockey is. Experience Rogers Hometown Hockey.
Mike McCarron, 22, C
Drafted: 1st round, 25th overall in 2013
Season to date in the AHL (called up to Montreal): 6 GP, 2 G, 2 A, 4 P, Even
SN: What do you like most about him?
Lefebvre: "Mike was very disappointed with his training camp, even if he was kind of expecting to start the season with us. But I think that he's improving some of his play at centre; his faceoffs, his defensive zone coverage, and even on the power play. On the power play in front of the net he's a big guy who can tip pucks and pick up rebounds. He's got pretty good hands and a good knack around the net. He played good with us, scored four points in six games before getting called up."
SN: What can he do better?
Lefebvre: "One area that Mac has to improve is discipline. Sometimes he takes penalties that you wish he wouldn't take. He can improve his skating and his strength on the puck, too."
Zach Fucale, 22, G
Drafted: 2nd round, 36th overall in 2013
Season to date: 5 GP, 4 W, .881 SA %, 3.46 GAA
SN: What do you like most about him?
Lefebvre: "Zach is another guy that competes very hard. He practises hard and he's always in a good mood and always has a good attitude. When you give him the net, he wants it. You can see that he's very enthusiastic about it."
SN: What can he do better?
"What he needs to improve is consistency. That's the big thing for him."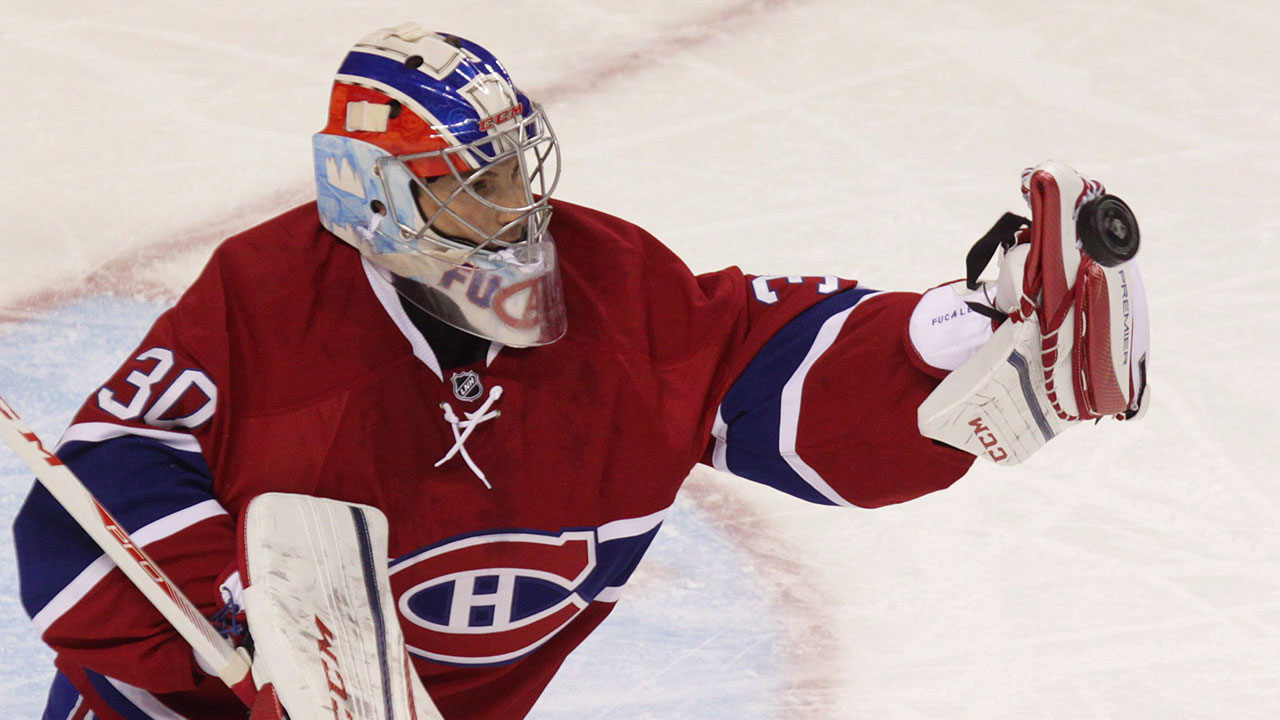 ************
Prospects in major junior:
OHL:
Will Bitten (Hamilton Bulldogs), 17 GP, 3 G, 11 A, 14 P, -7
Michael Pezzetta (Sudbury Wolves), 18 GP, 10 G, 10 A, 20 P, -4
WHL:
Josh Brook (Moosejaw Warriors), wrist surgery on Sept. 22, out three months
Scott Walford (Victoria Royals), 19 GP, 0 G, 8 A, 8 P, +11
************