Every month throughout the NHL season we'll be updating you on the development of key Montreal Canadiens prospects with stats, videos, analysis and scouting reports.
If you're looking for a silver lining in the storm clouds that have hovered above the Montreal Canadiens for the last two months, the development of some of their prospects is where you'll find it.
Some of these players have already had trial by fire in Montreal and are currently thriving with the St. John's IceCaps of the AHL, some are making waves for teams in Europe, and others are developing well in the junior ranks.
Let's take a closer look at the performances Montreal's prospects have offered since the middle of December.
Daniel Carr: LW, St. John's IceCaps (AHL)
Signed: Out of Union College, 2014

Season to date: 24 GP | 10G | 11A | 21P | +7 (AHL) 19 GP | 5G | 3A | 8P | -1 (NHL)
If you look beyond the numbers — the ones that show that Carr has been a capable goal scorer at every level of hockey — this player's tenacity is his most admirable quality.
"He's like a dog on a bone on the puck," IceCaps coach Sylvain Lefebvre told Sportsnet in November. "It's the player that he is. He's relentless and he's resilient on the puck and around the net."
Carr proved it in each of the 19 games he played with the Canadiens before suffering a right-knee injury that will sideline him for three months.
He has established himself as an up-and-coming player with five goals and three assists for Montreal, managing that production despite averaging just 11:50 minutes of ice per game.
Sven Andrighetto: RW, St. John's IceCaps (AHL)
Drafted: Third round (86th), 2013

Season to date: 24 GP | 10G | 12A | 22P | +7 (AHL)/17 GP | 4G | 1A | 5P | +4 (NHL)
Andrighetto is still working to find the formula that will allow him to consistently produce at the NHL level, but his potential was evident in the 17 games he played with the Canadiens since late November.
Since his most recent demotion to the IceCaps, Andrighetto has built up his confidence with three goals and two assists in his last four games.
Don't be surprised to see Andrighetto return to Montreal out of the NHL's All-Star break.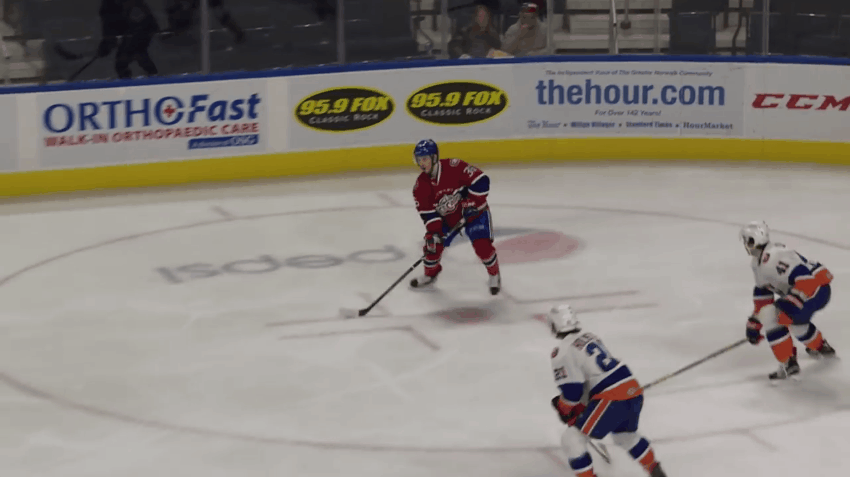 Charles Hudon: C, St. John's IceCaps (AHL)
Drafted: Fifth round (122nd), 2012

Season to date: 39 GP | 13G | 16A | 29P | +1 (AHL)/ 2GP | 0G | 2A | +2 (NHL)
Hudon has built on his outstanding rookie campaign in the AHL last season, where he was second among all rookies in scoring with 57 points in 75 games.
He has recorded three goals and six assists in 15 games with the IceCaps since we last checked in on him. He also made his debut with the Canadiens, recording two assists in a two-game stint in December.
The challenge for Hudon is to continue to develop his defensive game and build the necessary strength that will help his overall game in the NHL.
Michael McCarron: C, St. John's IceCaps (AHL)
Drafted: First round (25th), 2013

Season to date: 41 GP | 13G | 15A | 21P | -2 (AHL)/ 2 GP | 0G | 0A | 0P | -1 (NHL)
If McCarron's production has hit a wall since playing his first two games with the Canadiens in December, an appearance at the AHL's All-Star Weekend should boost his confidence.
He's still managed to produce four goals and four assists in his last 17 games without having the linemates who helped him score 21 points in his first 24 games (Carr was promoted to Montreal and Christian Thomas was traded to Arizona on Dec. 15).
Other prospects of note:
Morgan Ellis (D) IceCaps: If 2014-15 was a disappointment for Ellis, who split time between the Hamilton Bulldogs and the ECHL's Wheeling Nailers, 2015-16 has been an incredible reversal for him.
Ellis is headed to the AHL's All-Star Weekend after shining on the top defensive pairing for St. John's.
With 10 goals, 13 assists and a plus-12 rating in 43 games this season, Ellis is serving notice that he could develop into an NHL defenceman before long.
Nikita Scherbak (LW) IceCaps: The 2014 first rounder has been terribly unlucky this season. After appearing in eight games with the IceCaps, he suffered an injury on Oct. 25. In his first game back Nov. 13, he got injured again.
Scherbak returned to action on Jan. 1, and with two goals in his last three games he's starting to show some of the skill that had many people calling him one of Montreal's most promising prospects before the 2015-16 season got underway.
Martin Reway (LW) Fribourg: Reway continues to shine in the Swiss-A League. The Slovakian forward has eight goals and 13 assists in 18 games with Fribourg-Getteron.
Artturi Lehkonen (LW/RW) Frolunda: Montreal's second-round pick in 2013 is having a tremendous season in the Swedish Hockey League. He's currently tied for 15th in the league in scoring with 15 goals and 29 points in 38 games.
Noah Juulsen (D) Everett: The 2015 first-rounder was the final cut by Team Canada for the World Junior Championship, but he's helped the Everett Silvertips to first place in their division in the WHL with four goals, 13 assists and some real strong defensive play in 38 games.
Jake Evans (C/RW) Notre Dame: He was a seventh-round pick by the Canadiens in 2014, but he's turning heads in his sophomore year at Notre Dame.
Evans has five goals and 20 assists and a plus-10 rating in 25 games, which ranks him 37th among all Division I players this season.