For the first time since the turn of the century the Vancouver Canucks will be looking to make future-oriented deals and sell veteran pieces as the sun rises on the NHL trade deadline.
The Canucks and general manager Jim Benning are expected to try to be busy. Vancouver would clearly like to be active sellers, but the club was an observer over the weekend as the long-barren NHL trade market grinded fitfully into gear.
Time is running out before the NHL's trade window snaps shut at noon PT, and the Canucks' two most obvious rental candidates – Dan Hamhuis and Radim Vrbata – remain in Vancouver for now.
Hamhuis' situation is the key to a successful deadline for the Canucks. Arguably the best defenceman on the market, Hamhuis could return multiple significant future assets if he's dealt, but the still-unanswered question of whether or not he will waive his ironclad no-trade clause remains a complicating factor.
In recent public comments Hamhuis has discussed being open-minded about the possibility of moving on from a city he loves dearly. The veteran defender even described Dallas as a destination that could be a good fit over the weekend.
On Sunday, Hamhuis was asked about what was the most important thing to him if he were to agree to be traded and he gave a curiously hockey-forward answer.
"Certainly a contending team would be the No. 1 thing," Hamhuis said.
There's hope that Hamhuis will agree to a deal, even though the long-tenured blue-liner's heart remains firmly in Vancouver, as he reiterated again Sunday night. And the Canucks opted to dress him for a home game against the San Jose Sharks on Sunday, rather then protect their asset as we might expect if a deadline-day deal were imminent.
"I thought there might be a chance (that I wouldn't play)," Hamhuis said following Vancouver's 4-1 loss to the Sharks. "But I found out I was playing so I was ready for that. I kind of prepared throughout the day for either option.
If Hamhuis will consent to being dealt, there are a number of suitors that would seem to make sense as trading partners for the Canucks. The Los Angeles Kings and the Dallas Stars come to mind immediately, though the Boston Bruins – a team that Canucks management is very familiar with – reportedly have some level of interest also.
If the rebuilding Canucks are able to attract the sort of return that players of Hamhuis' calibre generally net on the trade market, they'll have done well for themselves. This one could go down to the wire though.
"It (has) been an interesting time," Hamhuis said Sunday. "I think we've prepared ourselves… It will certainly be an interesting morning whatever comes."
With all eyes on Hamhuis, it's easy to ignore the similar level of intrigue surrounding winger Radim Vrbata. Vrbata has not played his best hockey this season and hasn't played since sustaining an injury last week – though he's on pace to practise with the team Monday.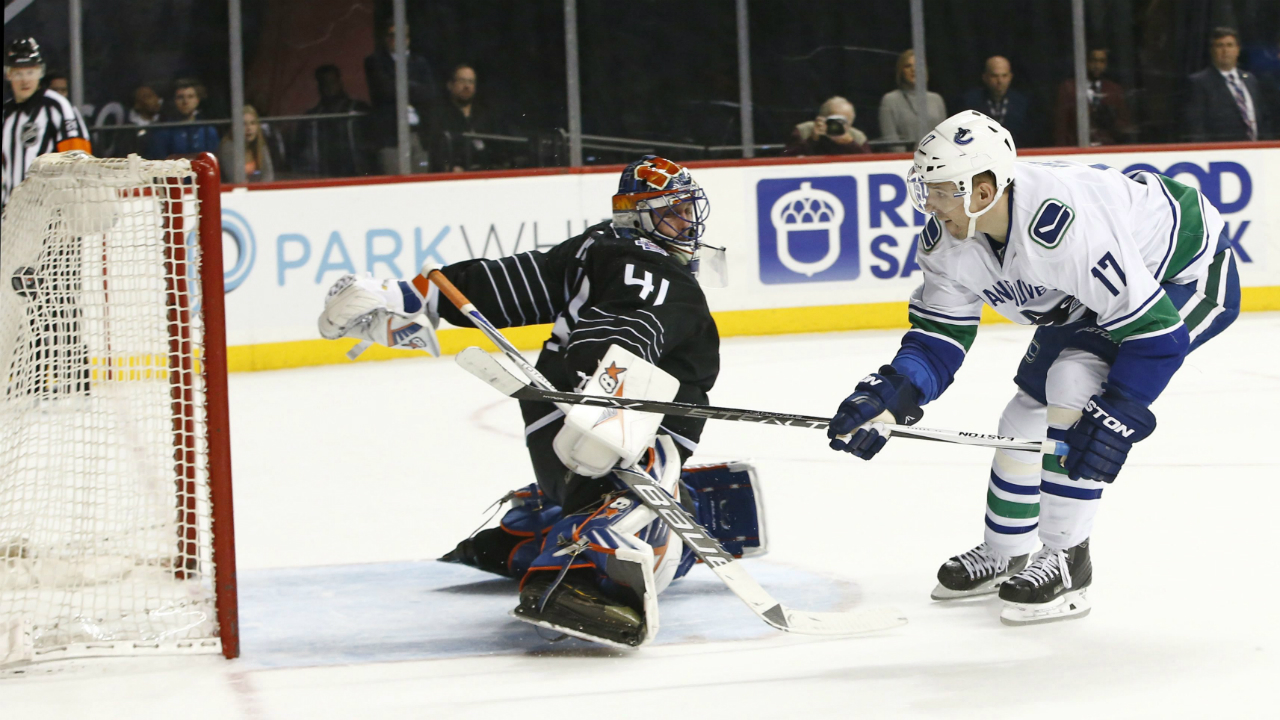 The puck sails into the back of the net after Vancouver Canucks right wing Radim Vrbata (17) of the Czech Republic shot the winning goal past New York Islanders goalie Jaroslav Halak (41) of the Czech Republic in a shootout in the Canucks 2-1 victory over the New York Islanders in an NHL hockey game in New York, Sunday, Jan. 17, 2016. (AP Photo/Kathy Willens)
The Czech-born winger's expiring contract includes a modified no-trade clause and while he wouldn't comment on his situation over the weekend, it's widely believed that he's already provided the Canucks with an eight-team trade list.
The issue for Vancouver is that Vrbata, as a result of his modest production and current injury, doesn't seem to be generating much interest on the trade market. An NHL front office source even characterized the Vrbata market as "soft".
Only one season removed from a 30-goal campaign, will the Canucks be motivated enough to move Vrbata if the best offer is inferior to what the Edmonton Oilers recouped for Teddy Purcell or the Carolina Hurricanes procured in exchange for Kris Versteeg?
Beyond Vrbata and Hamhuis, the Canucks have reportedly let the rest of the NHL know that they're willing to sell a smattering of role players; including the likes of depth defencemen Matt Bartkowski and Yannick Weber, buried contracts like Brandon Prust and Chris Higgins, and useful grinder Adam Cracknell.
If Vancouver's management can exchange these types of depth pieces for future assets, they'd do well to pull the trigger.
It's clear now that Vancouver won't qualify for the post-season, but this still isn't a team likely to behave like a 'pure seller' on deadline day. Canucks management has made it clear this week – in both word and action – that they're still looking to do some shopping.
The Canucks are obviously hoping to acquire a young, but not quite NHL-level, defenceman who might slot into their lineup in short order, but the club will probably continue to accumulate talented professional-level players in their early 20s – regardless of their position.
Vancouver already brought in Markus Granlund, 22, and Philip Larsen, 26, this week, but those additions don't represent the totality of the Canucks' shopping list.
Sources have indicated that the Canucks are among the teams that have expressed some interest in Florida Panthers sniper Brandon Pirri, for example. Pirri, 24, is a talented goal scorer and a pending restricted free agent whom the Panthers are hoping to trade for a second-round pick.
The Canucks aren't considered front-runners for in a potential Pirri deal and it's difficult to see where he would slot into a Canucks lineup projected to have at least five pivots – Henrik Sedin, Brandon Sutter, Bo Horvat, Jared McCann and Granlund – next season.
This type of deal is consistent with what we've seen from the Benning regime during their time in Vancouver though, and the Canucks having at least some level of interest in Pirri is a strong indication that in addition to selling, the Canucks will also be looking to make hockey trades.
Hockey trades are well and good of course, but make no mistake: the Canucks' performance at the 2016 NHL trade deadline will be remembered and judged for what they sell and for how much.