One of the more interesting storylines around the Toronto Maple Leafs this season has been Mike Babcock testing the waters a bit more often with William Nylander at the centre position. It's not a secret that with Tyler Bozak likely not being a Leaf next season, the organization would love to see Nylander become a full-time centre it can rely on.
The Leafs have experienced some turmoil over the last month or so as they've struggled to win games in regulation, but preparing for the future while they have an extended Cup window makes sense in a season that's unlikely to be this roster's peak.
When looking at Nylander's game and how he could transition to centre, it makes sense to first compare him to his past self at 5-on-5 to see if he's been making progress. We'll do that in two ways.
First, let's look at how Nylander stacks up relative to his teammates in some metrics that are especially important for centres. Secondly, we'll look at how his puck management relative to teammates has changed over time.
After comparing Nylander to himself, we can compare him directly to the other centres on the Maple Leafs this season, and see how he stacks up.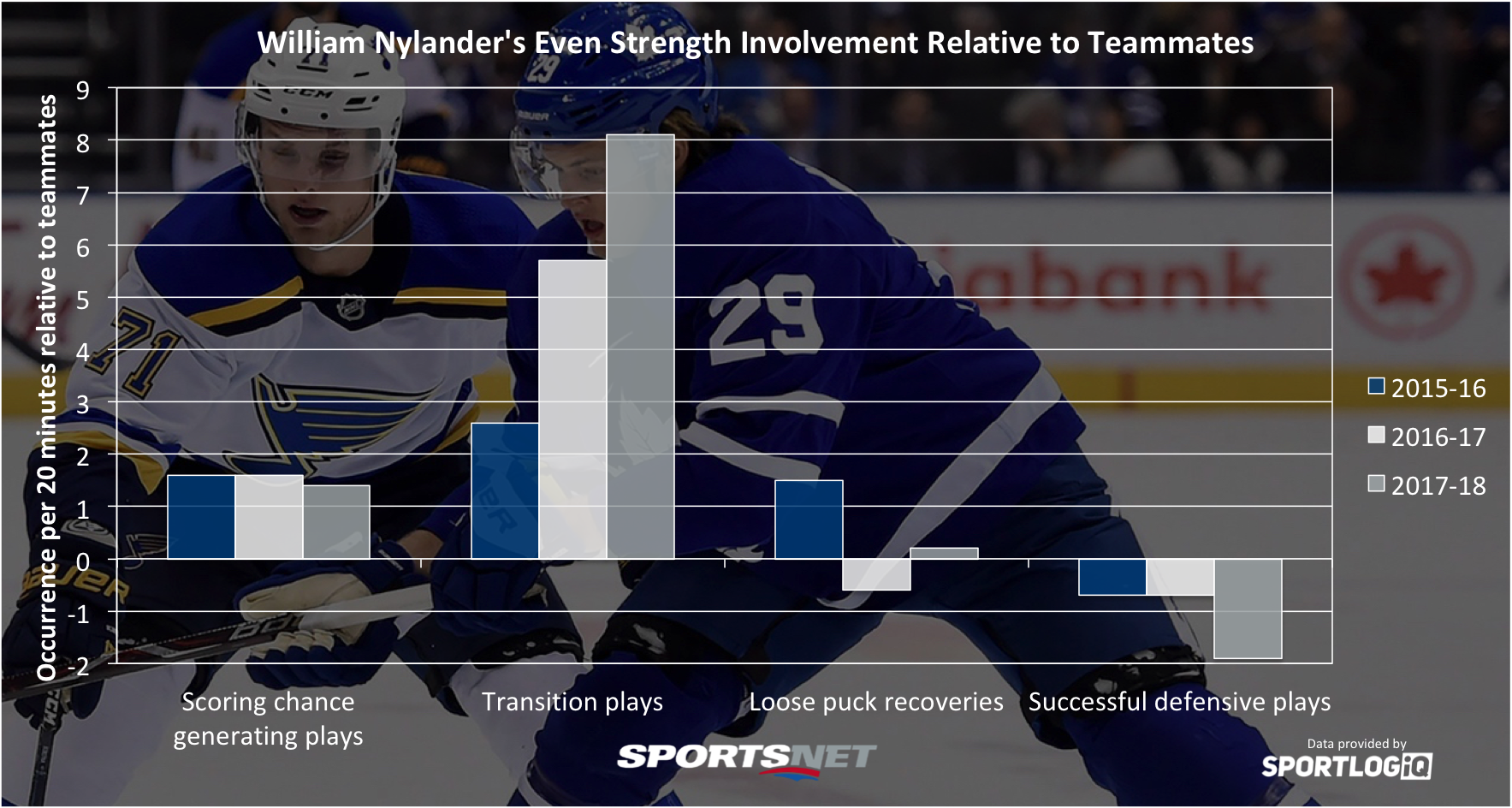 Two things to keep in mind with Nylander's year-over-year statistics is he only played 22 games in the NHL in 2015-16, and that Leafs team was very bad. So when you're looking at Nylander compared to his teammates, remember that the team around him got much better in 2016-17.
Nylander's offensive involvement has been remarkably consistent, staying far above team average for scoring chance production as the Leafs have improved as a team each season in scoring chance creation.
The offence Nylander generates is that of a high-end first-line player, but it's nothing compared to his drastic improvements in transitioning the puck up the ice, where he's gone from good, to great, to elite over the course of 150 NHL games. His ability to move the puck up the ice is absurdly strong, putting him in the same echelon as Taylor Hall and Nathan MacKinnon. Even when Nylander isn't producing offence himself, that transition ability creates opportunities for his linemates — something that a good centre needs to be able to do.
Without the puck, Nylander remains a work in progress, though I do think he's made some strides in terms of recovering loose pucks. He's not great at winning pucks away from the opposition, and it's something he'll need to work on, but playing on the wing also gives him less opportunity to do that, so factor that in.
In terms of puck management, Nylander's progression is fairly linear. In the offensive and neutral zones he's gotten better each year. While he's suffered a bit of a regression in the defensive zone this season, that may be due to extra responsibility with the puck as the Leafs are preparing him to play centre. The progression is there overall, and he's gone from a pretty significant risk outside the offensive zone as a young rookie to a player I wouldn't call risky at all in any zone this season.
Nylander's clinical puck-handling and passing ability in the offensive zone is really impressive, but his work in the neutral zone is what catches my eye most. For a player that moves the puck so often through the neutral zone, having high pass success rates and low turnover rates make him a serious threat for opponents. He's slippery and seems to only get better under pressure.
Overall, looking at his progression on a relative scale, I wouldn't be surprised if Nylander is already prepared to play centre for a long stretch and work on his faceoffs and play without the puck, but let's compare him to the other Leafs' centres this year.
Auston Matthews stands out far from the pack here offensively and defensively, but Nylander is actually the best transition player of the group. That isn't surprising, and neither is Nylander being the second-best offensive player of the group, but defensively, there's a bit of a lag with him.
If, for example, the Maple Leafs decided to move on from Bozak earlier than the off-season, Nylander stepping into his role would likely create a bunch more offence, but he isn't as involved without the puck. Playing centre could naturally change those numbers just by virtue of the role, but it's not a guaranteed upgrade.
That isn't to say Nylander isn't able to fill the spot in the lineup, because his puck-management skills and transition game likely compensate for that and more compared to Bozak, but it's not open and shut.
There are other things to consider as well that we can't immediately quantify, like positioning in the defensive zone, or staying on the right side of the puck in man-to-man coverage.
Personally, I think Nylander is more than talented enough to make the transition right away and figure things out on the fly, but the Leafs currently have the luxury of doing this slowly, and that makes a lot of sense.
[relatedlinks]