All right folks, it's back.
The hugely (mildly) popular Naked Eye and the Nerdy Guy. Our original nerd (Dimitry Filipovic) bolted for the greener pastures of the NHL (although he won't divulge which team) so Thomas Drance (@thomasdrance) has decided to take his place.
This week we tackle two of Canuck Nation's favourite topics – Bo Horvat and Zack Kassian.
Bo Horvat
Drance: Since the all-star break Bo Horvat has played the best hockey of his (very) young NHL career.
In his first 31 games, Horvat tallied just three goals and five assists. He was colder than the Kingdom of Arendelle after Elsa's temper tantrum.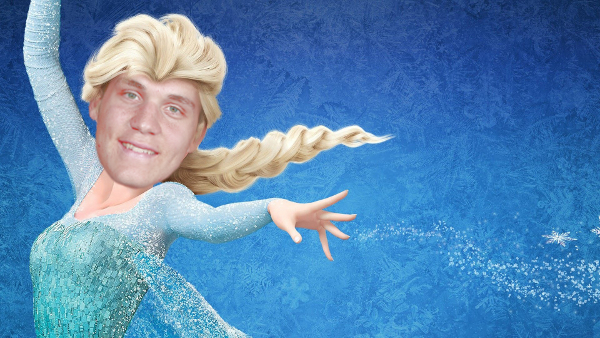 It's been a different story since all-star weekend, as the 19-year-old has been en fuego. In the Canucks' past 11 games Horvat has scored four goals and notched four assists. He's doubled his output on the season in less than a month!
Has he been enjoying a favourable run of puck luck? Or is Horvat legitimately beginning to adjust to the speed and size of NHL competition?
It's a bit of column A, a bit of column B, and perhaps a dash of something else: a substantial change in the way he's being deployed by the Canucks coaching staff.
Let's unpack the luck element first. Horvat has managed 36 shots in 42 games this season, or .86 shots per game. During his recent hot streak he's scored four goals and he's taken nine shots in 11 games. So his shot rate has actually gone down, and the percentages have been driving his recent spike in production. When that occurs, it's more often a sign of hockey kismet than it is of a material improvement in form.
Puck luck aside, the underlying numbers would suggest – like the counting stats do – that Horvat has just reeled off the best 11 game stretch of his career.
Here's a rolling 10-game graphical depiction from war-on-ice.com that expresses how the number of total Canucks shot attempts for per game is trending with Horvat on the ice at 5-on-5: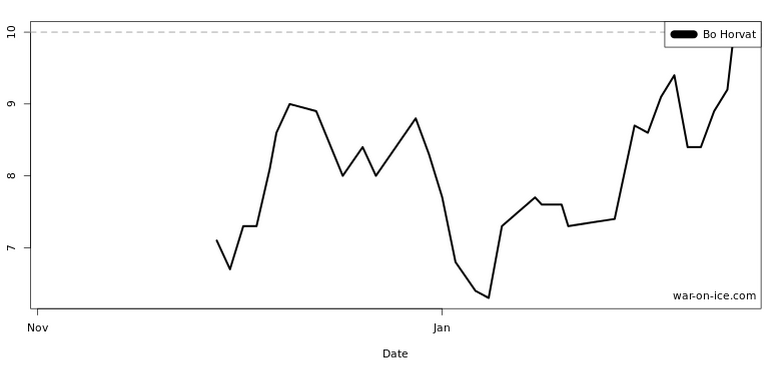 So, yeah, the possession numbers imply that Horvat is adjusting with enhanced success to the pace of NHL competition. At the absolute minimum, the Canucks have been sustaining more offensive pressure with Horvat on the ice at 5-on-5 lately.
There's also a deployment change that's worth noting. In Vancouver's final five games before the break, Canucks coaches leaned on Bo Horvat to start 21 shifts (more than four per game) in the defensive end. In comparison, Horvat started only seven total shifts in the offensive zone. That's a Manny Malhotra-esque diet of d-zone starts, and unsurprisingly, a 19-year-old rookie didn't handle that type of burden all that successfully.
Whether or not Wille Desjardins and his assistant coaches got together during the All-Star break and decided to try something different, there's evidently been a change in the club's thinking about Horvat's usage since.
Over the past 11 games Horvat has started 51 5-on-5 shifts in the offensive zone and only 32 in Vancouver's end of the rink. So Horvat's offensive-zone start percentage is at 61.4 per cent since the break where it was below 50 per cent before.
Horvat has had a pretty darn solid run recently, but it's worth noting that he's required favourable bounces and what the excel set – perhaps too pejoratively – like to call 'sheltering' to do so.
Murphy: I had my doubts about Horvat coming into this season. I liked his size and hockey IQ but I was wary about his skating. I simply wasn't sure if he could keep up with the speed of an NHL game. Well, so far he's proved me wrong. And I'm not the only one.
Willie Desjardins is on the record as saying he didn't want a teenager on his roster this season. He even voiced that to GM Jim Benning. Regardless, Horvat made the club out of training camp and after missing the first 12 games due to injury and a conditioning stint, he's settled in quite nicely.
The fact that Horvat has been a healthy scratch just twice since playing his first NHL game says a lot about how quickly he gained Willie D's trust. He's been Vancouver's best faceoff guy (% wise) and has had some very good moments in the dot (he went 13-3 vs Chicago on Nov. 9) as well as some forgettable ones too.
See below.
Horvat isn't built like your typical teenager either. The fact he wins more faceoffs that he loses says as much about his strength as it does his technique. He is a big man who is incredibly strong on his skates and more than holds his own in most puck battles.
While many youngsters struggle to keep weight on in their early years (Ryan Nugent-Hopkins and Kyle Turris for example), Horvat says he'll likely be five pounds heavier at season's end. He is getting better as the season rolls into spring and that is probably a good indication he's built for the NHL game.
Now, as for his increased production recently, who am I to argue with the shooting percentage data?
There is obviously some luck going on here. I would add though that Horvat is more comfortable now than he was at the start of the season. He is looking to make something happen at the offensive end of the ice whereas before his primary (only?) concern was to make sure he didn't eff up in his own zone.
The quickest way for a teenager to find himself in the press box is to lose his defensive "conscious." He hasn't done that BUT he does look more confident making plays and is showing a nose for the net.
Horvat clearly isn't shy to go to the areas you need to score and while he likely isn't going to score the same number of highlight reel goals he did in Junior, the greasy ones (broken down nicely by the boys at PITB) will no doubt continue.
Lastly, the zone start numbers that Drance brought up are very interesting but Desjardins says they are coincidental. He is not protecting the kid or trying to put Horvat in a better spot to produce. The coach claims that he's just rolling the lines and this is how it's worked out recently (Desjardins did add that the only players he does make sure to give those favourable O-zone starts to are the Sedins).
The fact he feels comfortable rolling four lines deep into games is another indication Desjardins is not worried about throwing the rookie out there. And let's not forget Horvat is getting more ice time recently due to the injuries of Brad Richardson and Nick Bonino.
Zack Kassian
Drance: No one has ever really questioned Kassian's offensive abilities so much as they've been skeptical of his two-way play and lack of discipline.
The miscast power forward – he's really better suited to making plays – has managed six points (three goals and three assists) in his past eight games. Where Kassian couldn't buy a break in the opening few months of the year, he's now the third most efficient Canucks point producer at even-strength behind only Chris Higgins and Nick Bonino.
On a team that needs every drop of offensive juice it can squeeze out of its current roster, surely that's enough to avoid the press box.
The offensive production and the chemistry Kassian has shown of late with linemate Shawn Matthias hasn't been good enough for Vancouver's coaches. In spite of his occasional moments of brilliance, Kassian apparently remains firmly entrenched in the doghouse.
On Monday against the Minnesota Wild, Kassian logged just a hair more than 10 minutes – the fewest on the team by a decent margin. Recent call-up Ronalds Kenins logged four minutes more.
Kassian has become a better two-way player in that he seems to be capable of driving play in a bottom-six role. Since the midpoint of last season the burly right wing has flashed an ability to boost his linemate's shot attempt differentials, but I suspect that's mostly a product of his carrying the puck through the neutral zone.
It's a useful skill, but the data suggests that Kassian's defensive play remains problematic. Whether it's the giveaways or his inability to cut off the top on in-zone play in the Canucks' end, no regular Vancouver forward is permitting scoring chances against at a rate as high as Kassian is, according to war-on-ice.com.
Not helping matters is that he's sporting a brutal .864 on-ice save percentage. He's been cursed with the sort of bad luck that can magnify every error a player makes.
Some of that is beyond Kassian's control, surely, but it's hard to write it all off as simply 'bad luck' when opposing teams are generating better than 32 scoring chances per 60 minutes of even-strength ice-time when Kassian is on the ice.
Murphy: Zack Kassian is an easy guy to smile at. I don't know if it's his appearance (analyst Daryl Reaugh once perfectly described his look as "disheveled mountain man") or some of the goofy things he does on the ice. But there is no question Kassian makes me laugh. Then again, I'm not an NHL coach.
So much has been written about this guy that he has to lead the league in INK/60. In my opinion it all boils down to this: Kassian has tremendous talent and upside, but he just can't seem to get out of his own way to show it on a more consistent basis.
It's easy to see why fans are endeared with Kassian. He's big, tough and has tremendous hands. The saucer pass to Shawn Matthias for the first of his three goals versus the Bruins was a thing of beauty. Kassian is fun to watch even when he's not making plays.
Take the celebrations from his last three goals.
THE NO SMILE STAREDOWN

THE CONVENTIONAL

THE HAPPY AND YET INCREDIBLY ANGRY CELLY

All make for good TV.
He told reporters he didn't celebrate after the Pittsburgh goal because it had been so long "he forgot what to do."
I asked Kassian why he was so angry after the goal against the Blackhawks and he quite honestly replied, "Because it was my first shift in like seven minutes."
He had a lengthy spell on the pine at the end of that game as well, not appearing in the final 10 minutes of the third.
When Kassian is on the ice, the entertainment level can be off the charts. Unfortunately for Kassian, it's the other team that is being entertained far too much for Desjardins' liking.
Take Monday night's game versus the Wild for example. With less than two minutes left in the first period, Kassian tried carrying the puck through the neutral zone 1-on-3. Not surprisingly it didn't end well. The Wild countered and Desjardins looked like he was going to chew his bottom lip off.
Then late in the second, another Kassian neutral zone T.O. led to a Thomas Vanek breakaway. Luckily for the Canucks, Eddie Lack made the save ensuring the Wild didn't take a 2-1 lead into the third period.
These are the types of plays that drive coaches crazy.
My guess is that those two plays mean Brandon McMillan will be making his Canucks debut in NYC at the expense of Kassian.
Yes (as Drance notes) Kassian has the talent to lug the puck into enemy territory, but he hasn't shown he has the head to know when he shouldn't even try.
Until he proves to Vancouver's coaching staff he can make proper decisions on the ice (especially at critical times) his spot in the line-up will be tenuous at best.