Not much could stop Matt Duchene this season.
That is until he pulled up lame Thursday night on an innocent-looking chase for the puck, trying to nullify an icing call in the second period of Ottawa's 5-2 loss to the Montreal Canadiens.
Duchene's "lower-body" injury appeared to involve a groin or right leg. He did not return to action and post-game Senators head coach Guy Boucher said the injury "could be" long term. He said the same of an upper-body injury to Bobby Ryan. Minus these two veteran forwards, the Senators are in a world of hurt.
For Duchene, the injury could not have come at a worse time as the pending unrestricted free agent was having the best season of his career, beefing up his negotiating position.
The mystery of Duchene's future in Ottawa just got a little more intriguing.
Duchene, 27, has been flying around and putting up numbers since he joined the Colorado Avalanche in 2009 out of OHL Brampton.
The third overall pick by the Avs in 2009, Duchene leapt into Colorado's starting lineup, his dynamic offensive game putting him in Calder Trophy contention in 2009-10. He ultimately finished third to Buffalo Sabres defenceman Tyler Myers. Duchene produced 24 goals and 55 points in his rookie season and hasn't looked back.
Though he experienced occasional slumps with the Avs, Duchene was a productive player in Colorado, including a career-best 70 points in 71 games in 2013-14, as close as Duchene had come to being a point-per-game player. Until now.
Duchene's 22 points in November for the Ottawa Senators have elevated him to a pedestal of production he hasn't known before. Playing guilty? Maybe. Twenty-one of the 22 points came after the players' Uber video went viral on Nov. 5, although as he told visiting Montreal media Thursday that the video is "old news."
Duchene, who featured prominently on the video, afterwards apologized publicly for mocking the coaching of assistant Martin Raymond, in what he believed to be a private discussion among teammates. He went on to shred the opposition with eight goals and 14 assists in November.
Duchene knows full well his role as go-to guy on a young Ottawa team is a factor in his point tear.
"I had two years in Denver, where the opportunity was similar," Duchene says. "I expect this out of myself."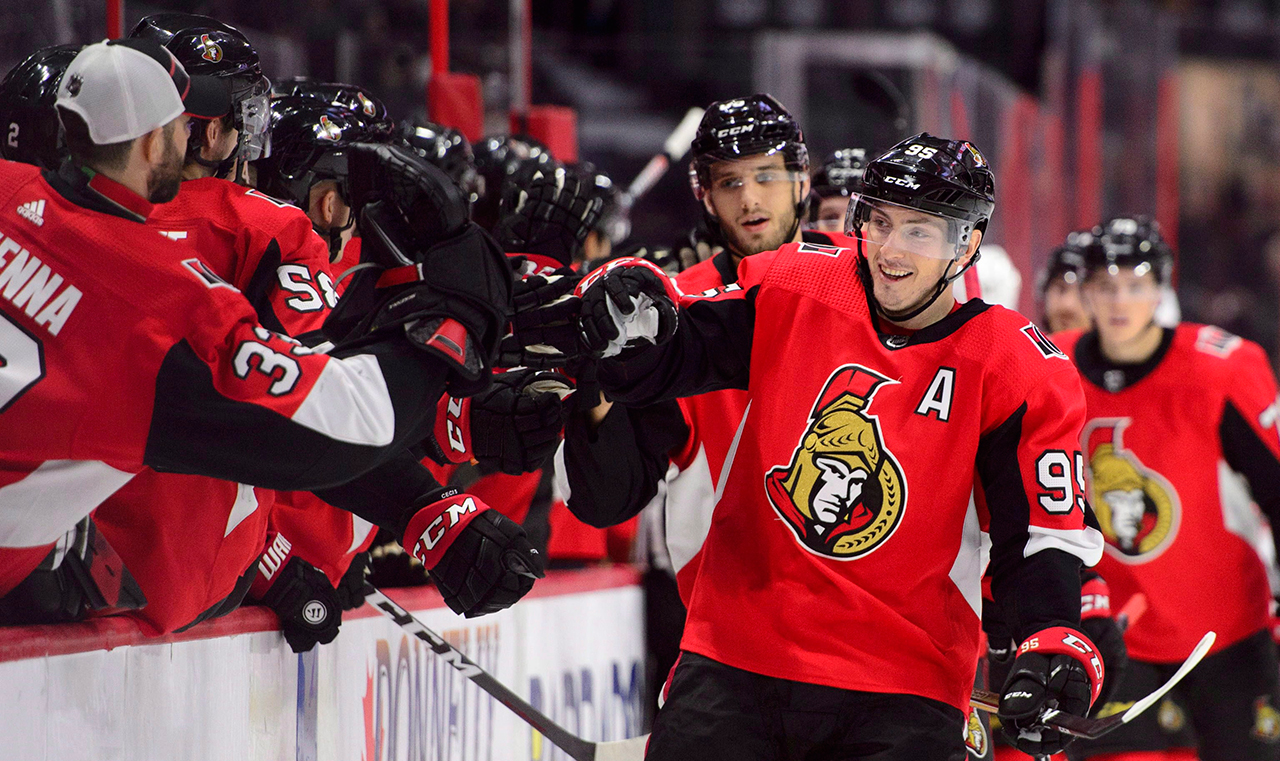 Until getting injured in game No. 29 of the season, Duchene was scoring 1.21 points per game, or 34 in 28 games. Prior to Thursday's home game against Montreal, he was asked by visiting reporters about his contract situation.
Duchene said he hasn't "heard anything" and that his position on the matter hasn't changed. He hinted at the fact Ottawa is still deep in a rebuild, leaving all to wonder if he's willing to wait.
"These guys have shown what they can do," Duchene said of the young Senators. "It might take a few years for this team to get where it needs to go … it's got a good mix of youth and veterans right now, and we'll see what happens."
His own injury might conspire against the Senators' case to get him back. Without Duchene and Ryan, the Senators are a one-line team (Stone-White-Tkachuk), and at risk of having their season implode after getting to within two points of a wild-card spot earlier this week.
Senators general manager Pierre Dorion has made it clear he hopes to sign both of his major pending unrestricted free agents, Duchene and Mark Stone, who has helped make rookie housemate and linemate Brady Tkachuk an instant success. Dorion says there will not be an issue finding money in the budget to offer Stone and Duchene suitable long-term contracts.
The sense in Ottawa is that Stone, who is not eligible to be signed before Jan. 1, will be the easier of the two to get done. Although he will want to know if Duchene is likely sticking around.
Jeff Marek and Elliotte Friedman talk to a lot of people around the hockey world, and then they tell listeners all about what they've heard and what they think about it.
Reading the tea leaves of Duchene's intent is a little more difficult. From the day he got here, Duchene has said all the right things about being in Ottawa. Early in the season we had a discussion about his hometown of Haliburton, in Ontario cottage country, which he considers a convenient three-hour ride away through central Ontario.
The Senators gave up a lot to get Duchene back when they were in the go-for-it mode following the 2017 run to the Eastern Conference Final. On Nov. 5, 2017, Ottawa got Duchene from Colorado in a three-way trade that sent centre Kyle Turris to Nashville. From Ottawa, the Avs received goalie Andrew Hammond, forward prospect Shane Bowers, the Senators' first-round pick in 2019 and a third-round pick in 2019.
It behooves the organization to try to keep Duchene, although there is an argument to be made that if this is a true rebuild, he could be flipped in a trade to acquire an asset or pick. After all, that is the argument Dorion makes to this day in explaining why Erik Karlsson was traded.
But Dorion seems adamant about doing what it takes to keep his star centre. Duchene is in position to seek a massive raise from the $6.5 million he is earning this season (cap hit $6 million). Assuming the dollars and term can satisfy Duchene and agent Pat Brisson, the larger question is whether Duchene feels the Senators can be competitive enough fast enough.
The timing isn't right for him to articulate just how badly he wants to be on a contending team, after eight-plus seasons of mostly also-ran status with Colorado. Duchene will be 28 on Jan. 16. This next contract is the most important of his career. He can't afford to make a mistake. From 2009 to 2017, Duchene saw action in all of eight playoff games. He has yet to score a playoff goal and has six assists.
Stone is two years younger and has already been in 27 playoff games, all for the Senators. He's on a one-year deal earning $7.35 million.
Sometimes, it can be insightful to hear a player talk about his intentions while confronted by a reporter in another city, where the sound bite is less likely to turn up on local radio. Last week, Duchene made some interesting comments in New York City to Dan Rosen of NHL.com.
Duchene started the interview by talking about how much he loves playing in Ottawa. So far, so good.
But Duchene quickly added: "I want a chance to play for the Stanley Cup."
Senior Writer Ryan Dixon and NHL Editor Rory Boylen always give it 110%, but never rely on clichés when it comes to podcasting. Instead, they use a mix of facts, fun and a varied group of hockey voices to cover Canada's most beloved game.
As Duchene repeated on Thursday morning, Ottawa is likely a few years from legitimate contention. While Duchene appreciates the club's young talent he must decide if Ottawa's ownership is willing to do what it takes financially to put the club over the top, as teams like Tampa, Toronto, Nashville and others routinely do.
"Without me knowing at all what's going to happen, I do know my mentality is to find the best hockey fit for now and in the future," Duchene told NHL.com. "It's not about really anything else for me."
In Ottawa, Duchene can be assured of a leadership role and possibly the captaincy. He undoubtedly can keep his role as No. 1 centre, first-unit power-play duty and anything else he might desire.
He told Rosen that while he loves his role with the Senators, "at the same time I want to see more wins in the win column for us." He went on to say this is "an evaluation process."
Except that it's not the player being evaluated in this case, it's the team, by the player. And that team just lost its most productive player. Matt Duchene.
LOCK UP CHABOT
The Senators have three main UFAs to consider – Ryan Dzingel being the third. Considering the rise of the kids, some of the up-and-coming RFAs are worth thinking about ahead of time.
Centre Colin White, who has blossomed into a top-six player, is an RFA next summer. Chabot, whose 31 points in 29 games have him tied with Toronto's Morgan Rielly for the lead in NHL scoring among defencemen, has another year left on his entry-level deal, but can be extended next summer and should be a priority before he becomes too expensive.
Chabot showed his youth Thursday, struggling with a minus-4 against Montreal. He is playing too much for a second-year player (24:06 TOI), but remains the future on the blue line.
As for his big two UFAs, Stone and Duchene, Dorion has said repeatedly, "hopefully the next time we talk about either one of them we can announce a contract extension."
The priority now is getting Duchene healthy again.