Dan Murphy here.
It's back. The column you've all been waiting for.
Sorry to say though, we lost a nerd. I've been unable to locate Thomas Drance. And yes I checked Jannik Hansen's equipment bag. So Dimitri Filipovic (who was always the brains of this operation), accepted me when I came crawling back looking for someone to do the bulk of the work. With that out of the way, here is another edition of Naked Eye vs. the Nerdy Guy.
Dan Murphy (Naked Eye): I'm going to go out on a limb here, a very solid and nearly unbreakable limb, and predict that naked and nerdy are going to be on the same page here because I can't imagine the numbers are going to say anything favourable about the Vancouver Canucks at this point.
They don't look very fast. The offence has been pop-gun at best. They've led for less than 30 minutes in 11 games played. Think about that for a second. It's kind of amazing this team has four wins. Anyway you slice it, the Canucks have been underwhelming. And I'm not surprised in the slightest.
Heading into the season, I'm not sure I chatted with anyone who didn't agree the Canucks were facing an uphill battle in 2016-17. I know the company line was that the Canucks felt they could compete for a playoff spot. But that goal was and still is ambitious.
Vancouver finished third from the bottom last season. And then in the off-season essentially swapped Loui Eriksson for Radim Vrbata and replaced Dan Hamhuis with Erik Gudbranson. Not sure how that was going to amount to an extra 20 points in the standings.
Even the most optimistic of fans' argument for the Canucks went something like this:
Well, if Eriksson can score 30, and if the twins can put up 60-plus points, and if Bo Horvat takes another step offensively, and if a healthy Brandon Sutter can be a difference maker, and if Anton Rodin and Larsen are NHLers, and if Sven Baertschi plays like he did the second half of last season – then they'll compete for a playoff spot. Oh, but they have to stay healthy.
What's that old saying? If ifs and buts were candy and nuts we'd all have a merry Christmas. Pretty much everything would have to go perfect for the Canucks for them to have a chance at the post-season.
In case you haven't been watching: Eriksson has yet to score. The twins have been just okay. Horvat and Sutter have looked pretty good. Baertschi has yet to score. And Chris Tanev (the player the Canucks can least afford to be injured), just missed three games with a lower-body injury.
Merry Christmas indeed.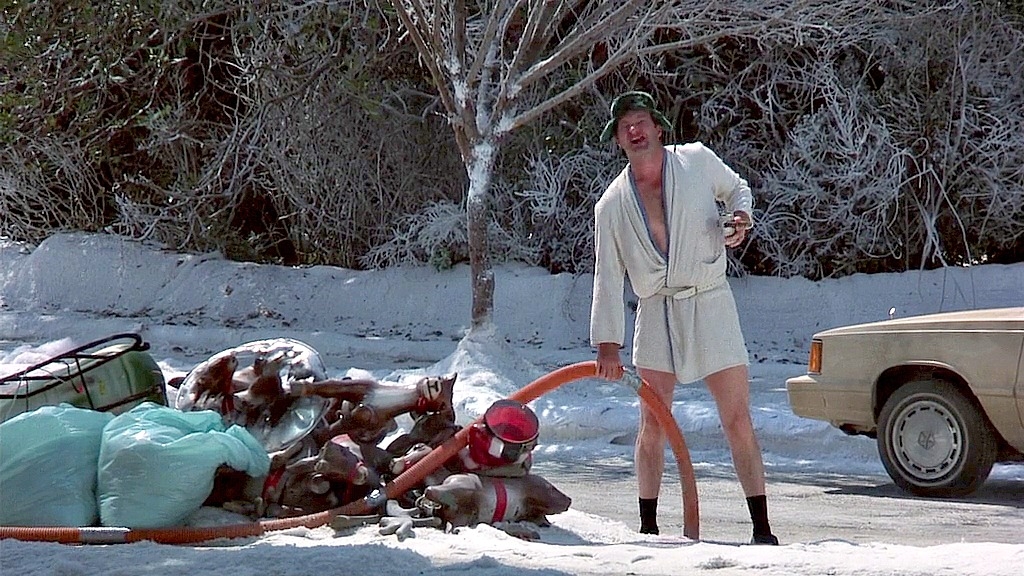 Dimitri Filipovic (Nerdy Guy): The Canucks certainly tried their best to throw people off their scent with that unexpected four-game winning streak right out of the gate, and as fun as that was, it obviously couldn't continue. Banking on late game comebacks and one-goal victories isn't a repeatable formula in hockey, where things tend to eventually even out over time.
Aside from that mini-blip in the radar, they've been exactly who we thought they'd be heading into the season. They haven't been winning games, and that's primarily due to their inability to put the puck in the net. To say they've struggled in that regard really wouldn't be doing it justice, because through the first 11 games of the season, they've been a historically anemic offensive team: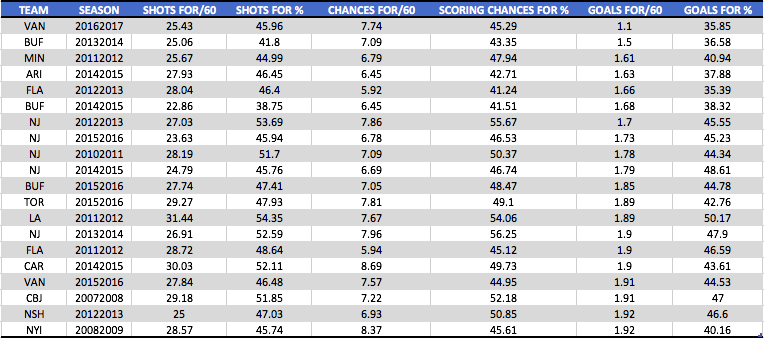 Even if you posit that they've been a bit unlucky — odds are that their 4.2 per cent shooting percentage should jump a bit considering that teams almost never shoot below the six per cent threshold, and even last year's squad shot 6.83 per cent — the reality is that it's exceedingly difficult to score goals if you're not capable of creating a passable amount of shot attempts and scoring chances.
While most people from the outside figured the Canucks were headed toward a long season filled with losses, it's pretty clear that the people who have put the team together fancy the club as at least a competent and competitive one. If that's the case, then the fact that it currently finds itself in the exclusive company of teams that didn't even pretend to be interested in winning hockey games should be rather alarming.
This hasn't been lost on Jim Benning, who has recently come out and made it be known that he's in the market for a "20-goal scorer". The problem with that isn't necessarily the intention, but more so the timing, considering that it was probably an objective that should've been prioritized this summer, back when players like Brandon Pirri, P.A. Parenteau, Brad Boyes, and even Jonathan Marchessault were sitting in the bargain bin.
Instead, all they really did was effectively replace Vrbata with Eriksson, and biting on a shooting percentage inflation. Eriksson scored 30 goals last season but he also converted a higher percentage of his shots into goals than he had at any point since 2008-09 when he was a 23-year-old. Before that spike, he'd averaged under 19 goals per 82 games played over the past three seasons.
Vrbata on the other hand, who was sunk by a career-low shooting percentage last year, has once again found some of his old scoring form in Arizona and now has four more goals than his successor so far.
All of that is to say that the Canucks are who we thought they were. They're a team that struggled to generate goals last season, and they essentially didn't do anything to correct that this offseason. It's no surprise they're with no reprieve in sight.