• Nikita Tryamkin fun and entertaining to watch
• Canucks want Tryamkin to believe sky is the limit
• Tryamking using size and reach to his advantage
NAKED EYE (Dan Murphy):
There have been very few things for Vancouver Canucks fans to just sit back, relax and enjoy watching this season. Let's face it, the team, and it's style of play, hasn't been an oil painting thus far. Sure the Canucks play their guts out and never quit, but the talent level is not on par with teams that will be making the playoffs this season.
But back to my first point about watching and enjoying without (much) judgment. I would say Nikita Tryamkin falls into that category. Honestly, if you could iso cam one Canuck for a game, who would it be? I don't think it's even a contest. Tryamkin is just good TV. He's fun and entertaining to watch and not always in the traditional hockey sense.
For the most part, Canucks Nation has enjoyed the big fella and let him develop without getting the knives out. Don't you worry though, the pretty new pet will get crushed next season I'm sure…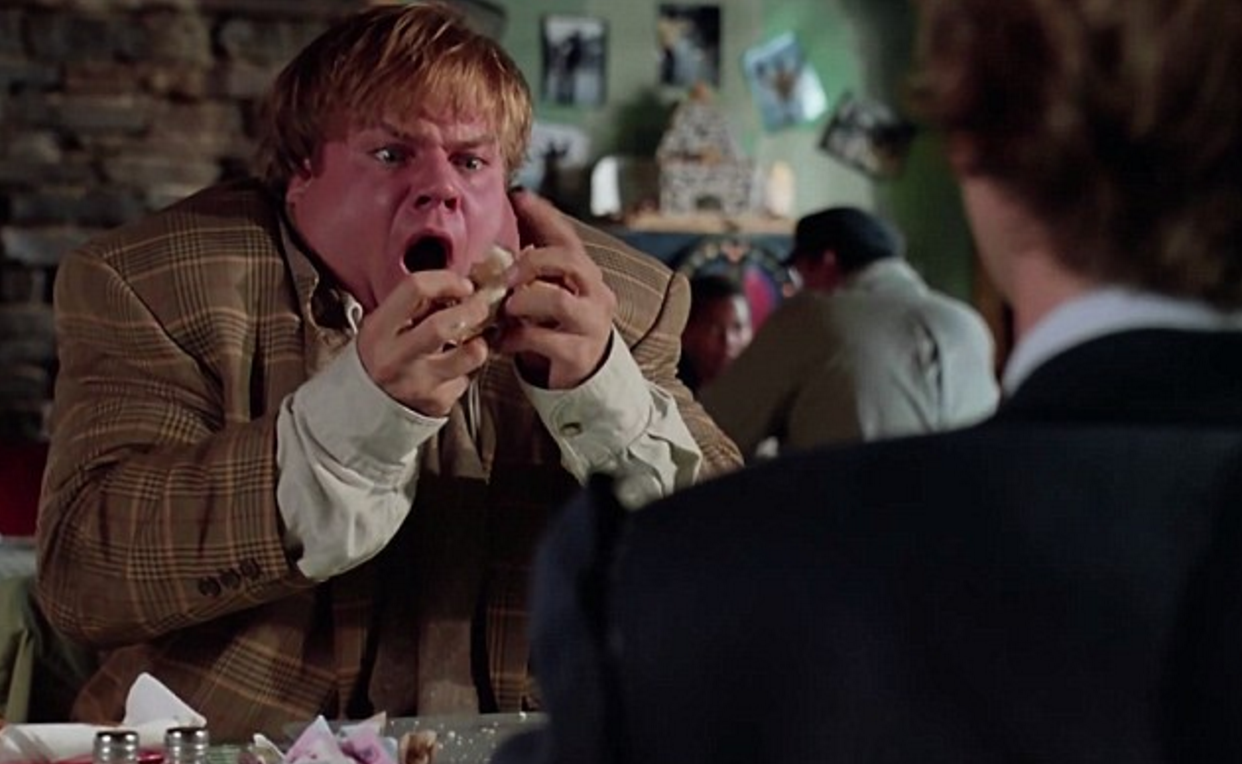 But for now he's been allowed to play without a lot of criticism.
---
Want to stream all 82 Canucks games this season? Sign up for Sportsnet NOW
---
And that's a good thing. He's a 22-year-old defenceman still trying to adjust to life in the NHL and North America. It's not an easy transition, but he seems to be making it work pretty well so far. Tryamkin has certainly come a long way from his NHL debut last season. Remember his first shift? All twelve seconds of it? Tryamkin's confidence has grown leaps and bounds and it's easy to see with the way he carries himself on the ice.
So what exactly do the Canucks have in Tryamkin? What is his ceiling?
We know he is a giant of a human, and skates extremely well for a six-foot-seven defenceman who weighs 265 pounds. He's actually quite quick in straight lines and while he sometimes has a little trouble pivoting, he more than makes up for that with tremendous reach to keep potential rushes to the outside. I love how he's not afraid to pressure forwards in the defensive zone, forcing them into quicker decisions.
Offensively, he has show the ability to read the play well and jump up in spots, but I'd really like if he used his shot more often because we've seen in practices that he can really rip it. As for his physical play, we've seen hints that he can be a real difference maker with the body. The game versus Nashville on Jan. 17 was a real eye opener in this sense as he was looking for any Predator.
It's safe to say this naked eye views Tryamkin as a pretty reliable defender, with solid puck skills and the ability to play at both ends of the rink. There is no doubt (like any young defenceman) Tyramkin has his less than stellar moments. Take last Saturday when he finished minus-four against the Wild, with each minus alongside a different defensive partner. I know plus/minus can be a flawed stat but that's pretty remarkable nonetheless. It's impossible not to the see the tremendous upside in this player. I don't see any reason why he can't be a top-four defenceman in the NHL.
The Canucks believe he can get there too. In fact, I think the biggest thing they want from Tryamkin at this point is to believe that the sky is the limit for himself. Open his eyes to how good he could really be. Could you imagine Tryamkin with a mean streak turned on all the time? How intimidating would that be? The Canucks would love him to be that player. They want him to develop into a physical presence all of the time and not just once in awhile.
I'm not sure that meanness is ingrained in Tryamkin. I haven't seen him go after someone without a reason just yet. Word is, it was drilled into him in the KHL to stay out of the box so he's wired to err on the side of caution at this point in his career. He's probably a little hesitant to throw his weight around for the fear of taking a penalty for being bigger than the other guy. But if the Canucks can change that mentality, even just a little, I think they have a real keeper on their hands.
NERDY GUY (Dimitri Filipovic):
You're right that there haven't been too many silver linings to draw from this Canucks season. They've found a way to hang around on the periphery of the Western Conference playoff picture for longer than most people expected they would heading into the year. But a lot of that has been under the guise of smoke and mirrors.
They've started to wilt under the pressure of a tougher schedule over the past week, and it doesn't promise to get any easier any time soon. That's probably for the best – the sooner they completely fall out of the race, the sooner they can shift their sights to the future (which they realistically should've been prioritizing more fervently all along).
The Hockey PDOcast with Dimitri Filipovic provides entertaining and thoughtful dialogue about the game of hockey with an analytical edge. Not as nerdy as it sounds.
It hasn't been an entirely lost season, though. If the breakout of the dynamic combination of Bo Horvat and Sven Baertschi up front takes the cake as the top bright spot, then the emergence of a couple of relatively unheralded young defencemen who figure to now be mainstays on the team's blue line in the years to come is a close second.
It's funny because while Troy Stecher and Tryamkin have that in common, they really couldn't be more different. Beyond just the superficial nine inches and roughly 75 pounds that separate them in build, it's both the way they play and the way they're used as a result that makes it tricky to lump them together when evaluating their performance.
It's much easier to see and recognize what it is that Stecher brings to the table at this point. He moves the puck effectively, and he's relied upon to do more now that he's playing top pairing minutes with Alex Edler at five-on-five and with the top unit on the power play. He's been a bit snakebitten when it comes to converting shots into goals, but if he keeps firing at his current rate – he's 14th amongst all defencemen at attempts per hour of play, just behind the likes of Kris Letang, Erik Karlsson, and Zach Werenski – the counting stats will begin to pile up more readily, too.
With Tryamkin it requires some deeper digging because his traditional boxcar resume doesn't really tell us much. He has just one goal and six points in 43 games and is playing third pairing minutes, averaging south of 17 minutes a night for the season. He's seventh in five-on-five usage per game amongst Canucks defencemen for the year, which raises the legitimate question of whether he'd even have gotten an opportunity to play regularly if they hadn't run into injuries early on.
Thank goodness he eventually did, because ever since entering the lineup essentially every defence partner he's played with has seemed to do pretty well (except for that bizarrely disastrous run with Philip Larsen where they were slaughtered).
Here's every configuration the team has tried out this year for at least 50 five-on-five minutes via Corsica. You'll notice that Tryamkin's name keeps appearing near the top of the list when sorted by shot share leaders:
| PLAYER 1 | PLAYER 2 | SHOT ATTEMPTS % | SHOTS ON GOAL % | SCORING CHANCE % |
| --- | --- | --- | --- | --- |
| Nikita Tryamkin | Alex Biega | 53.0 | 51.2 | 46.9 |
| Alex Edler | Troy Stecher | 50.2 | 47.7 | 54.3 |
| Nikita Tryamkin | Ben Hutton | 50.0 | 49.7 | 54.1 |
| Luca Sbisa | Philip Larsen | 49.6 | 48.0 | 51.1 |
| Nikita Tryamkin | Luca Sbisa | 48.5 | 50.6 | 43.9 |
| Chris Tanev | Luca Sbisa | 47.8 | 48.5 | 57.2 |
| Alex Edler | Philip Larsen | 47.8 | 49.0 | 33.8 |
| Ben Hutton | Erik Gudbranson | 47.1 | 47.9 | 45.5 |
| Troy Stecher | Luca Sbisa | 44.0 | 40.5 | 43.3 |
| Chris Tanev | Alex Edler | 43.4 | 44.8 | 37.9 |
| Chris Tanev | Ben Hutton | 42.3 | 33.3 | 33.2 |
| NIkita Tryamkin | Philip Larsen | 36.8 | 35.6 | 23.8 |
What Tryamkin does exceptionally well is use his tremendous size and reach to his advantage. Far more important than him leading the team in hits or ranking 25th in the entire league on a per game basis, is the actual substance behind those checks. Watch how he erases Jamie Benn on the glass here, dislodging him from the puck and eventually allowing the team to break out of the zone with possession.
Hits generally tend to get glorified and mischaracterized for a number of different reasons. There are legitimate questions about how they're recorded by scorekeepers, and the league leaders are typically players that are either chasing them even if it means that they're taking themselves out of the play or ones that are compiling them because their team never seems to have the puck when they're on the ice. But if they're being used as a means to switch the puck possession arrow, there's certainly value in them.
The other area where Tryamkin has unsurprisingly excelled is in his ability to clearing out traffic in front of his own net, limiting the opposition's opportunities in the premium scoring regions:
Whether it's a legitimate skill he possesses or just a small sample size aberration remains to be seen. That's why I think it's fair to preach patience with someone like Tryamkin. He's still developing as a player at this level, and we haven't really seen enough of him to definitively know one way or another what he is now or will be moving forward.
With that said, the early returns are promising and the team would certainly do well to continue to put more on his plate in the final 30 games of the season just to see how he responds to it.
If the Canucks have one thing going for them it's that we can finally see the makings of what their future blue line will look like once they're ready to compete again. With prospects like Olli Juolevi and Jordan Subban on the way, there's going to be a logjam at the position and they'll need to figure out who's sticking around and who's ultimately dispensable. Tryamkin sure looks like he's trending towards the former.