In the first Naked Eye vs. Nerdy Guy of 2016, Dan Murphy and Thomas Drance dig deeper into the Vancouver Canucks and their defensive overtime strategy.
Nerdy Guy: The NHL unveiled 3-on-3 play in overtime this season, and it's awesome.
Despite some muted grumbling from high-profile players like Erik Karlsson and Dustin Byfuglien, the debut of 3-on-3 hockey has been so successful that the league even decided to build their all-star game format around a 3-on-3 tournament. For the first time since Owen Nolan called his shot on Dominik Hasek, the NHL's all-star festivities promises to be can't-miss television.
The league's latest end-game gimmick is thrilling. It's the hockey equivalent of mainlining adrenaline.
And of course, as the season goes on, the NHL's coaches have found a way to adapt and slow it down.
Through Jan. 25th, the NHL's 30 member teams were tied after regulation time on 169 occasions. Only 61 of those games went on to be decided by a shootout. While that's a vast improvement over what we saw a year ago, there are signs that teams have fine-tuned their offence-stifling defensive tactics in 3-on-3 situations.
As every month has gone by, the rate of overtime games that are actually decided in overtime has fallen precipitously.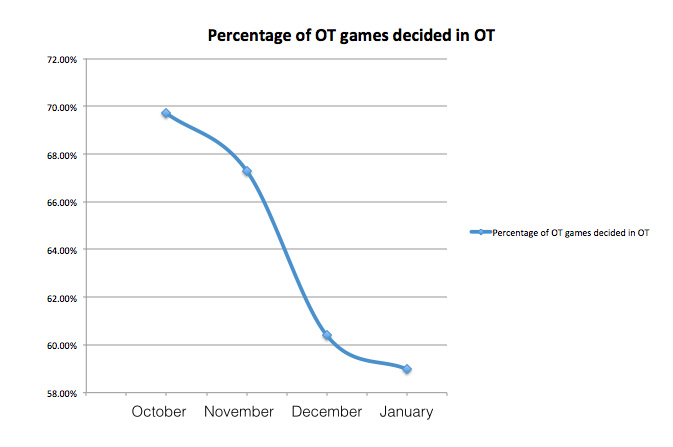 This suggests that, despite the trial runs in pre-season, NHL teams were unfamiliar with the format at the start of the season. That unfamiliarity bred chaos, and chaos breeds goals.
Now the tactics are well established. You can't miss on the far side. Forget man-to-man, and play a basketball-style zone defence on in-zone play. Possession is even more important at 3-on-3, so don't hesitate to pass it back to your goalie to get a change. And goals are disproportionately scored on the rush.
In early December, CanucksArmy.com writer and PDOcast host Dimitri Filipovic pointed out that roughly 80 per cent of 3-on-3 goals were scored on the rush. If you're looking for a reason the Canucks have struggled at 3-on-3, Filipovic suggested, you might want to start by pointing out that the Sedin twins' reliance on generating offence while possessing the puck in the offensive-zone didn't translate well to the 3-on-3 format. It's a compelling theory.
What's interesting to note though, is that the proportion of 3-on-3 goals being scored on the rush appears to be dropping somewhat (it's down below 75 per cent). It may just be regression or a sampling error, but the majority of 3-on-3 goals scored in the month of January – 10 of 18, as of Jan. 24 – were manufactured off of offensive-zone possession.
It's perhaps more evidence that teams, the Canucks among them, have increasingly found ways to play it safe at 3-on-3.
As for the Canucks' specific 3-on-3 issues, the club has performed better for the past few games but are still poor relative to the rest of the league. Vancouver has been outshot by a wider margin in 3-on-3 situations than every team except the Nashville Predators.
What's perhaps interesting to note though is that the Canucks are roughly league average when it comes to the rate at which they surrender scoring chances against at 3-on-3, according to war-on-ice.com. And their play on the defensive side of the puck at 3-on-3 has been much better since a pair of woeful 3-on-3 showings against the Los Angeles Kings and the Dallas Stars in late-November and early December.
After a rough 0-8 start to the season in overtime situations, the Canucks seem to have stabilized their game partly by bringing a penalty kill mentality to 3-on-3. Vancouver has only lost two of their past nine overtime appearances in the extra frame, while winning three of those games.
It seems like the more NHL players and coaches get their systems and minds around the 3-on-3 overtime format, the better the Canucks fare in that game state.
Naked Eye: I'm not really sure what my friend Drance has been ingesting, but it must be damn good if he's willing call this year's version of the all-star game can't miss television just because of its 3-on-3 format. I may watch a portion of it to see what Daniel Sedin and John Scott can do with all that open ice, but I'm not committing to anything. The all-star game lost any meaning to me by the time I hit about 16 years old, and I'm not sure any sort of new format will ever change that.
That said, 3-on-3 has been fun to watch this season. And this is coming from a guy who didn't have a huge problem with the shootout deciding a good portion of games before this season. One is only slightly less gimmicky than the other in my opinion.
Now, as for the Canucks. They knew there was going to be a feeling out process for the new overtime format. Every team did. Unfortunately it took Vancouver much longer to realize what it was going to take to be successful at 3-on-3. The Canucks found all sorts of ways to lose.
They got Johnny Hockey'd (no shame in that as he torches everyone in OT)
They blew it with bad line changes.
There were OT sessions where it seemed Vancouver never possessed the puck.

And there were just some bone headed plays that cost Vancouver the game.
Bottom line, the Canucks couldn't get out of their own way in overtime. The Sedins' magic in 4-on-4 play didn't translate well to 3-on-3. And Willie Desjardins kept on putting them out there anyway. The format screamed for speed (not exactly the Twins' greatest asset) and it sure didn't seem like Desjardins was willing to try new tactics on the fly. That is, until the Canucks were a dismal 0-7 in games that ended in overtime.
Something had to change, so Desjardins and his staff decided to get defensive. That's right. Their plan was to play solid defence in overtime and focus on winning in a shootout if they had too.
"The way we play in OT, we started talking to each other, saying let's just play these tight defensively and we'll take our chances in the shootout. Our thought is, play it like a PK. When you start skating around that gets tiring. Now, we're standing still and just trying to defend the slot. It's not pretty, but that's the way we have to play."
– Daniel Sedin, Dec. 22.
This was met by chuckles on the West Coast. Were the Canucks actually not going to worry about possessing the puck in a format in which possessing the puck was everything? Well, yeah. Kind of. And you know what? The Canucks zone defence got much better in overtime. They weren't chasing anymore and creating space for the opposition. And what's that old cliché? Take care of the defence and the offence will take care of itself? That pretty much happened. Vancouver's first overtime win of the season came on Boxing Day when Jannick Hansen scored on the rush of all things.
Another key to Canucks turning things around in the extra session was that Desjardins started to deploy some youth and speed (although I wish he would use Horvat and Baertshi together, but I guess that's a blog for another day) in OT.
Listen, the Canucks weren't going to go 0-for in 3-on-3. They were bound to get lucky sooner or later.
But there is no question that when Desjardins and company changed to a more defensive strategy, things turned around.