A memo to the other 29 NHL teams: Follow the Nashville Predators' lead.
In a salary cap world where so many teams refuse to reveal player salaries, and a few even keep term tight to the vest (dragging out the eye-roll-inducing "multi-year contract" phrase), the Predators have moved to the forefront of full disclosure.
And they should be applauded for it.
For two seasons now, Nashville has made public on its club web site an easy-to-read contract tracker that documents cap hits, expiration dates, and acquisition method of every player in their system. How much cap space does the team have now and in the future? It's all there. Beautiful.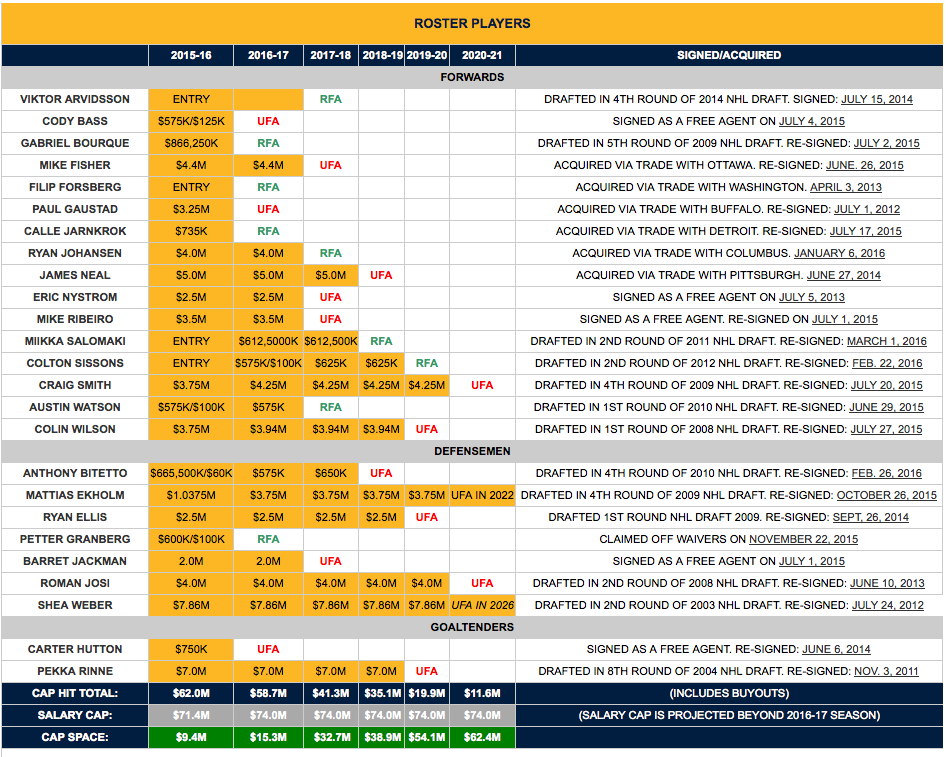 The genesis of the tracker goes back more than 10 years ago to when the franchise decided to start disclosing salary specifics in press releases, Predators director of communications Kevin Wilson told Sportsnet earlier this week.
"By 2006, we were operating in a salary-cap league where these figures were more important than before — and, with the rush of hockey-related online media, became more readily available. Rather than our fans finding out this information from third-party sources, we decided to give it to them directly, and that continues today," Wilson said via e-mail.
"Since we are already putting these numbers out on a player-by-player basis in releases, and we strive to make nashvillepredators.com the definitive source for information on our team, the decision was collectively made to do the contract tracker. It is the same information that can be found on other salary-tracking websites, but this way our fans know it is accurate, coming directly from the source."
A few other NHL clubs, such as the Carolina Hurricanes, Columbus Blue Jackets, and Ottawa Senators, offer contract trackers, but none of their charts include dollar figures. (Although, increasingly more teams are willing to share salaries in their press releases.)
As Wilson notes, the data is out there and fans thirst for it. When the third-party industry leader for salary info, CapGeek, disappeared upon the death of founder Matthew Wuest in 2015, a slew of replacements, such as the excellent General Fanager, scrambled to fill the void.
Once any NHLer inks a new deal, even if it's with secret keeper Lou Lamoriello, it's only a matter of minutes before a connected reporter leaks all the details — right down to the bonuses and trade clauses — on Twitter.
Nashville GM David Poile is as straight a shooter as you'll find in these matters (see: his season-ending press conference), and we applaud the policy of honesty.
Hardcore fans will recall commissioner Gary Bettman saying this about making salary info public back in February 2015: "I don't think it's a resource we need to provide because I'm not sure fans are as focused on what players make as they are about their performance on the ice."
Naturally, we were curious how the league responded to the Predators' decision to open the books.
"Hockey Operations did have a few reservations at first, but we worked beyond that relatively quickly, based on the fact that the information is already out there. This way, they know what is being reported is accurate, and we put it out there first," Wilson said.
"As far as feedback, it has all been positive. Generally speaking, fans and media appreciate the transparency for information they can find elsewhere anyways."
Let's hope Nashville starts a trend.