For the most part, the NHL's standings after 82 games does a pretty good job determining which teams have the best chance of advancing through the playoffs. However, there's usually a team that's better than its position would indicate, and sometimes those teams go on miraculous runs like the 2012 Los Angeles Kings.
They almost never end in Stanley Cup victories – the Kings were the exception, not the rule – but those underdog teams are part of what make the Stanley Cup Playoffs one of the most exciting events in sports.
Those Cinderella-type runs aren't always due to a team being drastically underrated though, sometimes circumstance works out for them, and sometimes the path for them is just right.
Looking across the league one team sticks out to me as a potential dark horse that could plow their way through the playoffs in surprising form, and that's the Nashville Predators.
Play the Sportsnet Fantasy Playoffs Pool for your chance to win $5,000 cash if you are crowned the champ! It's FREE and easy to play.
For whatever reason, the Predators were decidedly less than the sum of their parts this season. They had their fair share of minor injuries that took out core players for 10 or so games each, but even with those struggles it seemed like the Predators never quite hit their stride this season.
Even so, the Predators still look worse than they are in the standings due to their horrible record the NHL's tiebreaker mini-games. The Preds were brutal this season in three-on-three overtime and in the shootout, where they combined to go 6-12, compared to their 35-28 record in regulation. As everyone knows, neither three-on-three nor the shootout exist in the playoffs.
They aren't the only playoff team with a horrible record in extra time, the Anaheim Ducks and Toronto Maple Leafs were equally bad, but the Ducks can't be considered an underdog, and the Leafs have a much tougher path than the Predators do, and a far less experienced roster.
More than just that, the Predators have, arguably, the best top-four defensive group in the NHL with P.K. Subban, Roman Josi, Ryan Ellis, and Mattias Ekholm. When the games get tight and benches are shortened a bit, being able to roll out four defencemen all within the top-30 in the NHL for nearly 50 minutes per game is an advantage no other team has.
Stanley Cup Playoffs on Sportsnet NOW
Ready for playoff hockey? Stream every single game of the 2017 Stanley Cup Playoffs with Sportsnet NOW.
Another factor that plays into their favour is recent play. Heading into the post-season, the best predictor of playoff success over the last decade has been score-adjusted Corsi over the previous 25 games or so, and among playoff teams Nashville ranks fourth over that period, with every team ahead of them belonging to the Eastern Conference.
The biggest reason for picking the Predators though, is how poised they are to see offensive breakouts from several players. P.K. Subban for example, was fourth among all defencemen with 1,000 minutes played this season in relative Corsi, but experienced a PDO of just 98.7 (7.08 per cent on-ice shooting percentage, .912 on-ice save percentage), leading the Predators getting only 51.6 per cent of goals while he was on the ice, while Corsica.Hockey has Subban at 55.07 per cent expected goals for.
Add to this the fact that of defencemen to play 50-plus playoff games since 2009-10, only Duncan Keith has produced more than Subban's 0.69 points per game in the post-season, and it's easy to see why betting on Subban is an easy call in April.
Then of course, there are two of Nashville's middle-six forwards who are ready to breakout in a big way.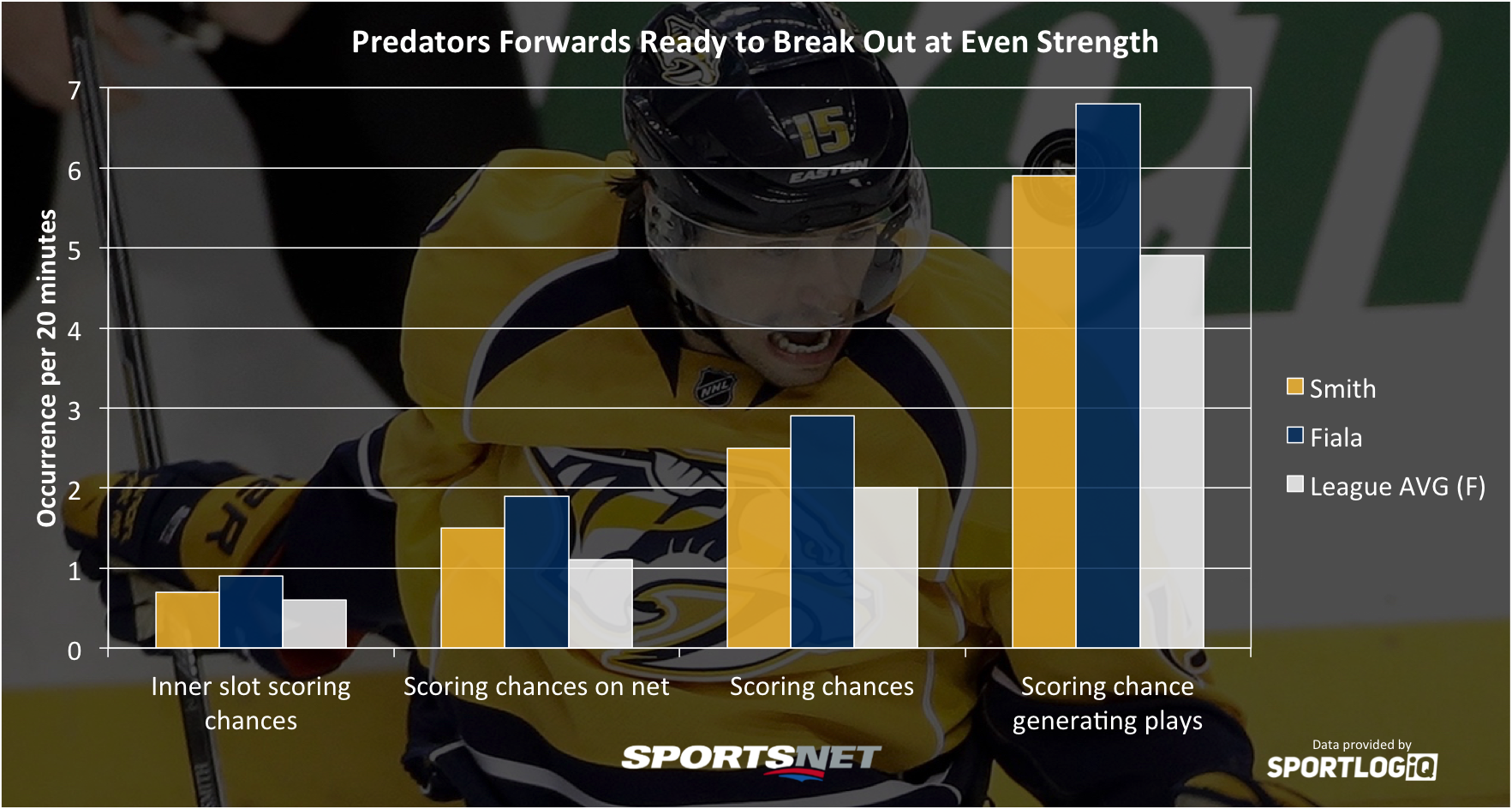 It's been a bit of a nightmarish season for Craig Smith, who has just 12 goals after scoring 20 or more in the previous three seasons, but his play hasn't dipped. He's still producing individual scoring chances at a top-line rate and creating scoring chances for his teammates like a very good second liner.
Kevin Fiala meanwhile, has just 16 points in 53 games with the Predators, but has created scoring chances like a top-end first-line player all season long. He hasn't been rewarded much, but his fortune could turn on a dime since he's creating scoring chances at the same rate as players like Jakub Voracek and Evgeny Kuznetsov.
The one unfortunate problem the Predators have is they'll need to rely on Pekka Rinne in goal.
Rinne on the surface has a better than league-average save percentage, but you have to account for the fact that the Preds allow the third-lowest quality of shots against in the NHL after the Kings and Bruins. Him being .004 points above league average is not exactly a feather in his cap.
Juuse Saros might be a capable fill-in if Rinne falters, but he's not very experienced, so there's a lot riding on goaltending.
Even with that weakness though, the Predators will be a tough out. They have a very strong top-nine forward group, and the best defence core in the league. They're not the wild-card team a top seed expects to get.