As the Toronto Maple Leafs struggled to keep up with the Boston Bruins in Game 1 of their first round series, Nazem Kadri tried to make his presence felt with a series of borderline hits, which included drawing a boarding penalty, a knee-on-knee hit, and blasting Tommy Wingels in the head while he was in a vulnerable position.
The latter hit landed Kadri in trouble with the NHL Department of Player Safety, and has resulted in one of the most severe playoff suspensions in recent memory. The Maple Leafs will be without Kadri for three games, and already being down one in the series makes that a tough pill to swallow for Toronto.
Kadri has had a bit of a career renaissance under Mike Babcock, becoming the Maple Leafs' top matchup centre over the last few years and playing some of the toughest minutes of any player in the NHL over the last two.
To put into context what kind of impact Kadri has for the Leafs, when I did my positional rankings for Sportsnet back in September, Kadri ranked as the 27th best centre in the NHL, sandwiched between Ryan Johansen and Jonathan Toews.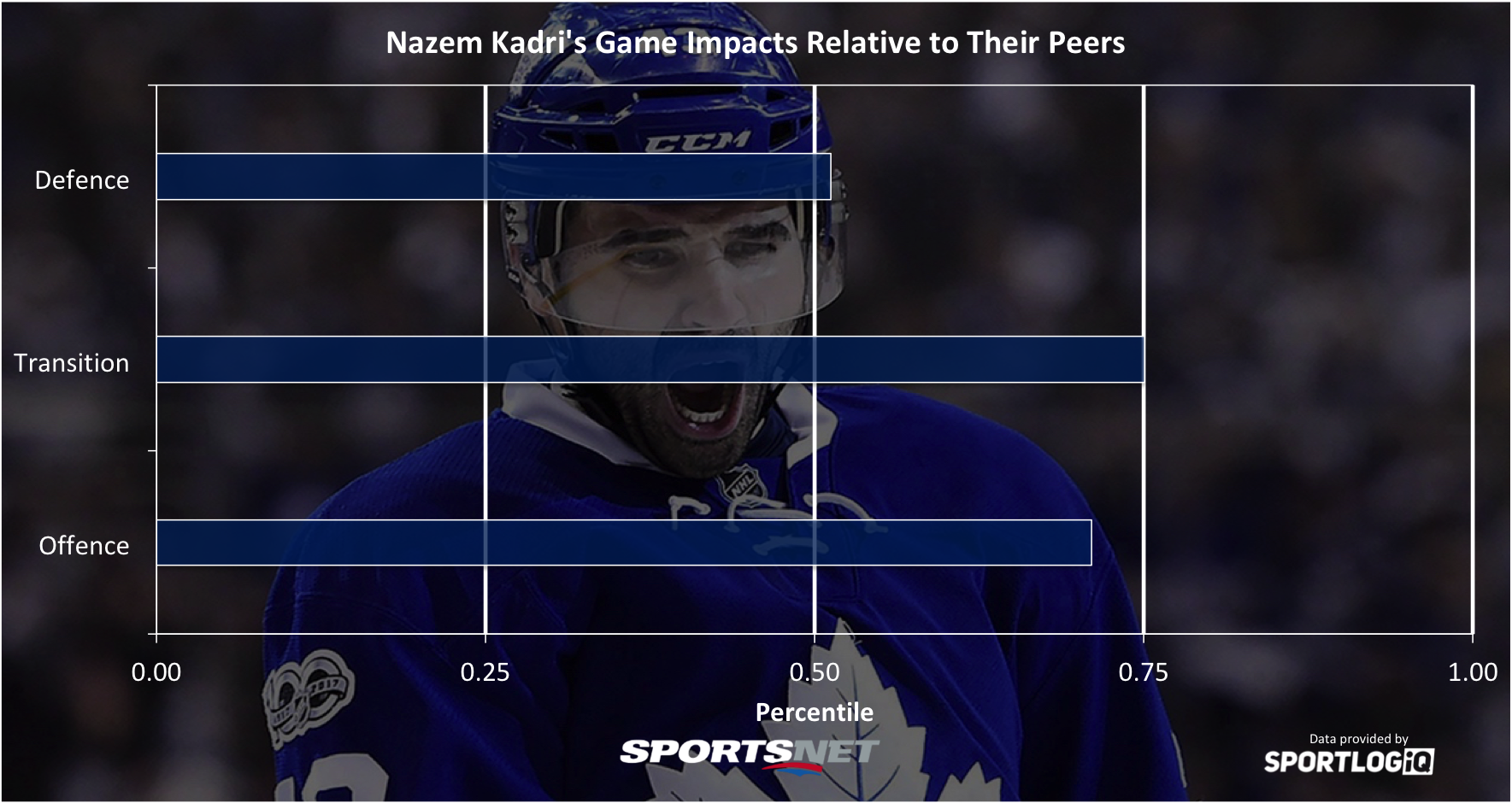 On the surface Kadri's defensive impact is only that of a fringe second-line centre, but he has made massive strides over the last three seasons, going from a below-average third-liner to an above-average second-liner, so the weighted average over three seasons doesn't quite do him justice.
Offensively and in transition, Kadri puts up close to first line-level production, and after a second straight 30-goal season this year, expect those numbers to rise significantly when ranking players again in the summer.
[snippet id=3918715]
You can pick whatever offensive measure you'd like and Kadri is among the top-five forwards on the Leafs, despite being used in heavy shutdown minutes and tasked with fending off the opposing players' best every night. It's that ability to play heavy defensive minutes and still contribute that the Leafs are going to be missing out on.
What makes things even tougher for the Leafs is that since the trade deadline, they've struggled a little bit to control high danger chances, and broken down by centre, Kadri has been one of the bright spots.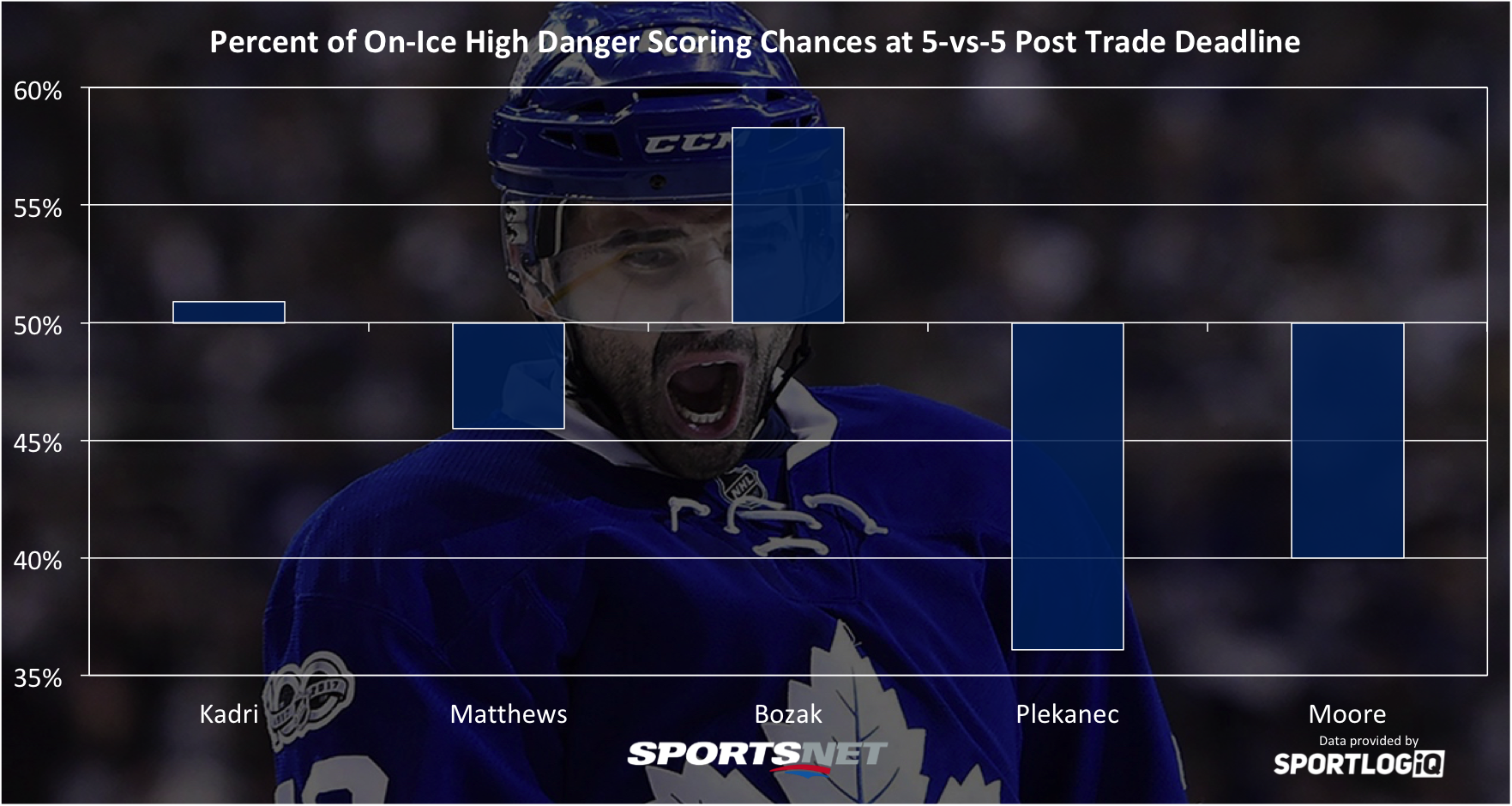 Keeping in mind that Tyler Bozak has been extremely sheltered in the back half of the season, you could argue easily that Kadri has been the Leafs' best centre down the stretch as Auston Matthews has recovered from injury and Tomas Plekanec has looked like a major flop.
Matthews should regain his form at some point, but in order to beat the Bruins while Kadri is out the margin for error is now next to zero.
Considering his all-around game and the role he plays, Kadri is probably the Leafs' second-most important player after Matthews, and they'll be without him for three games. This isn't so much a wrench in the gears for the Leafs' playoff hopes as it is an 18-wheeler crashing into the gears, but this is the kind of adversity that Cup contenders find a way to fight through.
[relatedlinks]