There's plenty of intrigue this weekend with the NCAA Frozen Four tournament heating up.
NHL teams aren't just watching their own prospects but there are a number of players that could become available as soon as this summer.
Below, we round up some of the top names that were mentioned during Saturday's Headlines segment on Hockey Night In Canada.
---
NHL has close eye on Jimmy Vesey
Now that Harvard has been bounced from the tournament, several NHL teams are keeping tabs on 6-foot-1 forward Jimmy Vesey.
Vesey, 22, was a third-round pick by the Nashville Predators in 2012 but has yet to sign with the club.
He would be eligible to join the Predators for the rest of the regular season and the playoffs if he is able to come to an agreement on a deal with Nashville but he could decide to wait it out as he is eligible to become an unrestricted free agent on Aug. 15.
If Vesey hits the open market, there will be plenty of interest from NHL teams, according to Sportsnet's Damien Cox, including the Toronto Maple Leafs.
"His father works for them," Cox said Saturday. "His brother has been drafted by them. There's a lot of other teams that will be interested. Nashville is desperate to sign him. All they've done tonight is send out a release saying they hope to meet him in the next several days to sign him. That's not as confident as they'd like to be.
Vesey scored 24 goals with 22 assists in 33 games with Harvard this season.
---
Flames trying to sign Jankowski
Another NCAA player in a similar situation to Vesey is Calgary Flames prospect Mark Jankowski.
The Flames' 2012 first-round pick (21st overall) is scheduled to become a free agent in August.
"The Flames made him an offer and are hopeful to sign him," said Sportsnet's Elliotte Friedman. "We should get an idea on his future in the next 24-to-48 hours."
Jankowski, who spent four years at the NCAA level with Providence College, racked up 15 goals and 25 assists in 38 games this season.
---
Goalies in demand
NHL teams are also closely monitoring a trio of goaltenders this weekend in Albany for the NCAA East Regionals, according to Cox.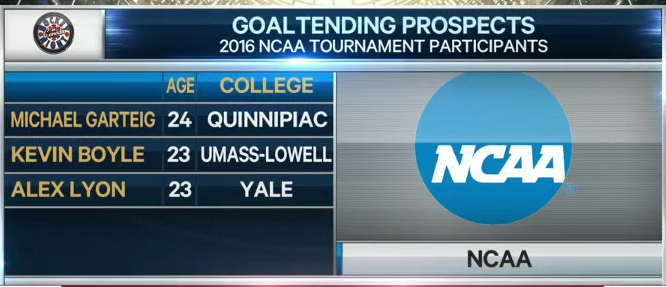 "You've got Michael Garteig," said Cox. "He's from Prince George, British Columbia. He plays for No. 1 Quinnipiac and he had a shutout (Saturday) and he'll be a free agent after this weekend if they don't go on. Kevin Boyle and Lyon are playing each other (Saturday night) and all three can become unrestricted free agents if their teams are knocked out. A lot of teams are interested."