It's Montreal. It's Calgary. It's an all-Canadian showdown for the Clarkson Cup.
Here's what you need to know in advance of this weekend's game.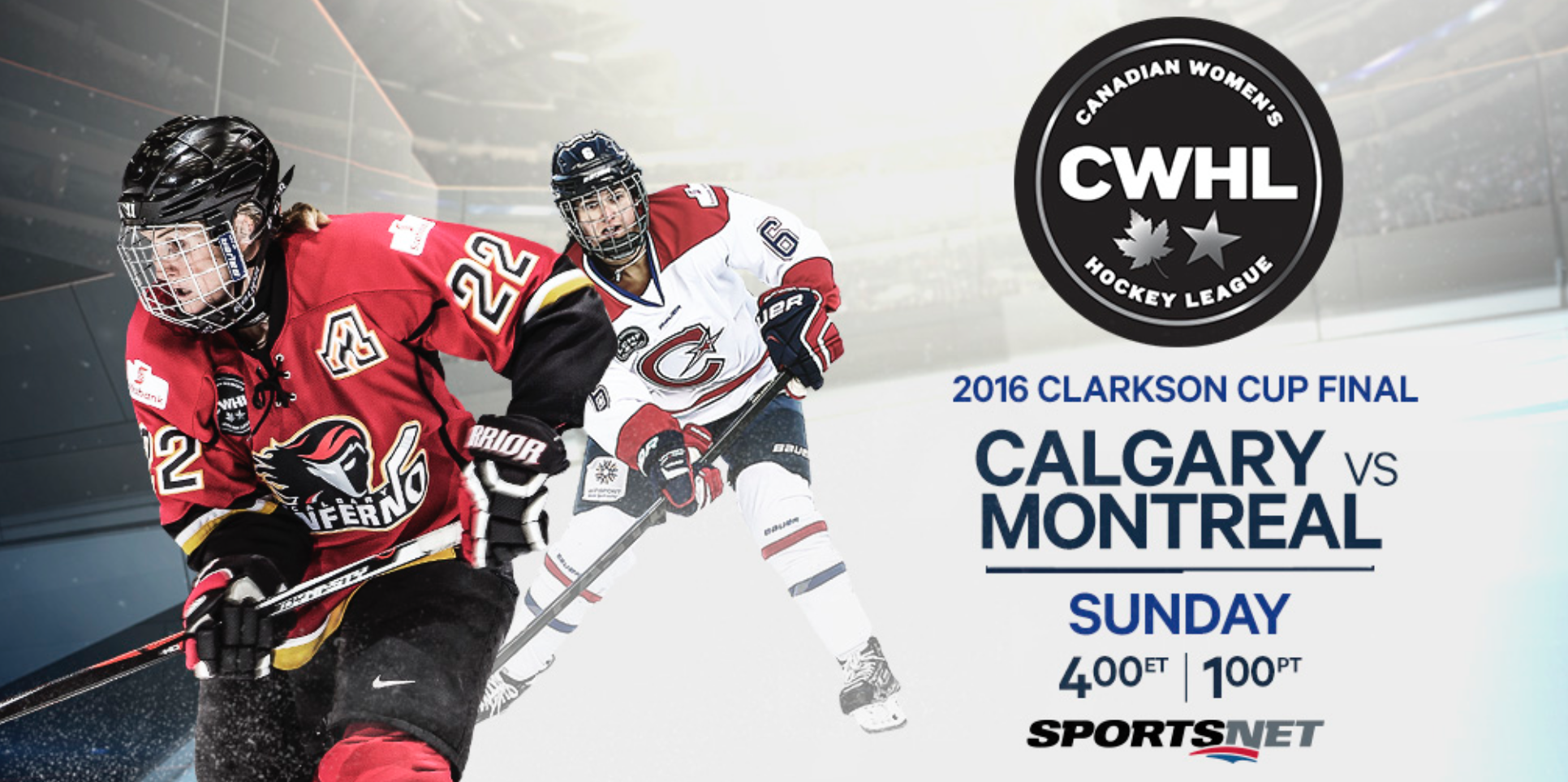 What:
The Clarkson Cup is women's hockey's version of the Stanley Cup. The trophy is awarded to the winner of the Canadian Women's Hockey League (CWHL).
Where:
The Canadian Tire Centre (home to the Ottawa Senators) in Kanata, Ont.
When:
The puck drops at 4 p.m. ET on Sunday.
Who:
The Calgary Inferno vs. Les Canadiennes de Montreal. (Calgary is a partner team of the NHL's Flames, and Les Canadiennes are partners with the Canadiens).
How can I watch it?
Live on Sportsnet. Or click here to buy tickets for $20 apiece.
History:
Remember the 2004-05 NHL lockout? In 2005, Canada's then Governor General Adrienne Clarkson suggested that since the Stanley Cup wouldn't be awarded that year, it should instead go to the top women's hockey team. Ultimately it was decided women needed a cup of their own, and so the Clarkson Cup was born. Since 2009, it's been awarded to the winner of the CWHL.
The trophy is silver, and some players think it has a mermaid on it (it doesn't). Designed by three Inuit artists, it features some unique designs, including arctic animals and the flowers of each of Canada's provinces and territories.
How we got here:
This is a showdown between the top two teams after the regular season. Montreal led all teams with 42 points, and Calgary was next-best, with 34.
Montreal then swept its three-game series over the Toronto Furies, and Calgary downed the Brampton Thunder in two games as well.
Key Storylines:
Calgary is making its debut in the Clarkson Cup final, and they're the underdog. The Inferno beat Montreal only twice this season, including a 5-4 victory in the first meeting between the two teams. Montreal has beaten Calgary in their last five matchups. And all season, Les Canadiennes lost only three times. If Calgary pulls out a win, it's an upset.
Montreal won back-to-back championships in 2011 and 2012, and made the final in two of the last three years. They're basically the CWHL's Chicago Blackhawks.
The key for the Inferno will be shutting down Montreal's big scorers — and there are a lot of them. The top four scorers in the regular season are all Canadiennes: Marie-Philip Poulin, Ann-Sophie Bettez, Kim Deschenes and Caroline Ouellette.
Players to watch:
*Charline Labonte: The Montreal goalie had a league-best regular season goals-against average (1.52) and save percentage (.925). Labonte started 20 games this season, and won 17 of them while also posting five shutouts. She's also a three-time Olympic gold medalist. In other words: Inferno players have their work cut out for them.
*Rebecca Johnston: If anybody's going to get to Labonte, you have to figure Johnston has a good shot. She won the scoring title in the CWHL last season, but the Inferno forward spent most of this year on the shelf due to injury. Johnson, a two-time Olympic gold medallist, returned late in the regular season. She leads Calgary in playoff points with two goals and three assists in two games.
*Marie-Philip Poulin: She might be the best player in the world. The Les Canadiennes forward won the Angela James Bowl as the regular season's leading scorer. She also has a penchant for big moments having scored the winner at the Vancouver Olympics, and then four years later in Sochi, she scored the goal to force overtime and OT winner. Clutch? Yes. She had 46 points in 22 regular season games this year.
*Caroline Ouellette: Yes, another Montreal forward to watch. But the veteran Team Canada member, 36, leads all players in playoff scoring with four goals and four assists in two games. Ouellette owns four Olympic gold medals, and is a two-time Clarkson Cup champion. She's part of the Montreal power play, with Poulin and Bettez — that's a dangerous trio up front.