Everyone who follows hockey knows scoring continues to fall across the league and ideas on how the league can fix this are always a topic of conversation.
One pervasive argument is that we can't fundamentally make changes to the game because it's a) always been played a certain way and b) would impact our ability to compare this generation's numbers with those from the past. The problem with that rationale is it ignores the fact that the product already barely resembles the one from the '80s and '90s.
At the risk of depressing everyone, the benchmarks we've been conditioned to associate with various levels of performance need to be revised. Here's a quick and easy look at how the ceiling for prolific seasons has been progressively dropping for a while now (with this year's totals being current as of Friday):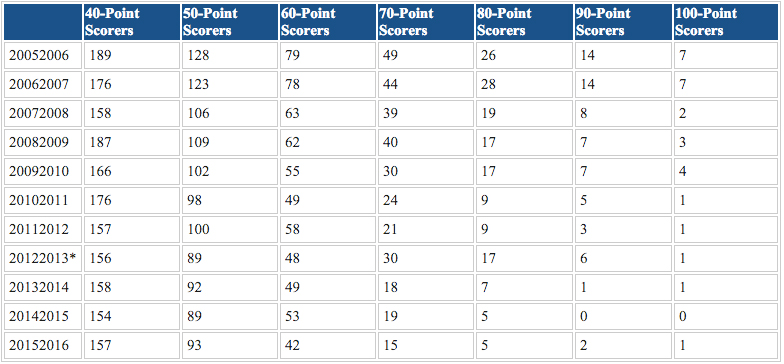 *The 2012-2013 lockout-shortened totals were prorated from the 48-game schedule that was played. I wouldn't put too much stock into how the numbers in that season ballooned compared to the years surrounding it. The smaller sample size is open to more randomness, with the potential for variables like shooting luck and wear-and-tear injuries less likely to be accounted for than in your typical 82-game season.
The spike in scoring coming out of the first lockout coincides directly with how penalties were called. There were nearly 12 (11.7 to be exact) power play opportunities handed out per game that season as the league made a concerted effort to fundamentally change the way obstruction was called. To put that figure into context, this season it's dropped to 6.2 power plays per game, marking the fifth consecutive year the average has been below seven.
Another factor is save percentage. In 2005-06, goalies were stopping an average of 90.1 per cent of the shots they faced, whereas the past two seasons that average has been 91.5 per cent.
Put all of that together and it's no wonder scoring has been in decline. Forget players hitting 100 points in a season — simply scoring at a point-per-game pace is becoming a challenge.
Without turning this piece into a referendum on the increasingly comical Norris Trophy debate, the fact that Erik Karlsson is one of just 17 players to reach 80 points over the past three years (and only the second defenceman to do it in the past decade) is awfully telling. It's an exceedingly difficult accomplishment for anyone, let alone someone who does so much of the heavy lifting. The Senators, who control 51.5 per cent of shot attempts at five-on-five with Karlsson on the ice, crater to a 44.3 per cent rate when he's off — a low mark that's only rivalled by the Colorado Avalanche.
The same goes for Joe Thornton, whose season has legitimately warranted the Hart Trophy buzz he's been getting. He's just the 36th player ever to hit the 80-point mark after turning 35 years old.
It stands to reason goal scorers haven't been immune to this decaying effect over the same period: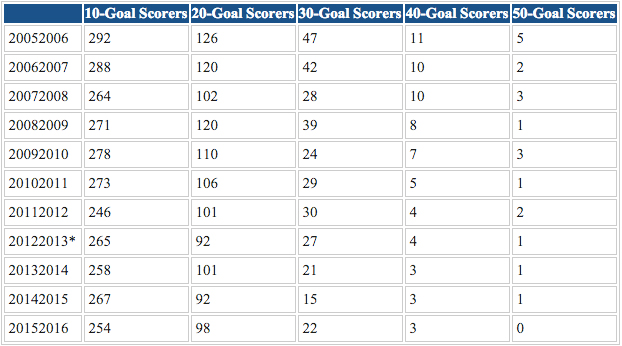 The days of gaudy point and goal totals are nearly extinct. On average, there are fewer than two players per team scoring 60-plus points in a given year. If Patrick Kane didn't hit the 100-point plateau this season, no one else would have come anywhere close.
It looks like this will be the first time since 2003-04 that there is no 50-goal scorer in the NHL. It doesn't really matter if Alex Ovechkin falls just short (he's at 47 now), because it ultimately won't change the esteem in which we hold him. The same goes for the big point producers such as Sidney Crosby and Thornton. It's still blatantly obvious who the great players are.
From a more practical, everyday perspective though, one area where we've been slow to adjust is on the players residing in the tier or two below those stars. The contributions of those players may be slipping through the cracks somewhat because their raw totals are being unfairly judged against past standards rather than relative to their current peers.
It may have irritated Patrick Roy, but Matt Duchene deserves to be thrilled about reaching the 30-goal plateau. That achievement vaults him into some legitimately exclusive company this season.
The reality is that the landscape for offensive production is vastly different now. Our definitions of what an average, above average, very good, and truly elite player are in 2016 need to be adjusted. Otherwise, we're setting ourselves up for a whole lot of disappointment when no one is able to reach the unattainable benchmarks we've built up in our heads.