There is, in these eyes, no such thing as a National Hockey League team that plans a rebuild. The irony is, any team that finds itself in a rebuild is there only because every plan it made over the last few years backfired.
So giving a last-place club credit for "tanking" is to let the front office off the hook for years of bad trades, poor drafts and substandard development that put them in last place.
---
For a limited time get Sportsnet Magazine's digital edition free for 60 days.
Visit Appstore/RogersMagazines to see what you're missing out on.
---
A prime example: The Edmonton Oilers, which got three consecutive No. 1 picks from 2010-12, finishing 30th, 30th and 29th. Edmonton didn't plan for those picks. The Oilers were mismanaged, got a lot of things wrong and could not ice a team that was any better than the worst in the league.
So as the NHL changes its lottery process to spread the opportunity more evenly across the 14 non-playoff teams, the league hopes "to more appropriately reflect the current state of competitive balance in the league." What the NHL didn't say was that it is tired of rewarding incompetence.
So if your team is starting a rebuild right about now—like, say, the Calgary Flames—your timing couldn't be worse. In the Connor McDavid draft of 2015, the odds of the 30th-place team landing McDavid have diminished from 25 percent to 20 percent. In all, the odds for the teams that finish 27th through 30th will diminish, while the chances of getting the first-overall selection for teams that finish between 17th and 26th each improve.
And in 2016 there will be three lottery picks to determine the top three choices. That means an entirely unlucky 30th-place team could end up with the No. 4 choice in the draft, where up to now it could fall no further than to No. 2.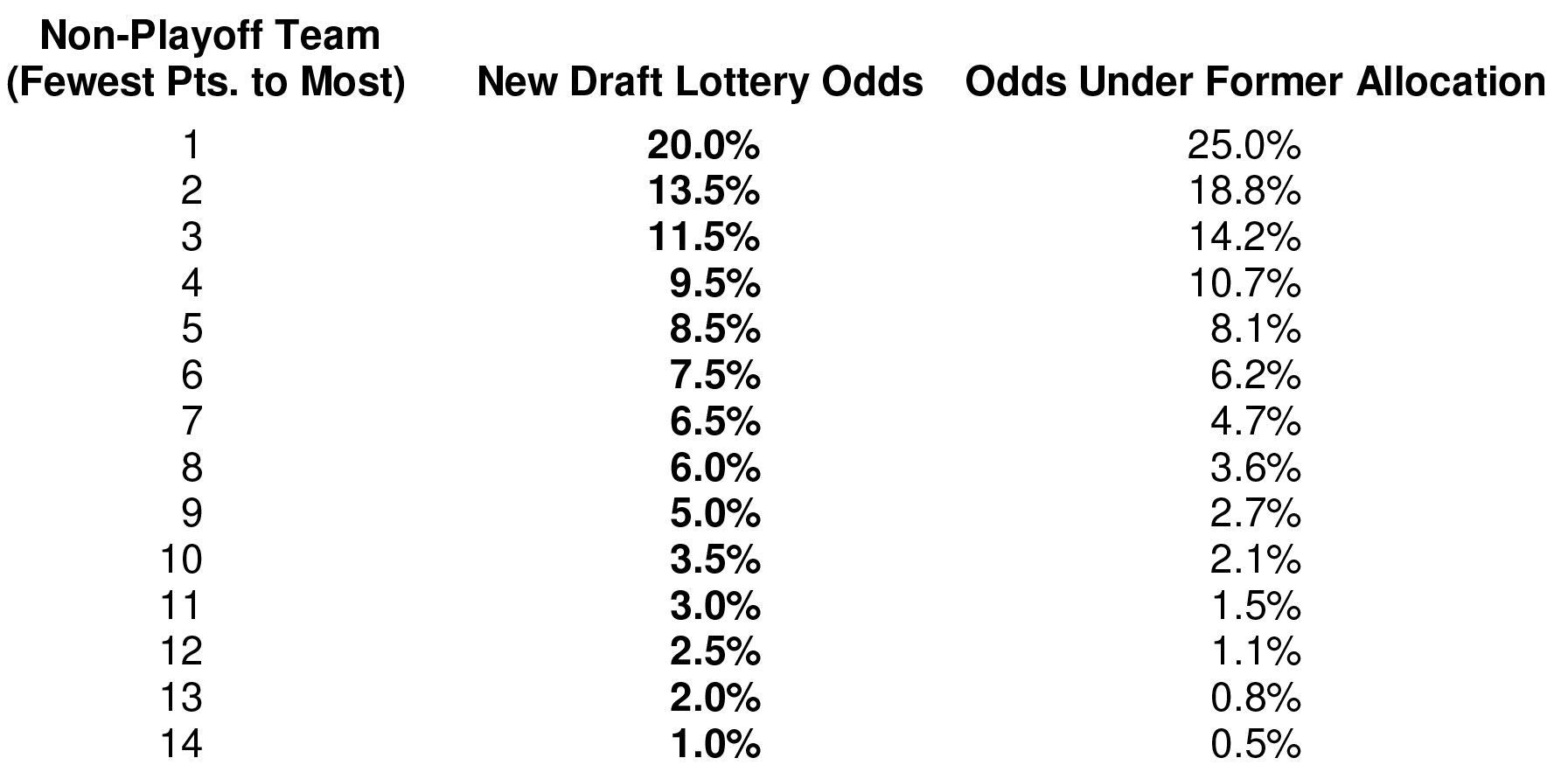 For most of the Canadian teams this is good news.
In our books, Ottawa, Toronto, Winnipeg, Edmonton and Vancouver each have very realistic chances of finishing in that 17th through 26th grid. At least, that prediction seems far more likely than finishing in the bottom four for those clubs—yes, even for Edmonton. It won't matter for Montreal, which should be a playoff team in the East.
Calgary, however, is embarking on a major rebuild, and we predict sub-25 finishes for the next two years. Thus the new general manager in Brad Treliving, whose strengths are found in drafting and developing. And thus the talk of McDavid in Southern Alberta, the clear franchise player and certain first-overall draftee next June.
The Flames overachieved last season as a plucky, dogged team that was tough to finish off. But they lost their top goal scorer to free agency when Mike Cammalleri went to New Jersey, and his 26 goals were more than 12 percent of all Flames production last season.
Will Jonas Hiller in goal and winger Mason Raymond make up for the Cammalleri loss? Perhaps, but when you're a Western Canadian market without playoff hopes, any rebuild hinges on the draft—and waiting drafted players is a slow process.
Even slower now, with a new format in play.