If the video game world proves accurate, Bruce Boudreau will be a happy man with plenty of job security this June.
For the Anaheim Ducks will claim the 2015 Stanley Cup on a late third-period goal by sniper Corey Perry in Game 7 of their championship series versus the New York Rangers, a repeat finalist.
That is, of course, if EA Sports' NHL 15 playoff simulation holds true.
According to EA's official simulated 2015 NHL post-season, captain Ryan Getzlaf will claim the Conn Smythe Trophy (nine goals, 17 assists) after each of the Ducks' playoff series goes the maximum seven games (wins over Winnipeg, Calgary, Minnesota and New York).
Here is how the game imagines the 2015 Cup bracket will shake out: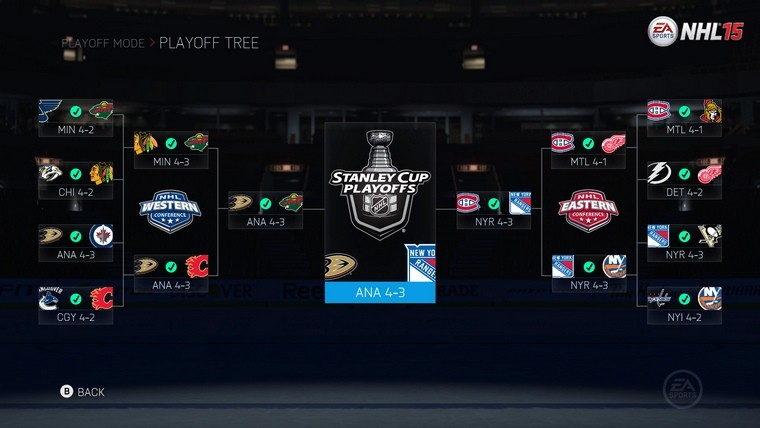 Keep in mind, the same game predicted the Los Angeles Kings repeating as champion, defeating the Boston Bruins in a six-game Stanley Cup Final, back in October. Neither team qualified for the playoffs.
Some fun surprises see the Columbus Blue Jackets reaching the conference final for the first time in franchise history and the Toronto Maple Leafs trying to avenge their 2013 playoff loss to the Bruins in another seven-gamer. (Although it should be noted that EA's Eastern Conference bracket is flawed; the divisions are not aligned in this simulation. Tampa would meet Atlantic Division rival Boston in Round 2, and Philly would play Columbus.)
The last Canadian team standing in the most recent simulation was the Montreal Canadiens, who lost Game 7 of the Eastern Conference Final to the Rangers.
According to the video game's producers, the simulation is conducted by artificial intelligence or logic of the game that uses real-life data from each player. When two teams match up, the game's winner is determined by player ratings and line combinations. Injuries and hot streaks are also accounted for to give a realistic outcome.