The countdown is on to the opening of the NHL's second century, with 2017-18 being the 101st season in league history.
The new season will bring some key rule changes, more outdoor games and a brand new team. Pending UFA John Tavares is a prime storyline to watch unfold this season as his contract with the New York Islanders winds down. Matt Duchene is already unhappy in Colorado, which has already led to juicy trade rumours. And then there re the Pittsburgh Penguins, who are trying to become the first team to three-peat since the dynastic New York Islanders of the early-1980s.
To get you prepared for the start of the new season, we outline some key dates and go over the noteworthy rule changes that will impact 2017-18. Here is our season primer.
NEW RULES TO KNOW
There are a couple new rules this year and a few more that were already there, but will supposedly be under greater scrutiny in 2017-18. First, the new:
Challenging offsides
If you'll remember back to last season, NHL coaches made a habit out of challenging extremely close offsides that often left officials trying to determine whether or not a player's skate was a millimetre off the ice. The penalty for a coach who challenged the play and was unsuccessful was the loss of a timeout and further challenges. But this season, there is a literal penalty for it.
As reported by Sportsnet's Elliotte Friedman, a failed offside challenge will result in a two-minute penalty on the club that asked for the review. There is far less reason for a coach to risk a tight call on a technicality and hopefully brings the rule back to its original intention: to correct the offside that was obviously missed.
If a coach challenges for goaltender interference on a goal, however, the team that asked for the review will still only lose a timeout if the original call stands.
No timeouts after icing
Any team that ices the puck will no longer be able to call a timeout to rest a group of players. Since any player on the ice when the puck is shot down must remain, this rule helps encouraging offence by keeping tired players tired, and not letting teams give them a short rest.
High-sticking against power play team
Also reported by Friedman, under Rule 80.4 a team on the man advantage that played a puck after it was high-sticked had the faceoff come all the way back to their defensive end. Now, if the team with the man advantage plays a puck after it was high-sticked in the offensive zone, the ensuing faceoff will be in the neutral zone next to the defending team's blue line. This is another rule done to favour the offence.
Focus on faceoff violations
This rule was already in the book, but if the early pre-season games are any indication (and they may not be at all), there will be a new focus to crack down on encroachment.
Players taking the draw are supposed to have their feet within the limits of the markings by the dot and not inside of, or touching them. The league has been lax in how it enforced this over the years, but we saw a few penalties called Monday night that led to confusion from fans, players, coaches and executives.
If a centre lines up incorrectly, he could be replaced by the linesman dropping the puck and if it happens twice in the same faceoff process, a bench minor will be called on the offending team. The rule is designed to prevent cheating at the faceoff dot, which has been common practice for years, and can separate the "good" faceoff men from the poor ones. The league previously added a rule where players can't win a draw back with their hand.
Time will tell if this lasts beyond the pre-season. If it does, be prepared to hear "just drop the puck" as a regular complaint.
A return to 2005-06 level of obstruction calls?
After the NHL's lost season, the league returned with a new commitment to offence and focus on calling stick penalties to unlock speed, skill and goal scoring. Power plays jumped by an average of more than three per game from 2003-04 and total goals scored per game went from 5.14 in the last season before the lockout, to 6.16 per game in 2005-06.
Since then, however, the standard has fallen off. Mark Spector covered this well in his pre-season column on the new standard, pointing out that the average power plays and goals per game have fallen back below pre-lockout levels. Early results from pre-season games show that stick penalties were again on the rise, suggesting this standard could be followed once again.
Many, rightly, doubt the league will maintain it from the start of the season and through the playoffs, but if they somehow do, expect speed and offence to dominate the league once again.
New salary cap
Remember, there is a new upper and lower limit for the salary cap this season. The cap limit has gone from $73 million last season to $75 million in 2017-18, while the floor sits at 55.4 million.
Currently, before LTIR comes into effect, the Toronto Maple Leafs have the highest payroll, while the Arizona Coyotes come in the lowest at $57.514 million according to capfriendly.com.
NEW COACHES IN NEW PLACES
There were six coaching replacements over the summer and the expansion Vegas Golden Knights make for seven new head coaches in 2017-18. Just in case you missed some of these, here is a recap on who the new bosses are behind these benches:
| TEAM | 2016-17 COACH | 2017-18 COACH |
| --- | --- | --- |
| Arizona Coyotes | Dave Tippett | Rick Tocchet |
| Buffalo Sabres | Dan Bylsma | Phil Housley |
| Dallas Stars | Lindy Ruff | Ken Hitchcock |
| Florida Panthers | Tom Rowe | Bob Boughner |
| Los Angeles Kings | Darryl Sutter | John Stevens |
| Vancouver Canucks | Willie Desjardins | Travis Green |
| Vegas Golden Knights | None | Gerard Gallant |
NEW ARENAS AND NEW ARENA NAMES
Everything is new about Vegas, but they aren't the only new arena in the league this season. The Detroit Red Wings have moved from Joe Louis Arena to Little Caesars Arena, which we got our first glimpse of about two weeks ago.
While it is a brand new rink, there are elements of the past throughout:
And in Vegas, of course, we have the brand new T-Mobile Arena, which you may have seen some of already if you watched the Connor McGregor-Floyd Mayweather or Gennady Golovkin-Canelo Alvarez fights.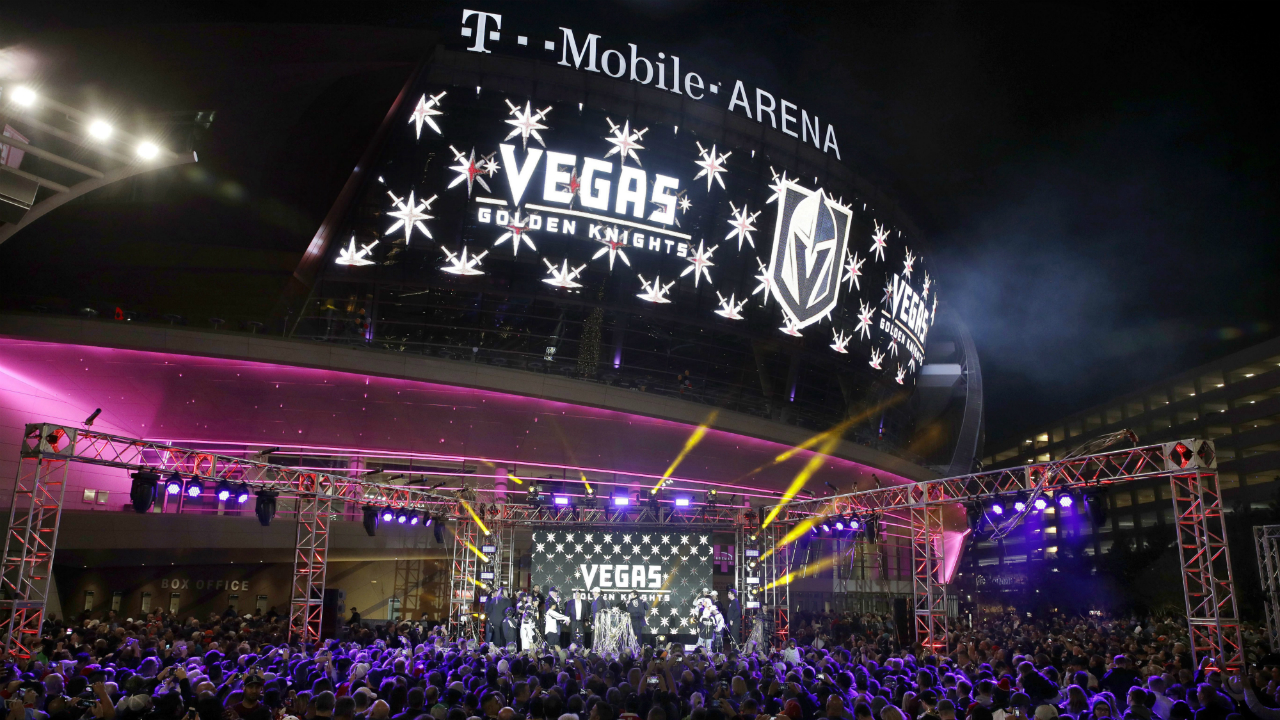 Aside from the the brand new arenas, two others are getting name changes. The Capitals' Verizon Center is now known as Capital One Arena and Winnipeg's MTS Centre is now called Bell MTS Place.
KEY DATES
From the season-opener to the trade deadline, outdoor games and playoffs, here are some of the key dates during the NHL season.
September
21st and 23rd – The Los Angeles Kings and Vancouver Canucks play two exhibition games in China, at Mercedes-Benz Arena in Shanghai on the 21st, and Wukesong Arena in Beijing on the 23rd.
October
3rd – Opening day playing rosters set (5 p.m. ET)
4th – Opening night of 2017-18 NHL regular season (4 games); Pittsburgh Penguins raise Stanley Cup banner (vs. St. Louis Blues)
5th – First regular-season game at Little Caesars Arena (Minnesota Wild at Detroit Red Wings)
6th – First regular-season game for Vegas Golden Knights (at Dallas Stars)
10th – Vegas Golden Knights home opener at T-Mobile Arena (vs. Arizona Coyotes)
23rd – NHL Alumni Awards Gala: Honorees: Mario Lemieux, Wendy McCreary, TBA (Toronto, Ont.)
November
10-11th – 2017 SAP NHL Global Series: Colorado Avalanche vs. Ottawa Senators (Ericsson Globe, Stockholm, Sweden)
10th – Hockey Hall of Fame Game: Boston Bruins at Toronto Maple Leafs
13th – Hockey Hall of Fame Induction Ceremony (Toronto): Inductees: Dave Andreychuk, Danielle Goyette, Paul Kariya, Mark Recchi, Teemu Selanne, Clare Drake, Jeremy Jacobs, Cam Cole, Dave Strader.
17th – NHL General Managers Meeting (Le Windsor Hotel, Montreal)
December
TBA – Board of Governors meetings in Florida
1st – Signing deadline for Group 2 free agents (5 p.m. ET)
16th – 2017 Scotiabank NHL 100 Classic: Montreal Canadiens at Ottawa Senators from Lansdowne Park, Ottawa, Ont.
19th – 100th Anniversary of League's first games played
19-27th – Holiday roster freeze in effect: For all players on an NHL active roster, injured reserve, or with non-roster and injured non-roster status as of midnight (local time) Dec. 19, a roster freeze shall apply through midnight (local time) Dec. 27, with respect to waivers, trades and loans.
24-26th – Holiday break (no scheduled practices – dressing rooms closed)
26 – Jan. 5th – IIHF World Junior Championship (Orchard Park/Buffalo, NY)
January
1st – 2018 Bridgestone NHL Winter Classic: New York Rangers at Buffalo Sabres (Citi Field, New York)
Week of the 15th – NHL Central Scouting Mid-Season Rankings release
20th – 18th Annual Scotiabank Hockey Day in Canada (Host: Corner Brook, Nfld.)
25th – CHL/NHL Top Prospects Game (Guelph, Ont.)
26-29th – NHL All-Star break (no games played)
26-28th – No scheduled practices – dressing rooms closed
27-29th – 2018 NHL All-Star Weekend (Amalie Arena, Tampa, Fla.)
30th – NHL regular season resumes
February
26th – 2018 NHL Trade Deadline (3 p.m. ET)
March
3rd – 2018 Coors Light NHL Stadium Series: Toronto Maple Leafs at Washington Capitals (Navy-Marine Corps Memorial Stadium, Annapolis, Md.)
19th-21st – NHL General Managers Meeting (Boca Raton, Fla.)
April
7th – Last day of 2017-18 NHL regular season
Week of the 9th – NHL Central Scouting Final Rankings release
11th – 2018 Stanley Cup Playoffs begin
TBA – 2018 NHL Draft Lottery
May
4-20th – IIHF World Championship (Copenhagen/Herning, Denmark)
17-27th – CHL MasterCard Memorial Cup (Brandt Centre, Regina, Sask.)
27th-June 2nd – 2018 NHL Scouting Combine (Buffalo, N.Y.)
June
13th – Last possible day for 2018 Stanley Cup Final
22nd-23rd – 2018 NHL Draft (American Airlines Center, Dallas)
TBA – 2018 NHL Awards
July
1st – Free agency begins (12 p.m. ET)
5th – Deadline for player-elected salary arbitration notification (5 p.m. ET)
6th – Deadline for club-elected salary arbitration notification (5 p.m. ET)
20 – Aug. 4th – Salary arbitration hearings held
August
6th – Deadline for salary arbitration decisions to be rendered
ROGERS HOMETOWN HOCKEY
Rogers Hometown Hockey is back for its fourth season. Here is a list of all the stops to look forward to this year.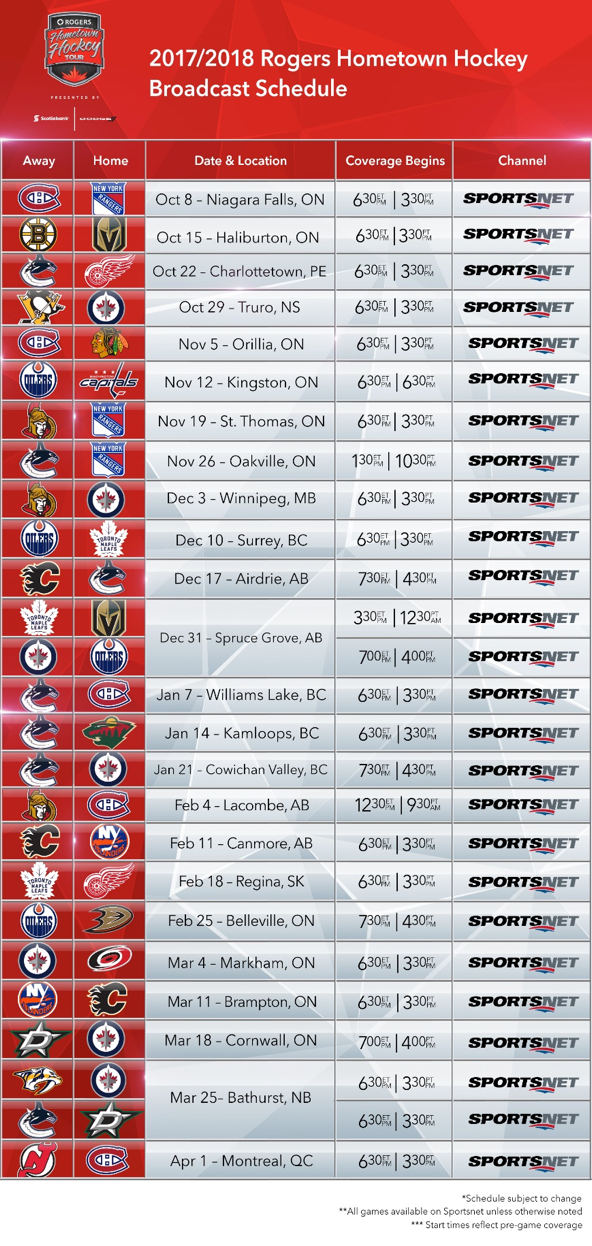 AND DON'T FORGET THE OLYMPICS
Not part of the NHL schedule this season, the Olympic Hockey Tournament will take place in Pyeongchang, South Korea from Feb. 14 to 25. The participating countries this time will be: Canada, Czech Republic, Switzerland, South Korea, Russia, Unites States, Slovakia, Slovenia, Sweden, Finland, Norway and Germany.
No player with an NHL contract will be allowed to participate — including those in the AHL on one- or two-way deals — but those competing in the minors, junior or Europe could be made available. It will be the first Olympic tournament since 1994 to not have NHLers.
[relatedlinks]