After an expansion team made it all the way to the Stanley Cup Final, the season-long John Tavares saga played out with the best UFA of the salary-cap era leaving New York to sign in Toronto, and various big-name players were traded to new teams, how will this NHL season top the previous 12 months?
Don't worry — the names may be different, but there is no shortage of trade candidates, or interesting pending UFAs. And Vegas may even be better than they were last season, while Toronto continues to rise as a power and the likes of Buffalo, Arizona and Carolina hope to break long playoff droughts with improved rosters of their own.
To get you prepared for the start of the new season, we've outlined some key dates, notes and storylines that will impact 2018-19.
NEW COACHES IN NEW PLACES
We nearly got through the 2017-18 regular season without a single coach firing, which would have been the first time since 1967 that happened. But on April 7, one day before the regular season officially ended, the New York Rangers dismissed Alain Vigneault shortly after their 82nd game concluded. Over the following two months, five more coaches were either fired or retired (Ken Hitchcock), so we end up with just as many new coaches heading into this season as we did in 2017-18.
| TEAM | COACH OUT | COACH IN |
| --- | --- | --- |
| NY Rangers | Alain Vigneault | David Quinn |
| Calgary Flames | Glen Gulutzan | Bill Peters |
| Carolina Hurricanes | Bill Peters | Rod Brind'Amour |
| Dallas Stars | Ken Hitchcock | Jim Montgomery |
| New York Islanders | Doug Weight | Barry Trotz |
| Washington Capitals | Barry Trotz | Todd Reirden |
Some quick notes on the new coaches:
David Quinn, NYR: As the Rangers pivot to focus more on developing youth and becoming a younger NHL team, Quinn arrives from Boston University, where he oversaw the likes of Clayton Keller, Brady Tkachuk and Jack Eichel.
Bill Peters, CGY: Peters' teams always have strong "analytics" behind them, but he hasn't made the playoffs as an NHL head coach yet. Former 'Canes Noah Hanifin and Elias Lindholm join him in Calgary after a June trade.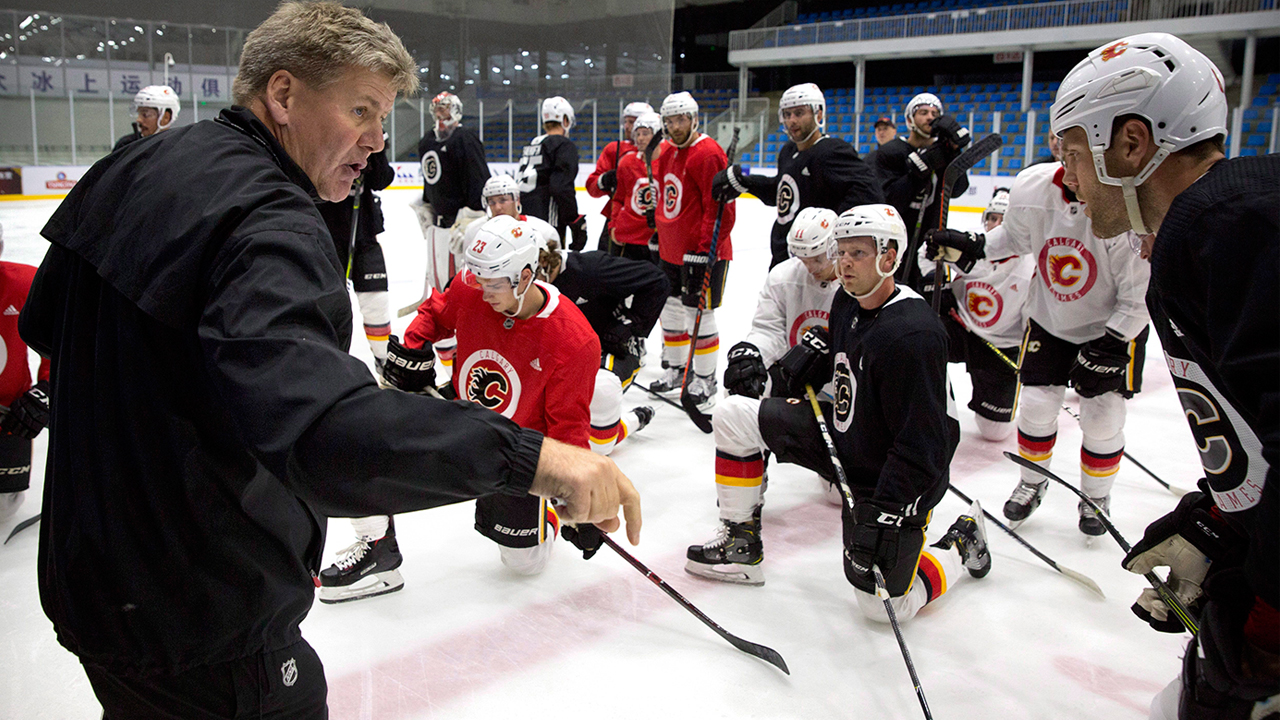 Rod Brind'Amour, CAR: A fan favourite from his playing days when he won a Stanley Cup in Carolina, but this is his first head coaching job. Can he lead the 'Canes to their first playoff appearance in a decade?
Jim Montgomery, DAL: He arrives from the University of Denver and wants the Stars to play an up-tempo style along the lines of Vegas. He has the horses to execute this vision.
Barry Trotz, NYI: He's built up an organization from scratch before in Nashville, and though the Islanders aren't an expansion team, this job is all about instilling a new culture with long-term vision. This time, he has a Stanley Cup ring, too.
Todd Reirden, WSH: Has been an assistant on the Caps bench each of the past four seasons and, prior to that, served four years with the Penguins.
Vigneault is perhaps the most interesting out-of-work coach left on the market. With his long and mostly successful track record, he'll top the list of potential coaching candidates whenever the first one is fired this season, and will be one to watch as the prospective Seattle expansion team looks to make its first hire. He'd have to wait on that job, though.
RECAPPING PLAYER MOVEMENT
There was all sorts of movement over the summer and you can get up to speed with our signing and trade trackers, but here we'll highlight some of the bigger moves that will have a huge impact on the 2018-19 season.
Dougie Hamilton in Carolina: He was traded to the 'Canes along with Micheal Ferland and bulks up what is already a great defence core. It opens up the possibility for Carolina to trade a different blue-liner for scoring help, which is still a team need. Meanwhile, the Flames got Elias Lindholm to either play wing on the top two lines or provide flexibility as a centre, and Noah Hanifin, who comes with huge upside at just 21 years old.
Erik Karlsson in San Jose: This just happened so it's probably fresh in your mind, but adding Karlsson to a blue line that already includes Brent Burns is a huge move. Karlsson still stands as the best pending UFA, which is a storyline that will follow him until/if he re-signs with San Jose. And if he wants eight years on his next deal, he can't do that with the Sharks until after the trade deadline.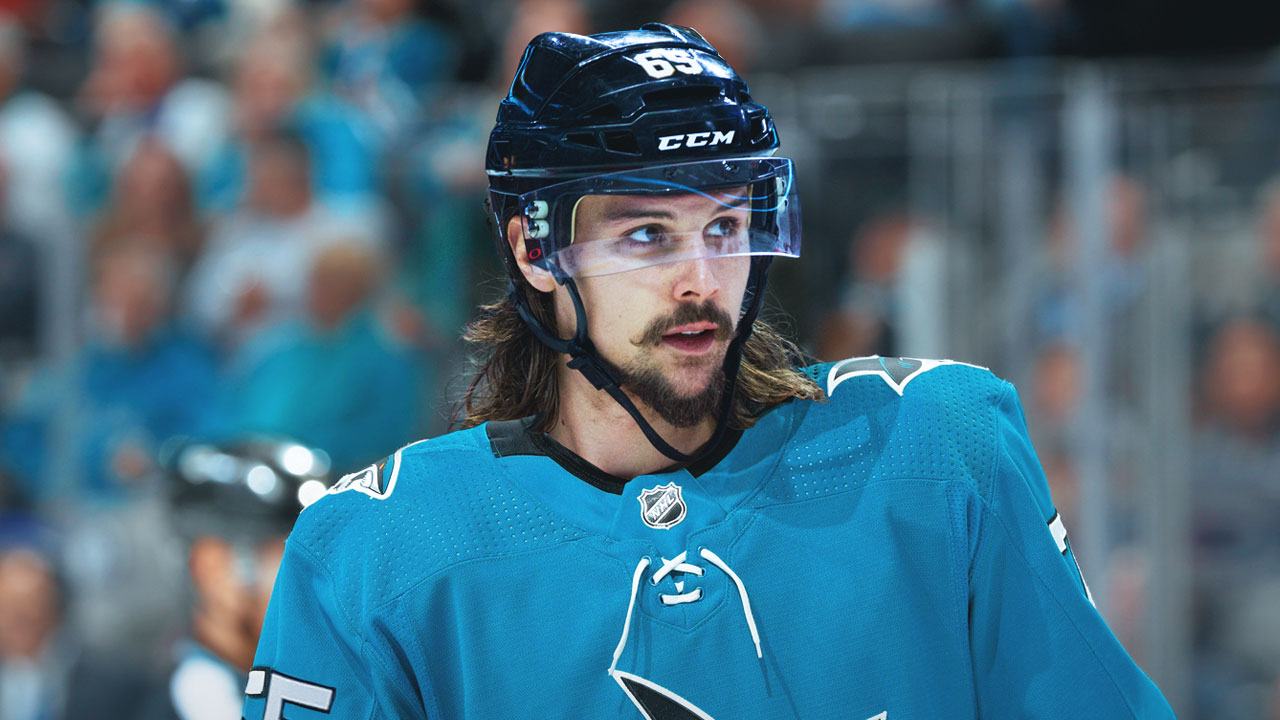 Ryan O'Reilly in St. Louis: The Blues are still pushing hard for a Stanley Cup and gave up a couple valuable draft picks, prospect Tage Thompson and two roster players for O'Reilly. The centre doesn't need to play a lead position anymore, which probably suits him better, but remains one of the elite two-way, playmaking pivots in the NHL.
Mike Hoffman in Florida: It became apparent the Sens had to move Hoffman after an episode between his fiancee and Karlsson's wife led to potential legal action. First Hoffman went to San Jose, but they quickly flipped him to Florida for peanuts. Despite the off-ice stuff, Hoffman is still a 25-goal scorer with 30-goal upside in the right spot. The Panthers could provide just that.
John Tavares in Toronto: You already knew about this one. With Tavares, Auston Matthews and Nazem Kadri, Toronto has perhaps the best trio of centres in the league. Can it help offset some of the shortcomings on the back end?
Philipp Grubauer in Colorado: Of all goaltenders with at least 80 games played over the past three seasons, Grubauer's .923 save percentage ranks third. The former Washington backup even took the job from Braden Holtby at the start of last season's playoffs, but couldn't hang on after back-to-back opening losses. Now he has a chance to take over No. 1 duties from Semyon Varlamov, who is in the last season of his deal.
James Neal in Calgary: No offence to Ferland, who did a fine job alongside Johnny Gaudreau and Sean Monahan, but he's not the game-changer Neal can be. The 31-year-old brings 30-goal upside if he's used on the top unit, or he can spread out the offence if used on the second line. Calgary needs a boost on either unit. His $5.75-million cap hit may not be the best four or five years from now, but this free-agent signing was made with one thing in mind: going after a Stanley Cup now.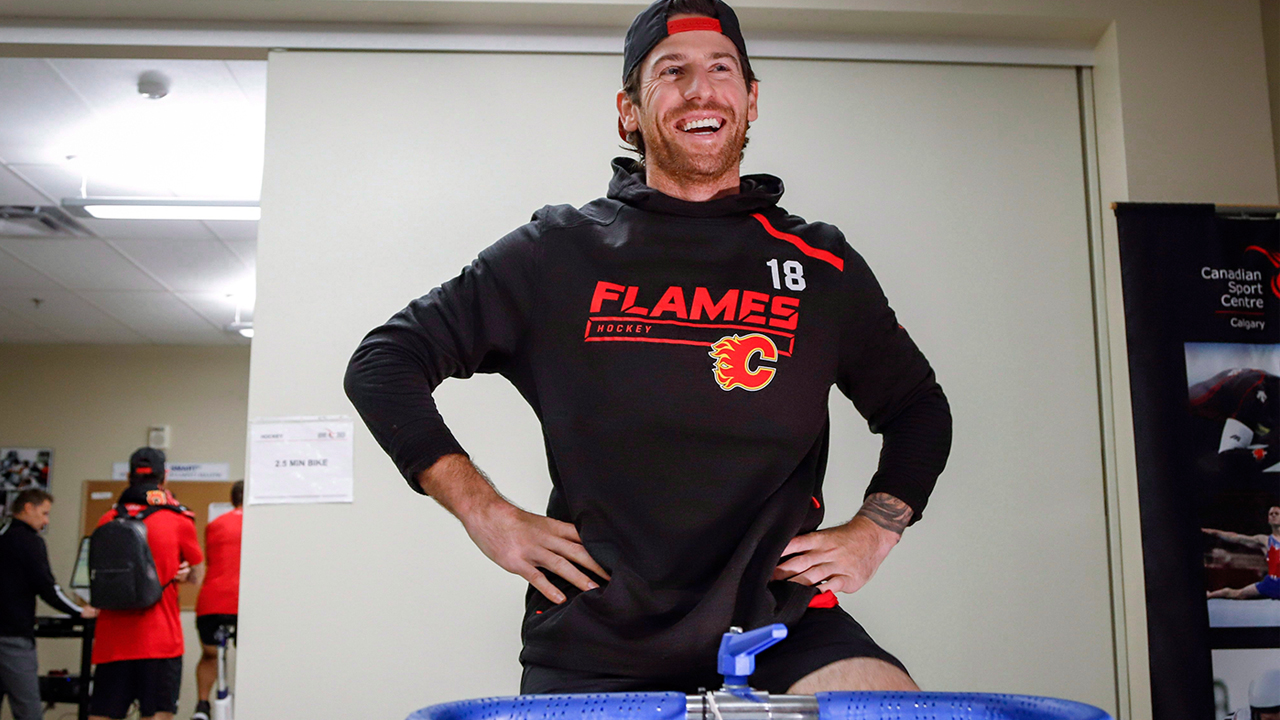 NEW SALARY CAP
Citing revenue growth between seven and 8.5 per cent year over year, the NHL increased the salary cap to $79.5 million this season, up from $75 million in 2017-18. This also means the salary floor has risen to $58.8 million.
According to CapFriendly.com, the Carolina Hurricanes currently have the lowest cap hit in the NHL at $61.87 million, while the Detroit Red Wings come in with the highest hit, though LTIR considerations haven't yet been applied. When they are, Henrik Zetterberg and Johan Franzen will stop counting against the cap. At that point, it looks like the St. Louis Blues will have the highest cap hit at roughly $79.265 million.
RULE CHANGES
There are no obviously big changes like last year when faceoff procedure and goalie interference were redefined, but this year's change could have an impact on how many goals are scored.
In January last season, the NHL began to streamline goalie equipment to get away from every goalie wearing padding as big as possible. Last season, we saw this affect leg pads and pants. This season it's happening to chest and arm pads. The idea is that equipment should be made to fit the goalie and force them to make saves with their skills, rather than everyone wearing inflated padding and letting it do the heavy lifting.
Rule 11.3 — Chest and Arm Pads — is 608 words long. It states, "The chest and arm protector worn by each goalkeeper must be anatomically proportional and size-specific based on the individual physical characteristics of that goalkeeper," then gives precise measurements for elbow, arm, clavicle and shoulder protection.
Elbow floaters have been reduced from 7 inches to 6 across the front. Bicep and forearm pads must taper — 5.5 inches to 4.5, then 4.5 to 4. Clavicle floaters cannot extend more than 2 inches above the shoulder at the lateral edge, 1.5 inches at midpoint and 0.5 inches at the medial edge. Shoulder caps cannot project laterally beyond shoulders more than 1.5 inches.
Unless you're a goalie or know what you're looking for, this change may not be immediately noticeable. But it will be interesting to see what, if any, impact it has on goals.
Last season was the first time teams combined to average at least 62 shots per game since 1985-86. In fact, the average of 31.8 shots per game per team we saw in 2017-18 was the highest rate since 1970-71, per hockey-reference.com. Excluding the 2005-06 season, which was inflated by power plays, last season's average of 5.94 goals per game was the highest the NHL had seen since 1995-96.
KEY DATES
October
1 – NHL Global Series Challenge: New Jersey at SC Bern in Switzerland.
2 – NHL Board of Governors Meeting. Will hear pitch from group that wants to bring NHL hockey to Seattle.
3 – NHL Global Series Challenge: Edmonton at Kolner Haie in Cologne, Germany.
3 – Opening Night of NHL season, four games — Washington raises Stanley Cup banner vs. Boston.
6 – NHL Global Series: Edmonton at New Jersey in Gothenburg, Sweden.
22 – NHL Alumni Awards Gala in Toronto. Honourees: Borje Salming, Mats Sundin, Nicklas Lidstrom, Bob Cole, Eddie Olczyk, Chris Hadfield.
November
1-2 NHL Global Series: Florida Panthers vs. Winnipeg Jets in Helsinki, Finland.
9 – Hockey Hall of Fame Game: New Jersey at Toronto.
12 – Hockey Hall of Fame Induction Ceremony in Toronto. Inductees: Martin Brodeur, Jayna Hefford, Martin St. Louis, Alexander Yakushev, Gary Bettman, Willie O'Ree, Larry Brooks, Joe Bowen.
13 – NHL General Managers Meeting in Toronto.
December
1 – Signing Deadline for Group 2 free agents (RFA). Players left unsigned after this date are ineligible to play in 2018-19 NHL season.
12 – US Hockey Hall of Fame Induction Ceremony in Nashville. Inductees: Red Berenson, Natalie Darwitz, Hago Harrington, David Poile, Paul Stewart.
19-27 – Holiday roster freeze from midnight on the 19th to midnight on the 27th.
24-26 – Holiday break. No games or practices.
26-Jan. 5 – World Junior Championship in Vancouver/Victoria, B.C.
January
1 – 2019 Bridgestone Winter Classic: Boston at Chicago at Notre Dame Stadium in South Bend, Ind.
8 – USHL/NHL Top Prospects Game in Lincoln, Neb.
Week of 21 – NHL Central Scouting mid-season rankings released
23 – CHL/NHL Top Prospects Game in Red Deer, Alta.
24-27: NHL All-Star Break.
25 – All-Star Skills Competition in San Jose, Calif.
26 – 2019 NHL All-Star Game in San Jose, Calif.
February
9 – Scotiabank Hockey Day in Canada in Swift Current, Sask.
23 – Coors Light Stadium Series: Pittsburgh at Philadelphia at Lincoln Financial Field.
25 – NHL Trade Deadline at 3:00 p.m.
March
4-6 NHL General Managers Meeting in Boca Raton, Fla.
April
6 – Last day of NHL regular season with 15 games.
10 – Stanley Cup Playoffs begin.
Week of 15 – NHL Central Scouting final rankings released.
TBA – NHL Draft Lottery.
May
10-26 IIHF World Championship.
17-26 – CHL Mastercard Memorial Cup in Halifax, N.S.
27-June 1 – NHL Scouting Combine in Buffalo.
June
15 – Last possible day for 2019 Stanley Cup Final.
TBA – NHL Awards from Las Vegas.
20 – NHL General Managers meeting in Vancouver.
21-22 – NHL Draft in Vancouver.
July
1 – Free agency begins at 12 p.m. ET.
5 – Deadline for player-elected salary arbitration notification.
6 – Deadline for team-elected salary arbitration notification.
20-August 4 – Salary arbitration hearings held.
CBA DECISIONS
Another potential CBA war is on the horizon as the current agreement between the players and owners runs into its final years. Both sides will be having internal discussions through this season on how they want to proceed when a key date comes up in September 2019.
Though the CBA runs 10 years from when it was signed in 2013, both sides have the option to opt out after eight. If that is going to happen, next September one side will send the other a notice of intention to exit the agreement and then they would have one year to negotiate new terms. If no new agreement is made over that time, another lockout would begin in September 2020.
The NHL can choose to opt out on Sept. 1, while the NHLPA's deadline is Sept. 19.
Among the issues that could come up this time are: Olympic participation, escrow payment, term limits on contracts, and no-move/no-trade clauses.
ROGERS HOMETOWN HOCKEY
Rogers Hometown Hockey is back for its fifth season. Here's a list of all the stops to look forward to this year.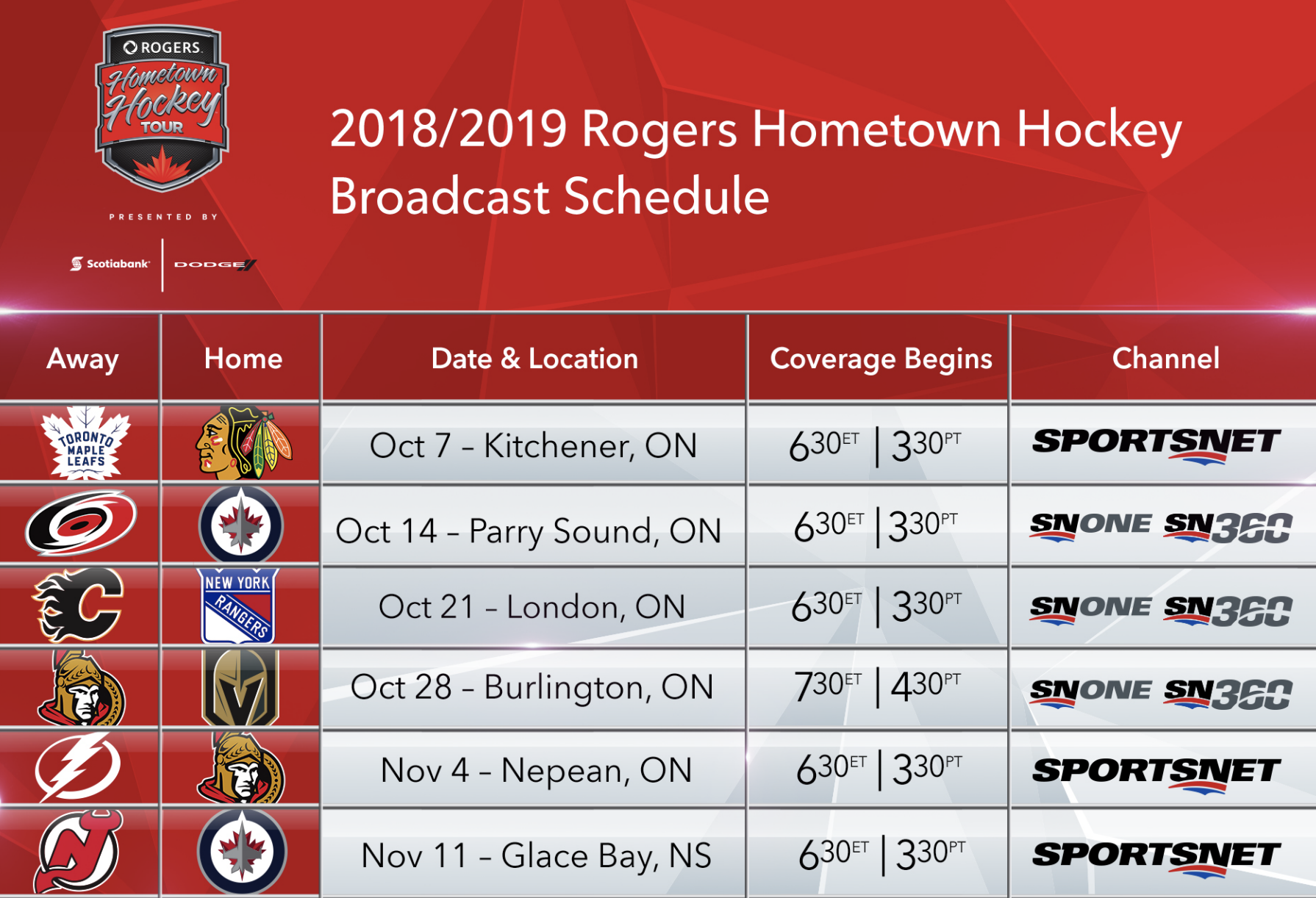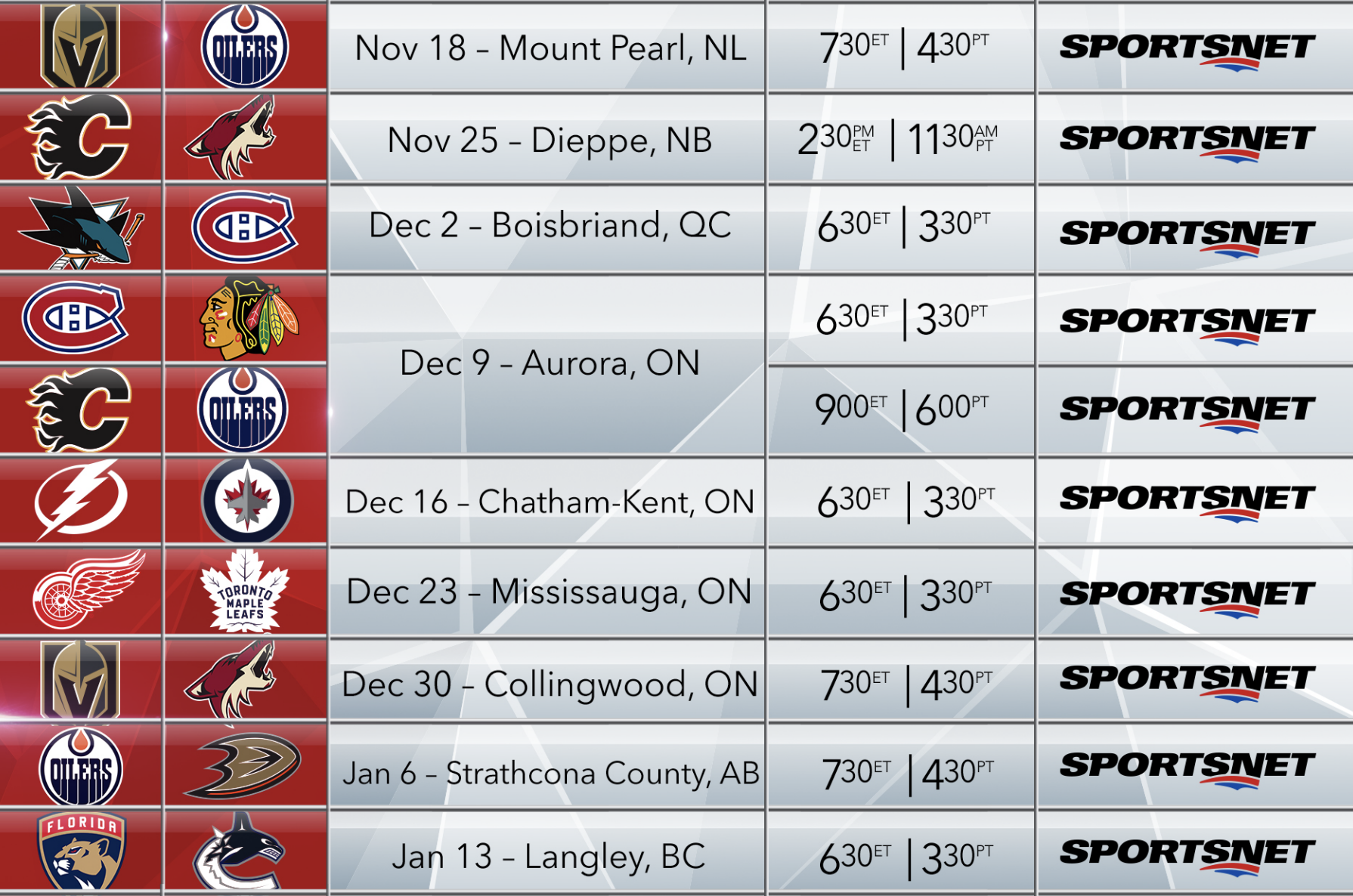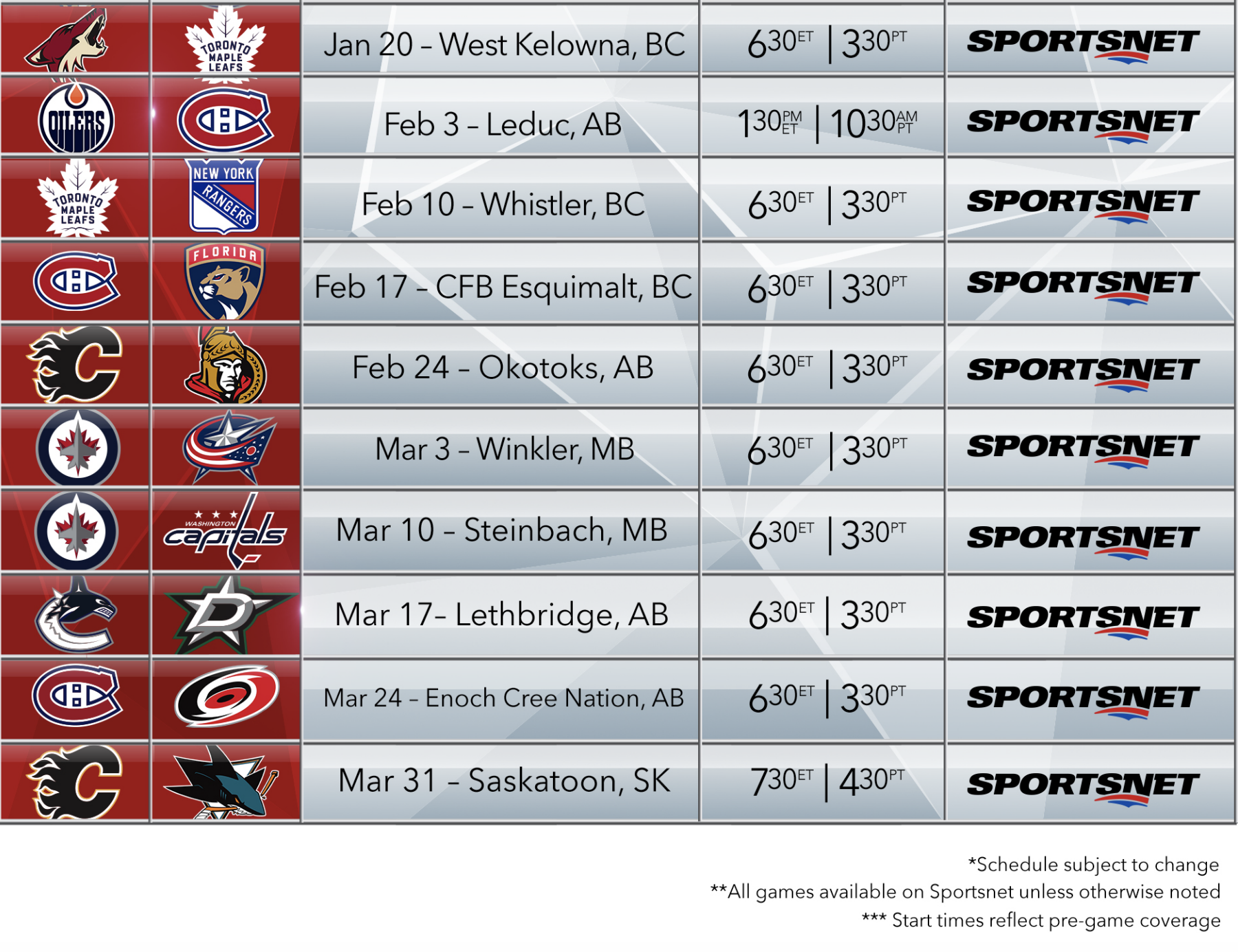 NEW THINGS
From arena names to mascots and third jerseys, here are some notable new looks around the league.
Arena name changes
We had two brand new rinks last season, but none in 2018-19. There are a couple name changes, though. The Toronto Maple Leafs now play out of Scotiabank Arena, and the St. Louis Blues out of Enterprise Center.
Also of note are the Islanders, who will move half of their home games back to Nassau Coliseum, which the team previously moved out of. This arrangement is expected to last until 2021, when the brand new Belmont Park Arena should be ready for the Islanders to move into full-time.
New mascot
There is one new mascot in the NHL this season and it belongs to the Philadelphia Flyers. Gritty is here to instil fear into the hearts of visiting teams and fans.
New jerseys
A variety of teams are bringing back third jerseys this season, some of which are throwback looks. The Arizona Coyotes, for example, are dusting off the Kachina jersey.
This is the only Saturday of the year you'll see us in our traditional home jersey.

Because starting 10/6, Kachina is back every Saturday. pic.twitter.com/sjefFWZUA0

— Arizona Coyotes (@ArizonaCoyotes) September 23, 2018
On top of them, Anaheim, Calgary, Carolina, Colorado, Columbus, Edmonton, New Jersey, Philadelphia, San Jose, St. Louis and Winnipeg are also introducing a different look. Here's a look at a few of those.
We're also excited to unveil the #Oilers retro jersey that will be worn four times this season vs. former Smythe Division opponents, plus the 40th anniversary jersey patch that will be worn on all jerseys during 2018-19! pic.twitter.com/cLgrQBxWY9

— Edmonton Oilers (@EdmontonOilers) September 4, 2018
Devils release third jersey….thoughts? pic.twitter.com/XqNgzjdH43

— Pure Hockey (@PureHockey) August 21, 2018